Daniel Barenboim
(1942 - )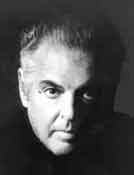 Daniel Barenboim is an Israeli pianist and conductor.
Barenboim (born November 15, 1942) was born in Buenos Aires, Argentina to Russian Jewish parents. At the age of five his mother started teaching him the piano, and he gave his first concert at the age of seven. In 1952, the family moved to Israel, but two years later Barenboim was taken to Salzburg, Austria to study conducting with Igor Markevich. From there, Barenboim traveled to Paris to study composition with Nadia Boulanger. Two Argentinian musicians, Artur Rubinstein and Adolf Busch, also influenced Barenboim greatly in his career.
Barenboim debuted in both Vienna and Rome in 1952. In 1955, he performed in Paris, and in 1956 in London. In 1957, he played in New York with Leopold Stokowski conducting in Symphony of the Air. His reputation as a versatile pianist spread around the world, and he began U.S. and European tours. Barenboim has performed as a chamber musician, appearing with Gregor Platigorsky, Itzhak Perlman, and Pinchas Zukerman. He also played with his wife, Jacqueline Du Pre, a cellist. She died in 1987.
His first recordings soon incorporated works such as piano sonatas and concertos of Mozart and Beethoven, Brahms and Bartok. His many recorded CDs include Wagner, Beethoven, and Argentinian tangos.
Barenboim began to concentrate on conducting by the early 60s. He performed with the English Chamber Orchestra starting in 1965 as both a pianist and a conductor. In 1973, he conducted Mozart's opera Don Giovanni at the Edinburgh International Festival. He also later conducted for the New Philharmonia Orchestra in London, and became the Music Director of the Orchestra de Paris in 1975. The Chicago Symphony Orchestra employed him as Musical Director in 1991 and the Deutsche Staatsooper Berlin asked him to be the General Music Director in 1992.
Although Barenboim has succeeded in working closely with several German orchestras including the Berlin Philharmonic, the Staatsksapelle Berlin and the Bayreuth Festival Orchestra, he has not always been as well received among his own people. Daniel Barenboim has stirred much controversy in Israel. He selected Wagner's Tristan and Isolde as an encore for the Israel Festival in 2001. Wagner's music has been unofficially banned in Israel. He was Hitler's favorite composer and helped inspire the Nazi leader and his movement.
In the midst of the "al-Aqsa intifada" last year, Barenboim traveled to Ramallah to perform a "Recital of Peace" while Yasser Arafat was detained in his compound after horrific attacks against Israeli civilians. His visit generated anger from many Israelis. His political leanings were no big surprise, however. Barenboim had already appeared in the West Bank in 1999, and he had cultivated a relationship with Edwart Said, the Palestinian academic, in the early 1990s.
Less controversial is Barenboim's attempt to reach youth through music. A father of two teenage boys, the conductor and pianist is eager to attract the interest of more young people to music. At the Chicago Symphony he helped plan ECHO, a new interactive music learning center that opened in 1998. Children can explore different genres of music through interactive technology and exhibits.
---
Sources: Daniel Barenboim homepage, BBC News ("Barenboim Breaks Wagner Taboo," July 8, 2001 and "Israeli pianist plans West Bank concert." March 5, 2002).