Matthew Broderick
(1962 - )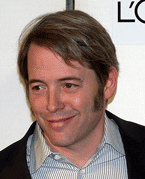 Matthew Broderick is a Jewish-American film and stage actor best-known for his role as the title character in the 1986 film Ferris Bueller's Day Off and as Leo Bloom in the film and Broadway productions of The Producers.
Matthew Broderick was born on March 21, 1962, in New York City to playwright, actress and painter Patricia (née Biow) and actor James Joseph Broderick. His mother was Jewish and his father was a Catholic of Irish descent.
Broderick's first major acting role was opposite his father in an HB Studio workshop production of playwright Horton Foote's On Valentine's Day. In 1981, Broderick received a good review from New York Times theater critic Mel Gussow for his lead role as Harvey Fierstein's gay foster son in the Off-Broadway production of Torch Song Trilogy, which brought him to the attention of Broadway.
Broderick's film debut was in 1983's Max Dugan Returns and his first big hit film came during the summer of the same year with WarGames. In 1986, he played Ferris Bueller in Ferris Bueller's Day Off, a 1980s comedy classic and one of his best-known roles.
While on the set of Ferris Bueller's Day Off, Broderick met actress Jennifer Grey and was briefly engaged to her in 1986. On August 5, 1987, Broderick was in Northern Ireland, vacationing with Grey, when he veered their rented BMW into the wrong lane on a country road and smashed head-on into a car driven by Anna Gallagher, 30. She and her mother, Margaret Doherty, 63, died instantly. Broderick spent four weeks in a Belfast hospital with a fractured leg and ribs, collapsed lung and concussion. Grey suffered severe whiplash. Broderick was charged with causing death by dangerous driving and faced a prison term of up to five years. He was later convicted of the lesser charge of careless driving and served no jail time.
Broderick returned to Broadway as a musical star in the 1990s, most notably with his Tony Award–winning performance in How to Succeed in Business Without Really Trying and his Tony Award–nominated performance in the Mel Brooks' stage version of The Producers in 2001. He continued to make feature films, including the 2005 adaptation of The Producers.
Broderick met actress Sarah Jessica Parker through her brother and the couple married on May 19, 1997, in a civil ceremony in a historic deconsecrated synagogue in New York. Parker and Broderick have a son, James Wilke Broderick, born on October 28, 2002. They also have twin daughters, Marion Loretta Elwell and Tabitha Hodge, who were born through surrogacy on June 22, 2009. They live in New York City.
---
Sources: Internet Movie Database, Wikipedia. Photo: This file is licensed under the Creative Commons Attribution 3.0 Unported license. Author: David Shankbone