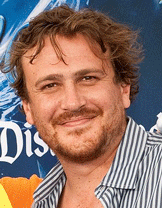 Jason Jordan Segel, born January 18, 1980, is a Jewish American television and film actor, screenwriter and musician. He is best known for his work with producer Judd Apatow on the short-lived television series Freaks and Geeks and Undeclared, the movies Forgetting Sarah Marshall, Knocked Up, and I Love You, Man, and for his role as Marshall Eriksen in the CBS sitcom How I Met Your Mother.

Segel was born in Los Angeles, California, and raised in Pacific Palisades, California. Though Segel attended a Catholic school, he was raised in his father's Jewish religion. At Harvard-Westlake School, his 6'4" frame helped him as an active member of the state champion boys' basketball team. He had hopes of becoming a professional actor while in college and acted in local theater productions at Palisades Playhouse.

In 1999, he became known for his role as "Freak" Nick Andopolis on the short-lived NBC comedy-drama series Freaks and Geeks, executive produced by Judd Apatow, about a group of suburban Detroit high school students circa 1980. Segel had recurring roles on the television series CSI: Crime Scene Investigation and Undeclared and currently plays Marshall on the CBS sitcom How I Met Your Mother. Feature film appearances include Slackers, SLC Punk!, The Good Humor Man, and Dead Man on Campus.
In 2007, he appeared in Knocked Up, starring Seth Rogen and directed by Judd Apatow. Segel starred in the lead role of 2008's Forgetting Sarah Marshall, a film he wrote and Apatow produced with Shauna Robertson for Universal Pictures. In 2009, he starred in I Love You, Man with Paul Rudd.
For the 2010 comedy Get Him to the Greek, starring Jonah Hill, Segel co-wrote most of the soundtrack's music which was performed by the fictional band Infant Sorrow. Also in 2010, Segel was enlisted by Disney to write the next Muppets film.
---
Sources: Internet Movie Database, Wikipedia