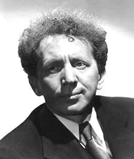 (1891-1984)
Sam Jaffee (1891–1984), U.S. actor. Jaffe, born in New York on March 8, 1891, was originally a math teacher in the Bronx, New York. He began acting with the Washington Square players in 1915 and later played Jewish roles on Broadway in The God of Vengeance (1922), The Main Line (1924), Izzy (1925), The Jazz Singer (1925–28), and The Gentle People for the Group Theater (1939). Some of his other Broadway performances included Mrs. Warren's Profession (1918), Grand Hotel (1930), The Eternal Road (1937), A Doll's House (1937), Café Crown (1942), and Mademoiselle Colombe (1954).
He made his debut in Hollywood in the 1934 film The Scarlet Empress. Some of his other film work included Lost Horizon (1937), Gunga Din (1939), Gentleman's Agreement (1947), The Accused (1949), The Asphalt Jungle (1950), I Can Get It for You Wholesale (1951), The Day the Earth Stood Still (1951), Ben-Hur (1959), The Tell-Tale Heart (1971), Nothing Lasts Forever (1984), and On the Line (1984).
Jaffe became widely known in the 1960s for his role as Dr. Zorba in the U.S. television series Ben Casey (1961–65). In fact, due perhaps to his unruly hair that made him look somewhat like Albert Einstein, Jaffe was often cast in the role of a doctor or professor on television and in the movies. Some of his TV work included appearances on such shows as The Defenders (1962), Tarzan (1967), Nanny and the Professor (1970), Enemies (TV movie, 1971), Alias Smith and Jones (1972), QB VII (miniseries, 1974), Medical Story (1975), and Gideon's Trumpet (TV movie, 1980).
In 1951, Jaffe was nominated for an Academy Award for Best Supporting Actor in The Asphalt Jungle, and in 1962 he was up for an Emmy for his performance in Ben Casey.
Jaffe was married to American operatic soprano and musical comedy star Lillian Taiz from 1926 until her death from cancer in 1941. In 1956, he married actress Bettye Ackerman, who later also starred with him in Ben Casey. She died on November 20, 2006. He had no children from either marriage.
Jaffe died of cancer in Beverly Hills, California, on March 24, 1984.
---
Sources: Encyclopaedia Judaica. © 2008 The Gale Group. All Rights Reserved.