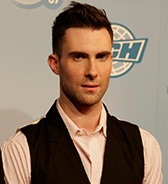 Adam Levine is a Jewish American singer-songwriter and musician. He is the lead singer of the Grammy-winning American pop, funk and alternative rock band Maroon 5.
Born Adam Noah Levine in 1979 in Los Angeles, California to Fred and Patsee nee Noah Levine, Levine attended French Woods Festival of the Performing Arts Camp in New York as a child. At French Woods, Levine started the band now known as Maroon 5 - which was then called Kara's Flowers - with his best friend Jesse Carmichael. The band released their first album titled The Fourth World in 1997, during their senior year of high school.
After high school, Levine moved to New York with Carmichael and "that's when I started waking up to the whole hip hop, R&B thing," Levine said. In 2001, the pair added several musicians and renamed their band Maroon 5.
Levine's band was influenced by Nirvana, Pearl Jam and similar bands. Maroon 5's albums include Songs About Jane, It Won't Be Soon Before Long, Hands All Over, and their singles include Moves Like Jagger and Payphone featuring the American rapper Wiz Khalifa.
In addition to his work with Maroon 5, Levine has collaborated with other musical and entertainment gigs. For example, he was featured on the Ying Yang Twins' song "Live Again;" and on Kanye West's album single "Heard 'Em Say;" and on Alicia Keys' third album Alicia Keys: MTV Unplugged. Most recently, Levine participated in the recording of Gym Class Heroes' newest album in the song "Stereo Hearts."
In addition to his musical performances, he has made four comic appearances on television. In 2007, he was on a Saturday Night Live short called "Iran So Far" with Andy Samburg, Fred Armisen and Jake Gyllenhaal. Levine sang the bridge to a "love song" for Iranian president Mahmoud Ahmadinejad. In 2008, Levine appeared on Comedy Central's "Night of Too Many Stars" and he had a cameo on Jimmy Kimmel Live where he endorsed Barack Obama in the 2008 Presidential Election.
Levine has said in various interviews that he does not plan on continuing Maroon 5 forever, and may stop after the tour for the band's third album. Levine is also a coach on the American talent show The Voice.
Though he has Jewish ancestry on both sides of his family and considers himself Jewish, Levine rejects formal religious practice and chose not to be Bar Mitzvah-ed as a child.
Levine is active in several causes including Attention Deficit Hyperactivity Disorder (ADHD) awareness and Lesbian, Gay, Bisexual and Transgender (LGBT) rights. His personal connection to ADHD is that he was diagnosed with the disorder as a teenager so he launched an educational campaign called "Own It" to raise awareness of ADHD. Levine's brother is openly gay, so he is an outspoken supporter of LGBT rights and made a video on Maroon 5's official YouTube channel in support of the "It Gets Better Project." In January 2012, Levine announced that Maroon 5 changed the location of its post-Grammy Awards show because of the original host restaurant's backing of Proposition 8, which eliminates the rights of same-sex couples to marry.
---
Sources: Wikipedia, Michael Carmichael, "Bio by Mickey," Maroon 5 website