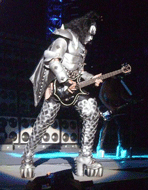 Gene Simmons (born Chaim Witz on August 25, 1949) is an Israeli-American rock bassist, vocalist, actor and businessman. He is well known as "The Demon", the blood-spitting, fire-breathing and tongue-wagging bassist, co-frontman and lead vocalist in the hard rock band Kiss, a group he co-founded in the early 1970s. Simmons was placed twenty-ninth by Hit Parader on their list of the 100 Greatest Heavy Metal Singers.

Simmons was born in Tirat Carmel, Israel in 1949, and immigrated to New York City at the age of eight, with his mother Flóra Klein, a Jewish Hungarian immigrant. Flóra and her brother, Larry Klein, were the only two members of her family to survive the Holocaust. His Hungarian-born father, Feri Witz, did not accompany the family to the U.S. After arriving in the U.S., young Chaim Witz took the name Eugene Klein (later Gene Klein). In the late 1960s, he changed his name to Gene Simmons to honor legendary rockabilly performer Jumpin' Gene Simmons.
Simmons joined his first band, Lynx, then renamed The Missing Links, when he was a teenager. Eventually, he disbanded The Missing Links to form The Long Island Sounds, the name being a play on words relating to the estuary separating Long Island from Westchester County, New York, Connecticut and Rhode Island. Simmons attended Sullivan County Community College in Loch Sheldrake, New York. He then joined a new band, Bullfrog Bheer, and recorded the demo "Leeta," which was later included on the Kiss box set.

Simmons formed the rock band Wicked Lester in the early 1970s with Stanley Harvey Eisen (now known as Paul Stanley) and recorded one album, which was never released. Dissatisfied with Wicked Lester's sound and look, Simmons and Stanley attempted to fire their band members; they were met with resistance, and they quit Wicked Lester, walking away from their record deal with Epic Records. They decided to form the ultimate rock band and started looking for a drummer. Simmons and Stanley found an ad placed by George Criscoula, known as Peter Criss, who was playing clubs in Brooklyn at the time; they joined and started out as a trio. Paul Frehley, better known as Ace Frehley, responded to an ad they put in The Village Voice for a lead guitar player and soon joined them. Kiss released its self-titled debut album in February 1974. Stanley quickly took on the role of lead performer on stage, while Simmons became the driving force behind what became an extensive Kiss merchandising franchise.

In 1983, while Kiss's fame was waning, the members took off their trademark make-up and enjoyed a resurgence in popularity that continued into the 1990s. The band hosted their own fan conventions throughout 1995, and fan feedback about the original Kiss members reunion influenced the highly successful 1996-1997 Alive Worldwide reunion tour. In 1998, the band released Psycho Circus, the first album in almost 20 years by the original line-up. Since then, the original line-up has once again dissolved, with Tommy Thayer replacing Ace Frehley on lead guitar and Eric Singer (who performed with Kiss from 1992 through 1996) replacing Peter Criss on drums.
Simmons, who has never married, lives in Beverly Hills, California with longtime partner Shannon Tweed. They have a son and a daughter together, Nick (born January 22, 1989) and Sophie (born July 7, 1992).
---
Source: Wikipedia