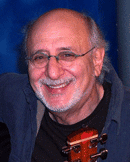 (1938- )
Peter Yarrow is a Jewish American folk singer, producer, composer, and songwriter best-known for being a member of the folk trio Peter, Paul and Mary.
Yarrow was born in New York City on May 31, 1938. He began his singing career after graduating from Cornell University. He moved to Greenwich Village, where he met Noel "Paul" Stookey and Mary Travers and formed the group Peter, Paul and Mary, which become the most popular folk group of the 1960s, as well as leaders of the 1960s folk revival. The group made its debut in 1961 at the Bitter End coffeehouse, a bastion of folk music, and recorded its eponymous debut album the following year, which spawned such hits as "Five Hundred Miles" and "Lemon Tree," as well as covers of Pete Seeger's "Where Have All the Flowers Gone" and "If I Had a Hammer." The album remained on the Billboard Top 100 for the next three years. "If I Had a Hammer" won the trio the first of its two Grammy Awards, for Best Performance by a Vocal Group and Best Folk Recording. The group's 1963 album, In the Wind, with its cover version of Bob Dylan's "Blowin' in the Wind," sold 300,000 copies in less than two weeks. "Puff, the Magic Dragon," written by Yarrow as a college student in 1958, was first released on 1963's Moving and became a No. 1 single, and one of the most popular children's songs of all time.
Yarrow's involvement in the U.S. civil rights movement led the group to sing "If I Had a Hammer" at the historic March on Washington in 1963, as well as to participate in the Selma-to-Montgomery march in 1965. Yarrow was an active participant in the anti-Vietnam War movement, and coproduced numerous events for the peace movement. The group supported Senator Eugene McCarthy's presidential campaign for the democratic nomination in 1968, and independently released a single titled "Eugene McCarthy for President." Yarrow married the senator's niece, Mary Beth McCarthy, and the couple had two children, but later divorced. Album 1700 (1967) initially spawned two hits, "I'm in Love With a Big Blue Frog," and "I Dig Rock and Roll Music," but it was not until two years later when DJs started playing "Leaving on a Jet Plane," a song by the then-unknown John Denver, that the album saw a No. 1 hit.
In 1970, Yarrow pleaded guilty to taking "immoral and indecent liberties" with a 14-year-old girl who came to his hotel room for an autograph, and subsequently served three months in jail. He was pardoned by President Jimmy Carter in 1981. By the time the group broke up in 1970 to pursue solo careers, it had earned eight gold and five platinum albums. Yarrow continued to focus on his songwriting and political activism, and produced three Emmy Award-winning CBS specials based on "Puff the Magic Dragon." In 1978, Peter, Paul and Mary reunited for an antinuclear benefit, which led to sporadic reunion shows throughout the 1980s. The group released a record of new material in 1988, A Holiday Celebration, and subsequently released several live albums and a few new albums of original material. Their children's album, and accompanying television special, "Peter, Paul and Mommy, Too," won the group a Grammy and an Emmy. The group was inducted into the Vocal Group Hall of Fame in 1999.
---
Sources: Encyclopaedia Judaica. © 2008 The Gale Group. All Rights Reserved.