James Lipton
(1926 - 2020)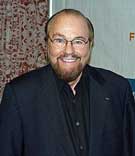 James Lipton is a Jewish American writer, poet, and actor and dean emeritus of the Actors Studio Drama school in New York City. He is the executive producer, writer, and host of the Bravo cable television series Inside the Actors Studio, which debuted in 1994.
Lipton was born on September 19, 1926, in Detroit, Michigan. His mother Betty (née Weinberg) was a teacher and his father Lawrence Lipton was a journalist with a column for the Jewish Daily Forward and a publicity director for a movie theater.
In Detroit, on radio's The Lone Ranger, Lipton portrayed Dan Reid, in the 1940s. He went to Wayne State University briefly before joining the Air Force. He later enrolled at Columbia University where he began seeking work as a writer and actor. He wrote for several soap operas and appeared as surgeon Dick Grant for more than ten years on Guiding Light. He portrayed a shipping clerk turned gang member in Joseph Strick's 1953 film, The Big Break, a crime drama.
Lipton was the book writer and lyricist for the short-lived 1967 Broadway musical Sherry! His book, An Exaltation of Larks, was first published in 1968. In 1983, Lipton published his novel, Mirrors, about dancers' lives. He later wrote and produced it as a TV movie. In television, Lipton wrote the script for the made-for-television movie Copacabana (1985) and produced some two dozen specials including: twelve Bob Hope Birthday Specials; The Road to China, an NBC entertainment special produced in China; and the first time ever televised presidential inaugural gala, for Jimmy Carter. He also wrote a non-fiction book on etymology, An Exaltation of Larks (1968).
In 1994, he arranged for the Actors Studio—the home base of "method acting" in the USA for some sixty years —to join with New York City's New School in Manhattan, to form the Actors Studio Drama School, a formal degree-granting program at the graduate level. The program moved to Pace University 12 years later.
Lipton created a project within the Actors Studio drama school: a non-credit class called "Inside the Actors Studio" (1994) where successful and accomplished actors, directors, and writers would be interviewed and would answer questions from acting students. He was often lampooned for his interview style in which he sat at a simple table and read questions from a large stack of note cards. These sessions, which lasted several hours, were taped and edited for a one-hour broadcast on Bravo. Lipton hosted the show and interviewed more than 250 actors, including some of Hollywood's biggest stars.
The show won a CableACE award for the best talk show in 1997 and was nominated for 21 Primetime Emmys, winning in 2013 for outstanding informational series or special. In 2016, Lipton won the Critics' Choice Television Award for best reality show host.
Lipton first married Shirley Blanc and then actress Nina Foch. They divorced after four years in 1958. In 1970, Lipton married model and real estate broker Kedakai Turner.
He died at age 93 of bladder cancer on March 2, 2020.
---
Sources: Wikipedia;
Jo Craven McGinty, "James Lipton, 'Inside the Actors Studio' Host, Dies at 93," New York Times, (March 2, 2020).

Photo licensed under Creative Commons Attribution ShareAlike 2.5, Attribution ShareAlike 2.0 and Attribution ShareAlike 1.0.
Author: David Shankbone