Steven Spielberg
(1946 - )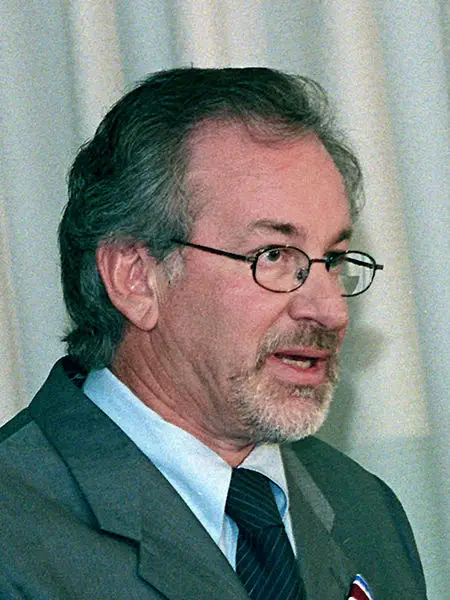 Steven Spielberg is a Jewish American director and producer.

Born Steven Allan Spielberg on December 18, 1946 in Cincinnati, Ohio, Spielberg was making amateur 8mm "adventure" movies with his friends as a teenager. In 1968, he made his first short film for theatrical release, entitled Amblin. Spielberg attended California State University, Long Beach, majoring in English; nevertheless, he dropped out in 1968.

Spielberg then accepted a television director at Universal Studios, for the pilot episode of Night Gallery. Based on his work with television series, Universal signed Spielberg to do three TV movies, which included Duel (1971), Something Evil (1972), and Savage (1973).

In 1974, Spielberg's made his debut in theatrical feature film with The Sugarland Express. His next film was Jaws, which won three Academy Awards (for editing, original score and sound). It was also nominated for Best Picture. After rejecting offers to direct Jaws 2, Spielberg began work on a project he had in mind since his youth, Close Encounters of the Third Kind (1977). Spielberg received his first Best Director nomination from the Academy and the film was nominated for six other Academy Awards, taking home Oscar in two (Cinematography and Sound Effects). In 1978, Spielberg produced his first film, I Wanna Hold Your Hand. Spielberg's next movie, 1941, was a huge flop with both audiences and critics alike, nearly bringing down the up-and-coming director.

The 1980s soon proved to be Spielberg's best decade, directing some of the greatest films of all time. In 1981, Spielberg teamed up with producer George Lucas to make Indiana Jones: Raiders of the Lost Ark. The movie received several Oscar nominations, including Best Director and Best Picture. A year later, Spielberg released E.T. the Extra Terrestrial. For many years, E.T. became the top-grossing film of all time. It was also nominated for Best Picture and Best Director by the Academy. Spielberg considers it to be his own personal favorite film from his works. Spielberg again teamed up with Lucas to produce the sequel Indiana Jones and the Temple of Doom; during the making of this film Spielberg would meet his future wife Kate Capshaw, who he married in 1991. Then in 1983, Spielberg fulfilled a life-long dream by producing a big-screen adaptation of The Twilight Zone. In 1985, Spielberg made The Color Purple, a film adaptation of Alice Walker's Pulitzer Prize-winning novel, starring Whoopi Goldberg, Oprah Winfrey, and Danny Glover. It received 11 Academy Award nominations; however, in one of the most controversial instances in the History of the Academy, Spielberg went without a Best Director nomination. In 1987, Spielberg decided to film the first American movie to be shot in Shanghai, China since the 1930s, with an adaptation of J.G. Ballard's autobiographical novel, Empire of the Sun. In 1989, Spielberg re-united with George Lucas "one more time" for another Indiana Jones film titled Indiana Jones and the Lost Crusade; pre-production has already began of a fourth Indiana Jones film to be released in 2008.

As a producer Spielberg took on many projects in the 1980s, such as the silly The Goonies (1985), and Back to the Future (1985). In 1988 he produced the animation\live action film Who Framed Roger Rabbit (1988). Aside from producing the landmark Who Framed Roger Rabbit, Spielberg produced the TV shows "Tiny Toon Adventures" (1990), "Animaniacs" (1993), and "Pinky and the Brain" (1995). Spielberg also produced other cartoon films, such as The Land Before Time (1988), An American Tail: Fievel Goes West (1991), the live action version of Casper (1995) as well as the live action version of The Flintstones (1994). Spielberg as a producer was very active in the late nineties spearheading such films as The Mask of Zorro (1998), Men in Black (1997), and Deep Impact (1998).

Spielberg began the 1990s, with the box-office hit, Hook, based on the idea of Peter Pan returning to Neverland as an adult. In 1993, Spielberg decided to once again tackle the adventure genre, as he directed the movie version of Michael Crichton's novel Jurassic Park. It was in that same year that Jurassic Park was released that Spielberg finally received the critical acclaim he had long sought for making Schindler's List (based on the true story of Oskar Schindler, a man who risked his own life to save 1,100 people from the wrath of the Holocaust). Schindler's List earned Spielberg his first Academy Award for Best Director; the film also won Best Picture. Spielberg used the film's profits to set up the Shoah Foundation, a non-profit organization with the goal of providing an archive for the filmed testimony of as many survivors of the Holocaust as possible. In 1999, the American Film Institute listed it as the 9th Greatest Film ever Made.

After a four-year hiatus from directing, Spielberg returned in 1997, with the sequel to Jurassic Park, Michael Crichton's The Lost World. Again, Spielberg followed a dinosaur movie with a historical drama, with the movie Amistad. He released Amistad under his new studio DreamWorks (formed with Jeffery Katzenberg and David Geffen). Another of Spielberg's critically acclaimed films, the World War II drama, Saving Private Ryan, was released in 1998, starring Tom Hanks. It lost the Best Picture Oscar at the 1999 Academy Awards to Shakespeare in Love. Nevertheless, Spielberg would win his second Academy Award for his direction in the war epic. Later on, Spielberg and Hanks, overwhelmed with the success of the film's subject, decided to team together to produce a TV mini-series based on Stephen Ambrose's historical novel, Band of Brothers. The ten-part series was hailed as the greatest TV event of all time, winning numerous awards both at the Golden Globes and the Emmys.

In 2001, Spielberg filmed fellow director and friend Stanley Kubrick's final project, A.I.: Artificial Intelligence. In 2002, Spielberg and actor Tom Cruise collaborated for the first time in the futuristic film, Minority Report. Shortly thereafter, Spielberg released Catch Me If You Can, a film starring Tom Hanks and Leonardo DiCaprio. Spielberg collaborated once again with Tom Hanks along with Catherine Zeta-Jones in the warm-hearted comedy The Terminal. On June 29, 2005, Spielberg released a modernized adaptation of War of the Worlds.

On the same day as the release of War of the Worlds, Spielberg began shooting Munich, a film about the events following the 1972 Munich Massacre of the Israeli athletes. The film is based on Vengeance: The True Story of an Israeli Counter-Terrorist Team, a book by journalist George Jonas. Although, the film was praised by critics, it created a lot of controversy, and became his most polarizing film. Munich received five Academy Awards nominations, including Best Picture, Film Editing, Original Music Score, Best Adapted Screenplay, and Best Director for Spielberg.

Besides his numerous Academy Awards, Spielberg has been awarded several other honors. In 1987, he was awarded The Irving G. Thalberg Memorial Award, for his work as a creative producer. For his work on the Survivors of the Shoah Visual History Foundation since 1994, he was awarded with the Great Cross of Merit with Star, the German version of the Great Officer's Cross, in September 1998. In 2001, he was given the honor of Knight Commander of the Order of the British Empire (KBE) by Queen Elizabeth II. On July 16, 2006, Spielberg was awarded the Gold Hugo, Lifetime Achievement Award at the Chicago International Film Festival's Summer Gala.
---
Sources: "Steven Spielberg (1946 - )." American Jewish Historical Society, American Jewish Desk Reference, (NY: Random House, 1999). pg. 484-6; Steven Spielberg: Wikipedia; Biography for Steven Spielberg: Internet Movie Database