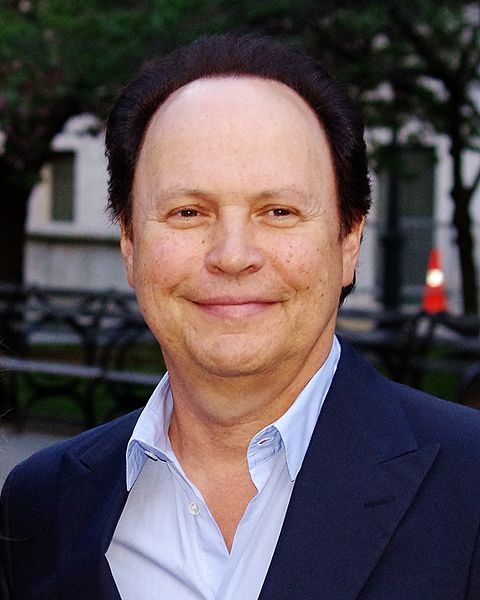 Billy Crystal is a Jewish American actor, comedian, and writer most famous for his appearance as a cast member of Saturday Night Live.
Crystal was born on March 14, 1947, in Long Beach, New York. Crystal attended Marshall University in Huntington, West Virginia on a baseball scholarship. Nevertheless, Crystal never played a game at Marshall because the program was suspended his freshman year and he never returned to the university. Crystal returned to New York and studied film and television direction under Martin Scorsese at New York University. His first television role came as "Jodie Dallas" on Soap, one of the first gay characters portrayed on American television.
In the early 1970s, Crystal began working in clubs and on college campuses as a stand-up comic. On April 17, 1976, Crystal made his first appearance with a stand-up skit on an episode of Saturday Night Live. In 1984, Crystal was asked to join the cast full-time Saturday Night Live. In 1986, Crystal started hosting Comic Relief on HBO alongside Robin Williams and Whoopi Goldberg. He also made many game show appearances such as The Hollywood Squares and The $20,000 Pyramid.
His big success came in the late 1980s, with The Princess Bride (1987) and When Harry Met Sally (1989), for which Crystal was nominated for a Golden Globe. Crystal has also wrote, directed and starred in two films, Forget Paris (1995) and Mr. Saturday Night (1992). In 1961, Crystal directed the made for television movie 61* , for which he earned an Emmy nomination for "Outstanding Directing for a Miniseries, Movie or a Special."
During the 1990s and early 2000s, Crystal continued to star in motion pictures including City Slickers and Analyze This. Crystal has lent his voice to animated characters such as in 2001's Monsters, Inc. as the voice of Mike, and in the English version of Howl's Moving Castle as the voice of Calcifer.
Crystal has also hosted the Academy Awards show eight times: 1990, 1991, 1992, 1993, 1997, 1998, 2000 and 2004.
In 2005, Crystal won the Tony Award for "Best Special Theatrical Event" for his solo show 700 Sundays. On October 31, 2005, Warner Books published Crystal's book 700 Sundays, following the success of the play.
---
Sources: "Billy Crystal (1947 - )." American Jewish Historical Society, American Jewish Desk Reference, (NY: Random House, 1999). pg. 445-446
Billy Crystal: Wikipedia
Biography for Billy Crystal: Internet Movie Database