Sarah Jessica Parker
(1965 - )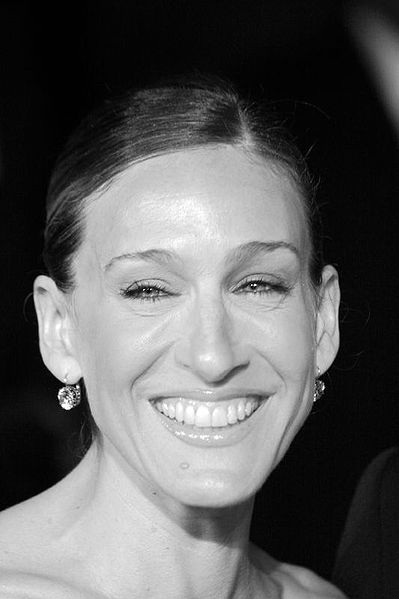 It was former Prime Minister of Israel Ehud Barak who tipped off Sarah Jessica Parker about the pop culture phenomenon Sex and the City had become.
"I knew we had touched a nerve with the show a few years ago when [Barak] said he'd have more time to watch Sex and the City if he lost his re-election," Parker recently recalled.
The five-foot-four package of dynamite, who made her first TV appearance at age 8 and has never slowed down, has no intention of changing gears now as she says farewell to her hit cable TV show and embraces movies, marriage, Manhattan and motherhood.
The show transformed 39-year-old Parker from an A-list actress to a fashion icon by casting her as sex columnist Carrie Bradshaw, a native New Yorker, loyal chum and the girl loyal viewers most wanted to befriend. For those who thought that leaving the show after six years was an easy decision, Sarah Jessica (also known as SJ) is ready to set the record straight.
"It was a complicated decision and we didn't come to it easily or quickly. We were not cavalier. It's a sad ending if you stay too long. I don't think you want to be the last one to leave the party."
Sarah Jessica Parker was born on March 25, 1965, in Nelsonville, Ohio, to a working-class family. Her parents divorced when she was young and her mom, Barbra, who is Jewish, remarried a man named Paul Forste. Parker, her two brothers and sister, joined her stepfather's four children for a real-life Brady bunch, with eight children. She appeared in her first television special, The Little Match Girl, at age 8. Her role in the Broadway production of The Innocents prompted her family to relocate to New Jersey when she was about 9 years old. She was then cast in The Sound of Music (along with four of her siblings) and landed the lead in Annie on Broadway.
After her stint as the free-spirited orphan and some made-for-TV movies, Parker took on one of the lead roles in the 1982 sitcom Square Pegs, as geeky high-school girl Patty Green. Since Square Pegs didn't last more than a year, Parker landed her next big role as Steve Martin's bubbly lover in the 1991 comedy L.A. Story. Several other substantial film roles followed, including Honeymoon in Vegas, Hocus Pocus, Striking Distance, The Sunshine Boys, Miami Rhapsody and The First Wives Club, opposite heavy hitters Bette Midler, Goldie Hawn and Diane Keaton.
Next it was on to off-Broadway for Sylvia, and her Broadway roles in How to Succeed in Business Without Really Trying (starring her future husband, Matthew Broderick), and the Tony-Award-nominated Once Upon a Mattress.
But Parker's star has shot up since her portrayal of Manhattan sex columnist Carrie Bradshaw in Sex and the City, for which she was awarded a Golden Globe Award for Best Actress in 2000, 2001 and 2002, as well as a Screen Actors Guild Award in 2001. Parker has also been honored with four Emmy nominations. The show has also won five Emmys and eight Golden Globes. All these accolades only underscore the fact that she played the role of Carrie as though it were literally written for her.
Parker recently came to chat to Lifestyles about the ending of her treasured series. At times she was a giggly schoolgirl; at others she was quite emotional. She seemed a bit nervous and kept rubbing her hands. But as you would want-and hope-from Carrie, she thought seriously about each question before responding.
Newspaper sex columnist Carrie (based on real-life writer Candace Bushnell) was footloose, fancy free and prone to an active sex life, despite the "no nudity" clause in her HBO contract. "I love the person that Carrie has become; it's so different from my own life. I never partied. I dated very few men. I didn't go to clubs. I don't have frank, open discussions about sexual things with my friends. But it has been great fun and challenging, weird and thrilling all at the same time."
She dated such hunks as John F. Kennedy Jr. and Robert Downey Jr., but on May 19, 1997, she married the film and Broadway actor with the boy-next-door charm, Matthew Broderick. Broderick, like Parker, has a Jewish mother and a non-Jewish father. The couple married in a civil (not religious) ceremony in a historic synagogue that is no longer used as a house of worship. Their friends, many of whom are Broadway actors, joined them in a sing-along amidst the warm and loving vibe of the family day.
They share a brownstone in Greenwich Village and are the proud parents of a young son, James Wilkie (named James in the Jewish tradition after Broderick's actor father James Broderick and Wilkie after her favorite 19th century British writer Wilkie Collins).
Despite her heavy work schedule (often 80 hours a week between acting, costume fittings and executive producing duties), Parker admits that motherhood instantly transformed her life. "Having a child changed me," she says. "Before him I would have sacrificed myself completely for my work. But after he was born I didn't want to miss anything. Not bath time. Not bedtime. Goodnight Moon is one of our favorite books and when I get to a page he knows, James Wilkie will finish the line for me."
She says she is looking forward to having time to chill. "Now that the show is over I want to be spending more time with my husband, friends and my little boy. I miss being able to take my son to the playground and watching all those important moments in his life. There's something so great about walking around New York, taking my son to the park."
With Broderick reuniting with Nathan Lane on Broadway in The Producers and busy with movie roles, Parker says they try to stagger work assignments. "But when an opportunity comes along that's very compelling, it's awfully hard to say no just because that's the idea you have in your mind."
She is not only a doting mother, she says she loves being married to Broderick. "What's so decent about Matthew is that he is a man first. My husband is delighted by the good things that have happened to me, just as I have been for him. But for us it's not all about the work."
Broderick recently said that the best thing about being a new dad is "It's all pluses. Even losing sleep. It's so sweet to hold him and have him fall asleep in your arms." And how does Parker respond to hearing this? "What can I say; that is so lovely," she comments. "I love the two men in my life."
Now a fashion icon, whose glamorous photo frequently adorns the covers of Vogue, In Style and Harper's Bazaar, Parker credits some of her love for fashion to Sex and the City's costume designer, Patricia Field. Field's penchant for creating fresh looks, new classics, funky expressions and making decade-old designs seem fresh and new, found its way into the living rooms of the everyday American life.
She is known for her passion for shoes and took designer Manolo Blahnik to new career heights with her devotion to his expensive designer stilettos. In fact, it is rumored that she had a bit of influence on her son James' first words? "Yep. One of his first words was shoe," she giggled. "And I have to say he says it beautifully."
Patricia Field says she mixed in elements so that Parker's character, Carrie, can relate to as many types of people as possible. "Sarah is an unintentional supermodel. She's also a woman, like a lot of women out there, who has attained her own good looks and style. She could be wearing nothing but whipped cream and she would look fabulous."
Parker, who appreciates the compliments, says that the fabulous clothes she has worn have affected her.
"It's a thrill to somebody who's loved clothing for as long as I can remember. In fact, clothing is meant to cover you and all the wonderful things that come along with covering your person. But what it's mostly done is given me opportunities to wear extraordinary, one-of-a-kind, magnificently built dresses that I would never have had an opportunity to wear. I'm a far more modest dresser than my character, but I've inherited some really fantastic things."
When nudged, Parker shares a few of her favorite fashion designers. "There's not one occasion when I've worn a beautiful dress that I haven't been stunned by the opportunity. You know, anywhere from Oscar de la Renta to Narciso Rodriguez to Isaac Mizrahi to new designers."
She has been fortunate enough to keep many of the fabulous outfits she wore on the show. If it's not auctioned off for charity or returned to a designer's showroom, she keeps it. "Everything is archived really carefully. I have it in a storage place and I'm very sentimental about it." She jokes, "I will be one of those crazy old ladies with a lot of meaningless clothes. But seriously, they all mean something to me, like the dress I wore when (Mr.) Big and I fell into the water."
One story line that Parker is proud of is the relationship between Charlotte (Kristin Davis) and her divorce attorney, Harry Goldenblatt, played by Evan Handler. Prim and proper Park Avenue Charlotte falls for Harry, who is unlike her ideal image of a man and ends up converting to Judaism so that they can marry. The episodes involved were handled with taste and great respect.
In keeping with her Jewish roots, Parker has done a number of projects that reflect a Jewish cultural nature. She has hosted the Hebrew version of Sesame Street called Shalom Sesame (an engaging episode featuring the Passover story), read Jewish folk tales on National Public Radio and also narrated a documentary on the Hasidic community.
Parker says her next movie will be shot in New York and jokes that "it will be good to play a woman who buys clothes she can actually afford." Several movie offers are firm and she says one will be filmed in the spring and one in the fall, both in New York.
Despite speculation about the ending of the show, a majority of the loyal viewers were pleased. In case you missed it, Carrie left her Russian artist lover, Aleksandre Petrovsky (Mikhail Baryshnikov), in Paris and was romantically taken back to Manhattan by her one true love, Mr. Big, played by Chris Noth. In the last scene, Mr. Big (who reveals his name as John) is selling his Napa Valley vineyard and moving back to New York to sweep Carrie off her feet. Is their future secured? No, but the fairy tale is still alive. Noth, a confirmed bachelor who shares many traits with his on-screen character, admits that like most of us he is smitten with his leading lady.
"We are great pals. I feel personally and professionally in sync with Sarah Jessica, so it makes it great to spend time together," Noth recently said. "Working with her is easy and it's not driven by selfish, egotistical needs. I trust her implicitly; that's an enormous bond for two actors to have. I talk to Sarah all the time, and we have become such close friends that I also confide in her."
Parker says that she and head writer Michael Patrick King feel that the girls-Carrie, Samantha, Miranda and Charlotte-will forever be linked to pop culture in New York. There are also DVDs and reruns to keep the show alive. The ride is not over. Just weeks after the show ended in February 2004 there were serious discussions about a Sex and the City movie, with King as the writer.
Parker says the movie would have to have the same sass and spunk as the TV show to succeed. So why does she feel her show has won such deep affection from TV viewers around the world?
"I would like to think that it's because the show is about intimate relationships with people-provocation aside and titillation aside-and all the things that are sort of colorful heartbeat things-caring, deep relationships-hold an audience. And it was all about good humor and stellar writing and all. So it has to do with intelligence and the right timing."
Although many viewers feared that motherhood was the primary reason Parker decided to end the show, she admits that was just one part of the puzzle. "It was very much a decision that Michael, HBO and I came to. To be perfectly candid, I think the discussions began before I was pregnant, which was nearly three years ago."
She said it took great thought and angst, but there were many reasons to let go.
"Michael (Patrick King) has said he loves these characters and he could write them again and again for the next two years. But he feared that the series would morph into another series. It wouldn't be Sex and the City, it would be four characters in a city a little bit more like Omaha. So it's really out of affection for Carrie, Charlotte, Miranda and Samantha; it's out of enormous affection that we made this decision. I can't imagine loving a job more or loving the people more that I'm with 18 hours a day."
For the future, Parker says that the show will be a tough act to follow. "I have high standards now because of the writers and producers I have worked with. I would like to continue to make choices the way I have always made choices. And that's what is thrilling and terrifying and challenging and what is new and fun. And who do I get to work with? And where do I get to work? And when? And how? I think it's important to me to play somebody very different. Perhaps somebody who doesn't have access to magnificent clothing and maybe lives in a rural environment," she says with a laugh. "I try to do interesting things. I think all of us should have high standards. I've been working as an actress now for 31 years. I just tried to make good, smart, wise choices, tried not to embarrass my family too much."
Sarah Jessica Parker is close to her family and loves having her mom and siblings over for family time. In fact, her brother Aaron was a production assistant on her successful show. She remains true to her Jewish roots in her concern for others. She is the National Ambassador for the U.S. Fund for UNICEF and is their representative for the Performing Arts. She was awarded the 1995 American Civil Liberties Union Award and is a member of Hollywood's Women's Political Committee.
For those of us who are green with envy over Parker's perfect life, she smiles, showing she has both brains and beauty on her side. "I am very lucky. I have had an amazing ride with Sex and the City, and my home life is great. But nothing is perfect," the lovely lady reminds us. "We make choices, and the key is to make the most of what is going on in our lives and make time for those people in our lives that we dearly love. That's the real success."
---
Sources: LifeStyles Magazine