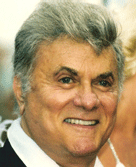 Tony Curtis was an American actor, born Bernard Schwartz on June 3, 1925, in the Bronx, New York to Jewish Hungarian immigrants.
From 1942 to 1945, Curtis served in the United States Navy, aboard a submarine tender. Following World War II, he attended the Dramatic Workshop of the New School for Social Research, then began working on stage.
Curtis moved to Hollywood in 1948 and made his uncredited film debut in 1949. His first leading role was in 1951's The Prince Who Was a Thief. He starred in over 100 films, in both dramatic and comedic roles, including Houdini (1953), Trapeze (1956), Sweet Smell of Success (1957), The Defiant Ones (1958), The Vikings (1958), Some Like It Hot (1959), Operation Petticoat (1959), Spartacus (1960), The Rat Race (1960), Who Was That Lady? (1960), The Great Impostor (1961), The Outsider (1962), Taras Bulba (1962), Forty Pounds of Trouble (1962), Captain Newman, M.D. (1963), Goodbye, Charlie (1964), Sex and the Single Girl (1964), The Great Race (1965), Boeing, Boeing (1966), Don't Make Waves (1967), The Boston Strangler (1968), Lepke (1975), The Last Tycoon (1976), Casanova & Co. (1977), Little Miss Marker (1980), The Mirror Crack'd (1980), Insignificance (1985), Center of the Web (1991), The Mummy Lives (1993), Hardball (1997), Alien X Factor (1997), Stargames (1998), and Love Is a Survivor (2004). Among his many television appearances, Curtis starred as Danny Wilde opposite Roger Moore in the adventure series The Persuaders (1971–72).
Adept at artwork as well, Curtis has been painting and drawing since the 1980s. His works are on exhibit at art galleries and other venues around the world. Actress Jamie Lee Curtis is the daughter of Curtis and his first wife, Janet Leigh. In 1993 Curtis wrote Tony Curtis: The Autobiography (with B. Paris).
In 1995, Curtis received France's honor of the Order of Arts and Letters. He also has a star on the Hollywood Walk of Fame. In March 2006, he received the Sony Ericsson Empire Lifetime Achievement Award.
Curtis died on September 29, 2010, of cardiac arrest at his home in Las Vegas.
---
Sources: A.A. Hunter, Tony Curtis: The Man and His Movies (1985).
"Tony Curtis (1925 - )." American Jewish Historical Society, American Jewish Desk Reference, (NY: Random House, 1999). pg. 446.
Encyclopaedia Judaica [Ruth Beloff (2nd ed.)], Tony Curtis: A Lifetime of Achievement. 
Wikipedia.