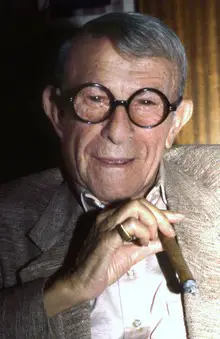 George Burns was a legendary Jewish American comedian, award-winning actor and best-selling writer.
He was born Nathan Birnbaum on January 20, 1896, in New York City. Burns began performing at the age of six, with a group of three other children, singing harmonies and calling themselves the Peewee Quartet. In the fourth grade, Burns quit school to go into show business full-time.
In 1923, Burns met Grace "Gracie" Allen, whom he married on January 7, 1926, in Clevelend, Ohio. The two immediately launched a partnership in acting and performing. In the beginning, the twosome worked their act tirelessly on the road, slowly building a following.
During the 1930s, Burns and Allen began their careers in motion pictures with a series of short comic films, including The Big Broadcast of 1932, International House (1933), Damsel in Distress (1937), and College Swing (1938). In 1938, the couple made motion-picture history, with the film Road to Singapore, also starring Bob Hope and Bing Crosby.
Burns and Allen made their first radio appearance as the comedy relief for bandleader Guy Lombardo. The duo's own show, The George Burns and Gracie Allen Show, premiered on the air on NBC on February 15, 1932. They formatted their show as a situational comedy. In 1948, the couple took the show to CBS, and thus to television in 1950. Burns and Allen aslo formed a company of their own, McCadden Corporation, which produced such television series as The Bob Cummings Show, The People's Choice, and Mister Ed. The show ran through 1958, until Burns and Allen consented to retirement. However, Burns changed his mind and continued the show without her; the full cast returned for The George Burns Show, but Allen's presence was obviously missing and the show expired after only a year.
Burns continued in television for one more series, a situational comedy, Wendy & Me, which he created and co-starred with Connie Stevens. Nevertheless, due to Gracie's weakening health, George decided to retire. Allen's death of a heart attack in 1964 devastated Burns; to cope with the saddness Burns decided to immerse himself in work to simply survive. Burns began performing in nightclubs and a series of solo concerts all over the country. In 1974, Burns returned to the screen in the film, The Sunshine Boys, which earned him the Academy Award for Best Supporting Actor. In 1977, Burns made another hit film, Oh, God!, co-starring with singer John Denver.
Burns continued to work well into his nineties, writing books and appearing in films and television. Burns died on March 9, 1996, at the age of 100.
---
Sources: "George Burns (1896 - 1996)." American Jewish Historical Society, American Jewish Desk Reference, (NY: Random House, 1999). pg. 439-440, Wikipedia, IMDB