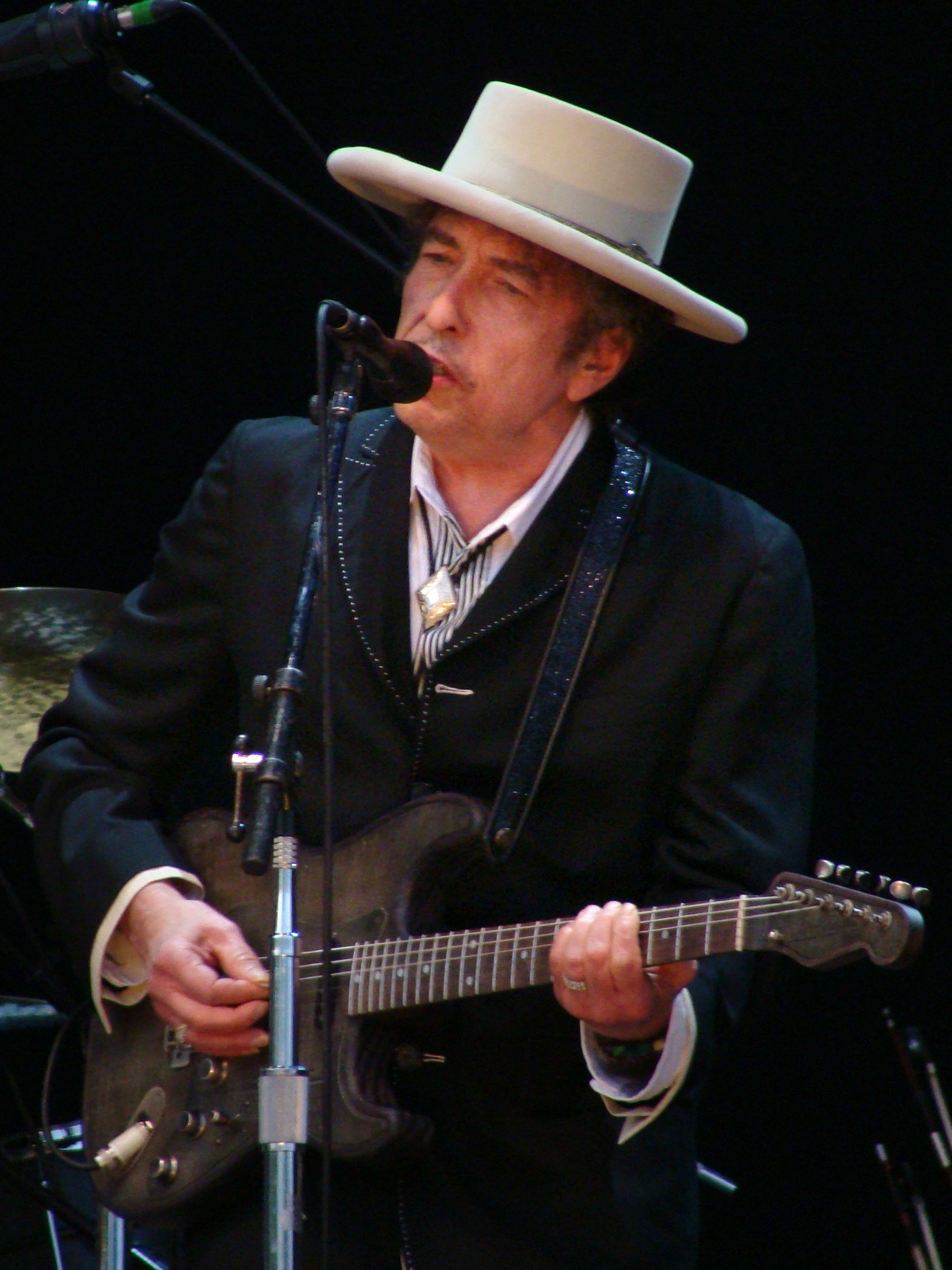 Bob Dylan is a Jewish American singer, musician, and songwriter widely regarded as one of the greatest and most popular in American history.
Robert Allen Zimmerman was born on May 24, 1941, in Duluth, Minnesota. In 1947, after his father was stricken with polio, the family moved to Hibbing, Minnesota. In the 1950s, Hibbing had a stable Jewish community of about 300 people, and Dylan's parents took active community roles - his father serving as president of B'nai Brith and his mother as president of the local Hadassah chapter.
Dylan attended religious school at the community's only synagogue, Agudas Achim, and he attended the Zionist Herzl Camp in Wisconsin, where he played guitar, piano, and harmonica with his fellow campers. At 13, he had a Bar Mitzvah in Hibbing with a guest list of around 400, which according to Moment, is rumored to be the largest ever in the town's history.
Much of his youth was spent listening to the radio, where he discovered blues, country music, and rock and roll. He was heavily influenced by Little Richard and Carl Perkins and began performing in high school garage rock bands called The Shadow Blasters and The Golden Chords. In 1959, he went off to college at the University of Minnesota and began introducing himself as Bob Dylan (or Dillon). He has never fully explained why he adopted this pseudonym, although there are many rumors regarding its origin. He quit school after one year and found his way to Greenwich Village, New York City.
On April 24, 1961, Dylan participated in his first professional recording session, playing harmonica on the song "Midnight Special," with folk singer Harry Belafonte. After gaining some crucial exposure later that year through a piece in The New York Times, Dylan was signed to a record deal with Columbia Records. His first album for Columbia was Bob Dylan, recorded in 1962. It was in his first few albums that he developed his own genre of protest songs, where he observed and criticized what he perceived as injustices in American society.
In 1963, he released The Freewheelin' Bob Dylan, which included the civil rights anthem "Blowin' In The Wind." The 1960s folk trio Peter, Paul & Mary adopted the song and turned it into an international hit single. "By the summer of 1965, there were signs that Bob Dylan had entered a new phase of his career," according to Evan Andrews. "The wild-haired troubadour had traded his everyman garb for sunglasses, trendy suit jackets and pointy-toed boots, and he was beginning to distance himself from his reputation as a protest singer and folk balladeer."
On July 25, 1965, Dylan shocked the audience at the Newport Folk Festival that expected him to appear with his trademark acoustic guitar and instead opened his set playing "Maggie's Farm" with an electric guitar, prompting jeers from the crowd. "This wasn't the Dylan the folk purists in audience had paid to see," Andrews noted. "To them, it was a musical betrayal—proof that he had abandoned the authenticity of folk for the glitz and glamor of rock 'n' roll."
"The Newport Folk Festival wouldn't be the last time that Bob Dylan reinvented himself," Andrews concluded, "but it is now remembered as a pivotal juncture in his career. It was the moment when he proclaimed his artistic independence and helped usher in a new era of lyrics-driven rock 'n' roll."
By the end of the 1960s, Dylan was already considered a musical "prophet" by his contemporaries for his genre-defining lyrics. Many of his songs also had recurring Jewish themes. The title song from Highway 61 Revisited (1965) alludes to the Binding of Isaac: "Oh G-d said to Abraham, 'Kill me a son'/ Abe says, 'Man, you must be puttin' me on'/ G-d say 'No.' Abe say, 'What?'/ G-d say, 'You can do what you want Abe, but/ The next time you see me comin' you better run'/ 'Well,' Abe says, 'Where do you want this killin' done?'/ G-d says, 'Out on Highway 61.'" In his song "Not Dark Yet" from the 1990s-era album Time Out of Mind, he sings, "I was born here and I'll die here against my will. Against your will you were born, against your will you will die." This is a paraphrased passage from Pirke Avot, or the "Sayings of Our Fathers" from the Mishnah ("Talkin' Hava Nagilah Blues," by Seth Rogovoy, www.jewsrock.org).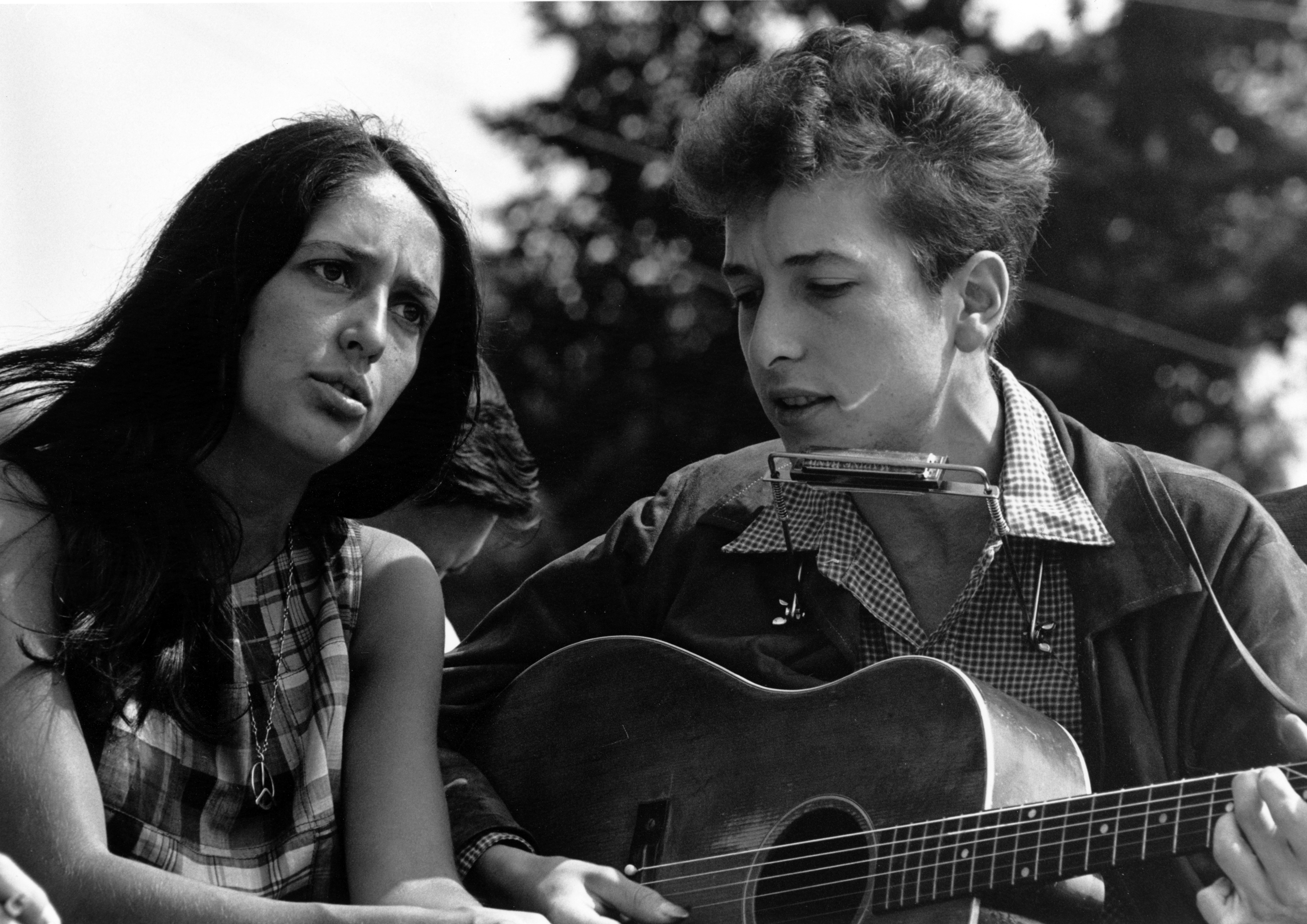 Dylan with Joan Baez
Despite the Jewish and other religious allusions in his work, Dylan said in a 1966 interview with Playboy that he never really felt Jewish. "I don't really consider myself Jewish or non-Jewish…I'm not a patriot to any creed. I believe in all of them and none of them ("The Unauthorized Spiritual Biography," by Nadine Epstein and Rebecca Frankel, Moment, Aug. 2005). Dylan aroused controversy when he converted to Christianity and became an evangelical in the late 1970s.
In 1983, around the release of his album Infidels, Dylan began to distance himself from Christianity and the church. He traveled to Israel for his son Jesse's Bar Mitzvah and was photographed at the Kotel wearing tefillin and praying. His song "Neighborhood Bully" from Infidels is an ode to Israel and its policies. Israel is never named directly in the song, but Dylan illustrates how Israel is outnumbered in the Middle East and surrounded by hostile nations and how Israel is constantly labeled by its enemies as a bully simply because it is struggling for survival.
Though much of his most famous and important work was based in the 1960s, Dylan continues to tour and release albums. Dylan continues to perform on his "Never Ending Tour," playing as many as 100 shows per year. His current religious label is always in question, but whether he is Jewish or Christian, Bob Dylan remains the single most influential songwriter of popular music.
In May 2012, President Barack Obama awarded Bob Dylan the Medal of Freedom, the nation's highest civilian honor.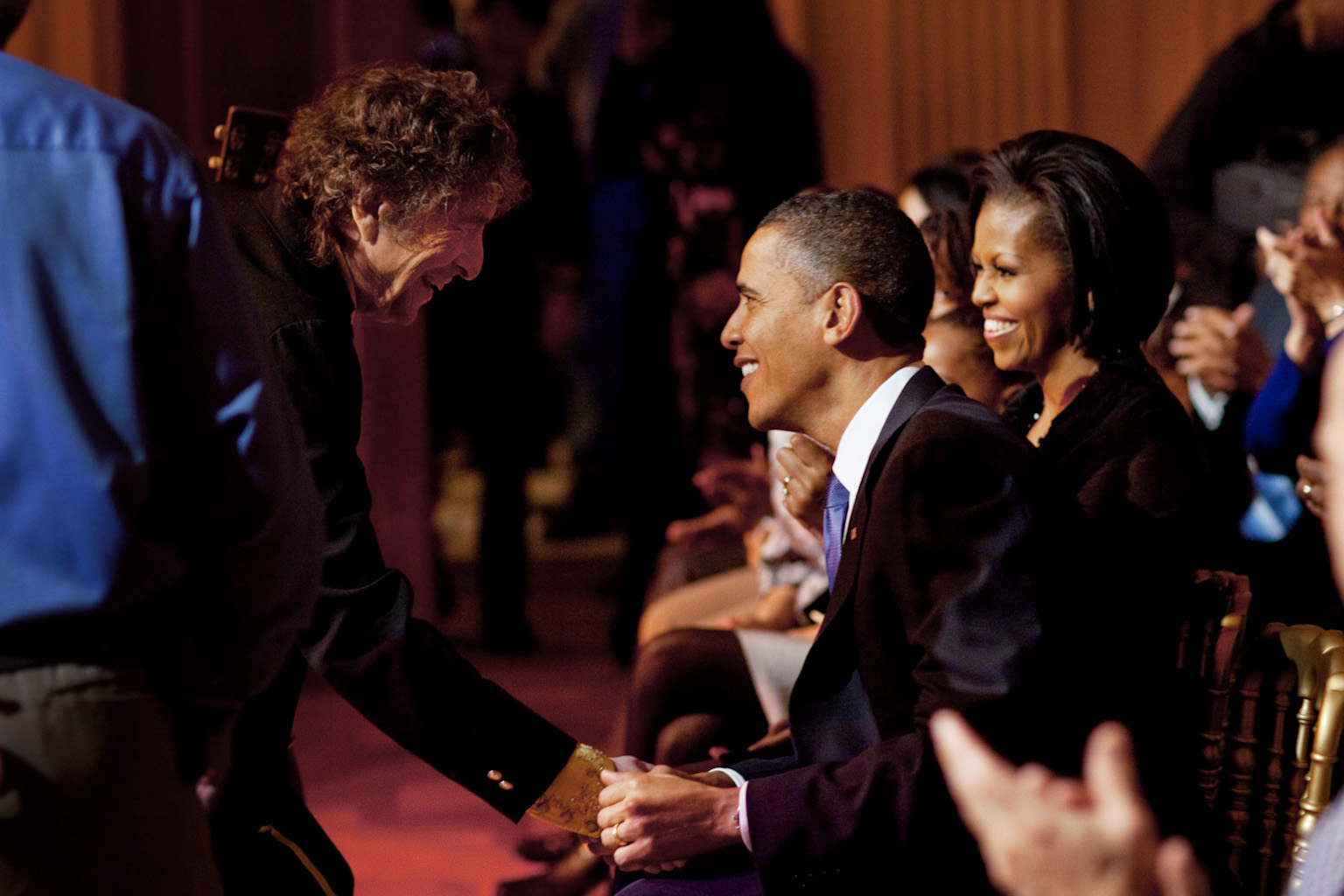 Dylan was awarded the 2016 Nobel Prize in Literature for "having created new poetic expressions within the great American song tradition." The New York Times reported that he was the first musician to win the award, and his selection "is perhaps the most radical choice in a history stretching back to 1901." Dylan did not react to receiving the award for two weeks before telling a journalist, that getting the award was "amazing, incredible. Whoever dreams about something like that?"
Dylan attracted more controversy when the Swedish Academy announced he would not travel to Stockholm for the Nobel Prize ceremony due to "pre-existing commitments." Instead, at the Nobel Banquet in Stockholm on December 10, 2016, Dylan's speech was given by Azita Raji, U.S. Ambassador to Sweden. Patti Smith accepted Dylan's Nobel and performed his song "A Hard Rain's A-Gonna Fall" to orchestral accompaniment.
To be eligible to receive the money that comes with the prize ($900,000), he was required to give a lecture within six months of the official ceremony. On April 2, 2017, Dylan went to Stockholm for a private ceremony during which Dylan received his gold medal and diploma and he gave the required lecture.
In May 2022, the Bob Dylan Center and Archive opened in Tulsa, Oklahoma. It holds movies, photographs, manuscripts, a guitar, and other Dylan memorabilia. Dylan did not attend the opening.
---
Sources: Medal Of Freedom Recipients Honored By President Obama, Huffington Post, (May 29, 2012).
Nadine Epstein and Rebecca Frankel, "The Unauthorized Spiritual Biography," Moment Magazine, (August 2005).
"Talkin' Hava Nagilah Blues," by Seth Rogovoy.
"Bob Dylan," NobelPrize.org.
"Bob Dylan," Wikipedia.
Evan Andrews, "The Day Dylan Went Electric," History, (August 26, 2015).
Seth Rogovoy, "As the new Bob Dylan Center opens in Tulsa, a new pop culture mecca is born," Forward, (May 9, 2022).
Photos: Portrait - Alberto Cabello from Vitoria Gasteiz, CC BY 2.0 via Wikimedia Commons.
Baez - Rowland Scherman, Public domain via Wikimedia Commons.
Obama - Official White House Photo by Pete Souza, Public domain via Wikimedia Commons.