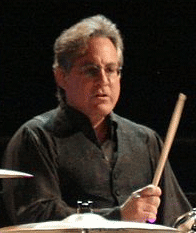 Max Weinberg is a Jewish American musician most famous as the drummer for Bruce Springstein's "E Street Band" and bandleader for various late night shows with Conan O'Brien.
Weinberg (born April 13, 1951) was born and raised in suburban New Jersey and began drumming very early in life - by the age of 7 he was already professionally hired to perform with a band at a local bar mitzvah. Weinberg says his synagogue rabbi, Rabbi Avraham Soltes of Temple Sharei Tefilo, was very influential in his early years and helped teach Max that music could be harnessed for tikkun olam. In the late 1960's, Weinberg attended Seton Hall University, majoring in film studies with a general goal of becoming a lawyer, though he continued to play in various bands and kept his music career alive.
In April 1974, Weinberg scored his big break when he met Bruce Springstein at Seton Hall and answered an ad placed by Springstein's band looking for a new drummer. Only a week after auditioning for the spot in New York, Weinberg was hired to the E-Street Band and he immediately dropped out of college to join the group.
Weinberg's first public performance with the Band came in August 1974 and he quickly rose to success and stardom alongside Springstein. Frequently referred to as "Mighty Max," Weinberg would keep a keen eye on Springstein during the entirety of their shows in order to ensure they were always keeping the same tempo. Decades later, E Street guitarist Steve Van Zandt would say of Weinberg, "What nobody understands is that not only is Max a great drummer, Max reads Bruce's mind. You can't learn that."
After producing many timeless albums - including "Born to Run" (1975), "Born in the USA" (1984), and "Tunnel of Love" (1987) - Springstein unexpectedly dissolved the E-Street Band in October 1989. Weinberg says he was left "a zombie for about six months" after hearing the news, but soon returned to Seton Hall and finished a bachelors degree in communications.  He briefly attended the Cardozo School of Law in 1989 but dropped out before finishing a semester.  For the next few years, Weinberg played for various bands and took some perfomance gigs, sometimes looking through the Yellow Pages for people seeking drummers.
In 1993, Weinberg played at the inauguration of President Bill Clinton and in July of that year, after a chance meeting with Conan O'Brien, Weinberg put together a new band called "The Max Weinberg 7," auditioned for the show and was later hired as the house band for O'Brien's late night show. Weinberg quickly developed a popular image on the show, sometimes even being involved with comedy bits, and he became a television celebrity.  After Andy Richter left the show in 2000, Weinberg was tabbed as Conan's go-to-guy and easily presented as a foil to O'Brien. As O'Brien said, "If you looked at this guy you would never know he was the drummer in a huge rock 'n' roll band. You would say he was the guy who did the band's accounting. But Max is the authoritative, buttoned-down adult in the midst of all this madness."
In 1999, Springstein reformed the E-Street Band for a worldwide reunion tour and Weinberg joined in the performances, getting a special leave arrangement worked out with NBC and O'Brien. In 2002, the band released their first new studio-recording album in 18 years, The Rising, and in 2007 released another album called Magic. In 2009, Weinberg and Springstein performed at the Super Bowl halftime show.
In 2010, Weinberg assembled the "Max Weinberg Big Band" and in September of that year it was announced that he would not be joining Conan as he moved from NBC to TBS. The split was stated as being mutual, with O'Brien saying, "Max has been a huge part of my life for the past 17 years and he is an incredible bandleader and musician," and Weinberg thanking his band and saying, "17 years — a lifetime on TV ... my association with Conan, his staff, and crew has been a deeply rewarding experience for me."
Since 1986, Weinberg has delivered over 300 speeches to colleges and business groups in his unique multi-media show, "Growing Up On E Street". During this presentation he details the up and downs of his career, exhibits behind-the-scenes footage of his days on the road and on TV, and takes questions from the audience for as long as they have them.
---
Sources: MaxWeinberg.Com; JTA (March 27, 2012); Wikipedia