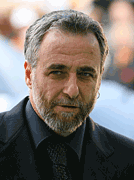 Ari Folman is an Israeli director, screenwriter, and film score composer. He was born in Haifa in 1962 and studied at Tel Aviv University's Department of Film and Television. Folman's parents met in the Lodz ghetto in Poland and were married on August 18, 1944. They were evacuated to Auschwitz the following morning during the liquidation of the ghetto.
Folman's began his film career with producing documentaries. Sha'anan Si, his second film, was directed with Ori Sivan in 1991 and won an Ophir Award (Israeli Oscar Award), a Jerusalem Film Festival Prize, and multiple international film awards. His 1996 film, Saint Clara, also directed with Ori Sivan, won a special award at the Karlovy Vary International Film Festival, the best film award at the Haifa International Film Festival, and six Ophir Awards for best director, best film, best actress, best supporting actor, best editing, and best music. He also wrote and directed the 2001 film Made in Israel, for which he was nominated for another Ophir Award for best director.
Between 2001 and 2004, Folman wrote the screenplays for seven episodes of the Israel television show Shabatot VeHagim. He also wrote three episodes of the television series BeTipul, which HBO later picked up and adapted for its series In Treatment. Between 2006 and 2008, Folman was the head writer on the Israeli show Parashat Ha-Shavua.
When Folman was a 19-year-old infantry soldier in the Israeli Defense Forces during the 1982 Lebanon War, he witnessed the aftermath of the massacre at the Sabra and Shatila Palestinian refugee camps at the hands of Lebanese Christian Phalangist militia. His 2008 film, Waltz with Bashir, follows his attempt to regain his memories of the war through therapy and conversations with friends he served with, as well as other Israelis who were present in Beirut during the war. Waltz with Bashir, written and directed by Folman, won 18 awards including Ophir Awards for best film, best director, and best screenplay, the Directors Guild of America award for Outstanding Directorial Achievement in Documentary, and a Golden Globe for best foreign language film. The animated documentary was also nominated for multiple BAFTA awards, a Cannes Film Festival award, and an American Academy Award for Best Foreign Language Film.
---
Sources: Internet Movie Database; The New York Times; Wikipedia