Jerry Bruckheimer
(1943 - )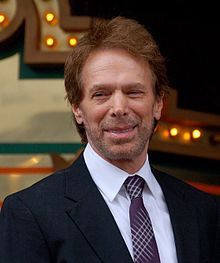 Jerry Bruckheimer is a Jewish American film and television producer.
He was born Jerome Leon Bruckheimer to German Jewish immigrant parents in 1943 in Detroit, Michigan. He attended Mumford High School in Detroit until moving to Arizona for college at age 17. He graduated with a bachelor's degree in psychology from the University of Arizona with an algebra minor. at the University of Arizona, Bruckheimer became a member of the Zeta Beta Tau Fraternity. A film buff at an early age with an interest in photography, Bruckheimer would take snapshots when he had the opportunity. After college, Bruckheimer moved to Chicago where he worked in the mail room of an advertising agency. Eventually, Bruckheimer segued into commercial producing when he got wind of an opportunity to produce a motion picture. Subsequently, Bruckheimer moved to Los Angeles.
He has achieved great success in the genres of action, drama, and science fiction. His best known television series are CSI: Crime Scene Investigation, Cold Case, and The Amazing Race. His best known movies include Beverly Hills Cop, Top Gun, The Rock, Con Air, Crimson Tide, Armageddon, Enemy of the State, Gone in Sixty Seconds, Black Hawk Down, Pearl Harbor, Pirates of the Caribbean, King Arthur, and National Treasure.
Bruckheimer started producing films in the 1970s, after leaving his job in advertising, with director Dick Richards. They had worked together on the films The Culpepper Cattle Company, Farewell, My Lovely, and March or Die. Bruckheimer then worked with Paul Schrader on two movies, American Gigolo and Cat People, which began to give him notice in Hollywood.
During the 1980s and 1990s, he was a co-producer with Don Simpson of a string of highly successful Hollywood films for Paramount Pictures. The two worked together and created Bruckheimer's first big hit, 1983's Flashdance, which brought in $95 million. He had a number of other hits including the Beverly Hills Cop films, Top Gun, and Days of Thunder.
Bruckheimer has continued to produce a large number of action movies including Armageddon. His other hit movies produced include Remember the Titans, Black Hawk Down and the Pirates of the Caribbean series.
Since 1997 Bruckheimer has branched out into television, creating a number of police dramas of which CSI: Crime Scene Investigation has been the most successful. He has also produced the reality game show The Amazing Race. Bruckheimer's TV shows include C.S.I.: Crime Scene Investigation, C.S.I. Miami, C.S.I.: NY, Without A Trace, Cold Case and The Amazing Race.
At one point, three of his TV series ranked among the top 10 in the ratings. One of the most successful producers of all time, Bruckheimer has been nicknamed "Mr. Blockbuster", due to his track record of commercially successful, high-grossing films. Overall, his films have brought in over $13 billion to Hollywood and have launched the careers of numerous actors and directors.
He was ranked number thirty-nine on Forbes Celebrity 100 List in 2007. The editors of Entertainment Weekly named Bruckheimer the number one most-powerful person in Hollywood in 2003. In 2013, Bruckheimer was awarded a star on Hollywood's Walk of Fame.
---
Sources: Wikipedia