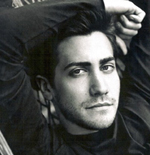 Jacob Benjamin Gyllenhaal, an American actor, was born on December 19, 1980 in Los Angeles, California. He is the son of director Stephen Gyllenhaal of Losing Isaiah fame, and screenwriter Naomi Foner. His sister Maggie Gyllenhaal is an accomplished actress who has had roles in movies such as Secretary and Mona Lisa Smile. According to Premiere magazine, Jake grew up surrounded by celebrity actors, such as Paul Newman (who taught him how to drive), Jamie Lee Curtis, and Dustin Hoffman. By age 11, he had a role as Billy Crystal's son in City Slickers, but did not have his first leading role until 1993 in the movie Josh and S.A.M.
Jake Gyllenhaal has appeared in over 15 films since 1991, including several with high critical acclaim. In 1999, he starred in October Sky with Laura Dern. In 2001, he played the lead character in the cult science-fiction psychological thriller Donnie Darko, a film about a mentally-ill teen who escapes death and has apocalyptic visions. Maggie Gyllenhaal also appeared in the film as the lead character's sister. Jake was nominated for the Independent Spirit Award for his role in Donnie Darko. In 2004, he had his first lead role in an action film, starring alongside Dennis Quaid in The Day After Tomorrow.
He has earned acclaim on the stage as well. The play "This is Our Youth," readapted by Kenneth Lonergan, was a critical sensation on Broadway and London. For his role as main character, Jake won the "Outstanding Newcomer" Evening Standard Theater award.
The year 2005 has been a good one for Gyllenhaal's acting career, as he starred in three feature films and won a prestigious award. He played the character Hal in Proof, co-starring with Gwyneth Paltrow and Anthony Hopkins. One of the year's most highly acclaimed films is Brokeback Mountain, where Gyllenhaal and co-star Heath Ledger play gay cowboys in love in 1960s Wyoming. For his role as Jack Twist, Jake won the coveted Golden Lion at the Venice Film Festival in 2005. He also stars in Jarhead, a movie about American soldiers in Iraq, and Zodiac, due out in 2006.
When asked about the varying stages of fame in Hollywood, he said, "First, it's 'Who is Jake Gyllenhaal?,' then it's 'Get me Jake Gyllenhaal,' then 'Get me someone who looks like Jake Gyllenhaal,' and then 'Who is Jake Gyllenhaal?'...Right now, I'm between 'Who is Jake Gyllenhaal?' and 'Get me Jake Gyllenhaal.'"
---
Sources: Wikipedia; Fred Schruers, "...Jake Gyllenhaal," Premiere, November 2005; IMDB, Photo Wikipedia