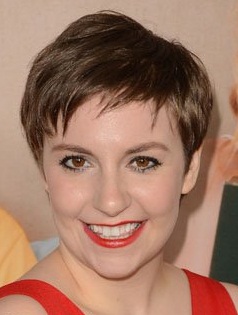 Lena Dunham is a Jewish American filmmaker and actress best known for her starring role in the HBO series Girls.
Dunham (born May 13, 1986) was born in New York City to a Jewish mother, Laurie, and a Protestant father, Carroll, who is believed to be a descendant of the Mayflower immigrants. She attended Saint Ann's High School in Brooklyn and eventually graduated in 2008 with a degree in creative writing from Oberlin College in Ohio.
In 2009, Dunham created the web series "Delusional Downtown Divas," a show that followed three young women hungry for art-world stardom and which quickly gained a cult following. That same year, she released her first feature film, entitled Creative Nonfiction, in which she and her sister Grace both starred. The movie, which possibly mimicked her own experiences, was based on a college student who becomes so engrossed in her romantic relationship that she loses perspective and neglects the screenplay she was meant to complete.
In 2010, Dunham released the movie Tiny Furniture, in which she again starred as well. The movie was nominated for two Independent Spirit Awards and won Best Narrative Feature at the South by Southwest Music and Media Conference.
Dunham gained more mainstream fame in 2012 when HBO greenlit her television series, Girls, starring herself and Allison Williams (daughter of news anchor Brian Williams) and produced by Judd Apatow.  The series, a comedy-drama that follows a close group of twenty-somethings as they chart their lives in New York City was strongly based on Dunham's real-life experiences. Girls was nominated for Outstanding Comedy Series at the Emmy Awards in 2012 and Dunham was nominated Best Actress in a Comedy Series at the Critics Choice Television Awards. In 2013, Dunham was nominated for, and won, the award for Best Performance by an Actress in a Television Series - Comedy or Musical at the 70th Golden Globe Awards.
In 2012, the Jewish Daily - Forward named Dunham in their top 50 most influential American Jews and in the top 5 who made the most significant impact on the news in the past year.
---