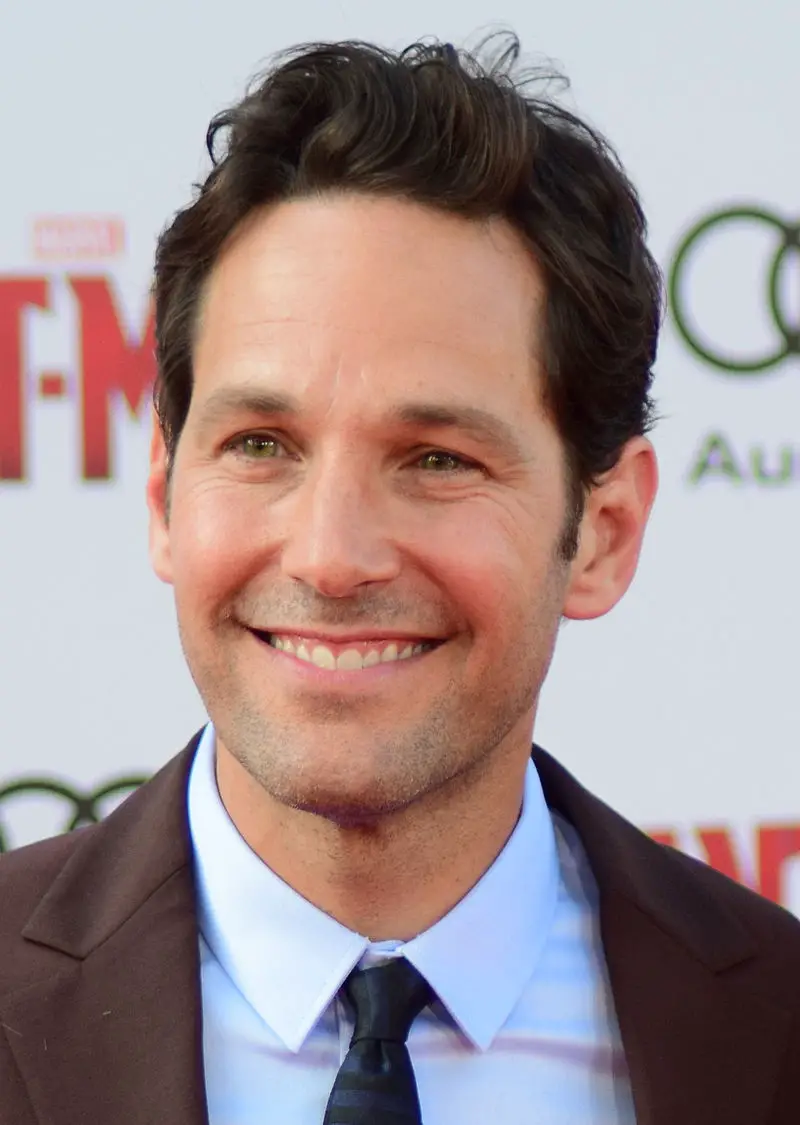 Paul Rudd is an American actor and screenwriter best known for his comedic roles.
Paul Stephen Rudd was born on April 6, 1969 in Passaic, New Jersey to Jewish immigrants from England. His family's original surname was Rudnitzky, but was changed to Rudd by his grandfather in order to get work in London. Rudd was raised by his parents Michael, a historical tour guide and former vice president of World Airways, and Gloria, a sales manager at the television station KSMO-TV, in Overland Park, Kansas. He attended the University of Kansas.
Rudd made his acting debut in 1992 with the television drama Sisters where he played Kirby Quimby Philby. In 1994, he appeared in Wild Oats for six episodes. Rudd left Sisters in 1995 to appear in the comedy film Clueless, which was his breakout performance. 
Some of his other well-known credits include Wet Hot American Summer, The Cider House Rules, William Shakespeare's Romeo + Juliet, Anchorman: The Legend of Ron Burgundy and multiple comedic roles in Judd Apatow films. In 2015, he appeared as the lead in Ant-Man. Rudd reprised his role in Captain America: Civil War (2016) as well as Ant-Man's 2018 sequel, Ant-Man and the Wasp; he also co-wrote the latter. Rudd also appeared in Avengers: Endgame (2019). He is set to reprise his role in 2023 with Ant-Man and the Wasp: Quantumania.
In 2004, Rudd had a recurring role on the popular sitcom Friends. In 2012, Rudd signed to appear on four episodes of NBC's Parks and Recreation. Rudd reprised his role as Andy from Wet Hot American Summer in the Netflix prequel Wet Hot American Summer: First Day of Camp.
He has also had multiple roles in Broadway plays, the first being The Last Night of Ballyhoo. The next year he appeared in Twelfth Night. In 2006, he appeared in Three Days of Rain. In 2012, Rudd appeared in the Broadway production of Grace.
Rudd received a star on the Hollywood Walk of Fame on July 1, 2015. Since 2014, Rudd and fellow actor Jeffrey Dean Morgan have been co-owners of Samuel's Sweet Shop, a candy store in the town of Rhinebeck, New York.
n November 2021, People named him the Sexiest Man Alive of the Year.
In 2003, Rudd married Julie Yaeger and they have two children. They live in Manhattan.
---
Sources: The Internet Movie Database. 
Wikipedia.
Photo: Red Carpet Report on Mingle Media TV from Culver City, USA, CC BY-SA 2.0 via Wikimedia Commons.