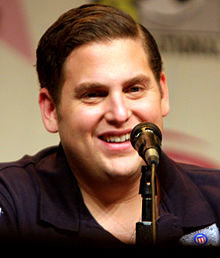 Jonah Hill is a Jewish American actor, producer, screenwriter and comedian.
Jonah Hill Feldstein was born on December 20, 1983, in Mill Valley, California. After graduating from high school, he left California for New York to attend The New School, where he studied acting.
In college Hill began writing and performing in his own plays in New York City. He made his film debut in I Heart Huckabees, in 2004, after meeting Dustin Hoffman through his children and Hoffman asking him to audition for a role in the movie. In 2005, Hill made a brief appearance in Judd Apatow's directorial debut The 40-Year-Old Virgin, which led him to roles in the other Apatow films. Hill had supporting or leading roles in Knocked Up and Superbad in 2007 and Funny People in 2009, which also starred Adam Sandler, Eric Bana and Seth Rogen. Hill is also known for his starring roles in 21 Jumpt Street and The Wolf of Wall Street.
---
Sources: Wikipedia