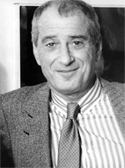 Jerry Leiber was a Jewish American songwriter and record producer best known as the lyricist for the duo "Leiber and Stoller" (with Mike Stoller). Their most famous songs include "Hound Dog," "Jailhouse Rock," "Kansas City," "Stand By Me" (with Ben E. King) and "On Broadway" (with Barry Mann and Cynthia Weil).
Born Jerome Leiber to Jewish parents in Baltimore, Leiber moved out to Los Angeles where he met and eventually teamed up with Stoller. Their first hit composition was "Hard Times," recorded by Charles Brown, which was a rhythm and blues hit in 1952. "Kansas City," which was first recorded in 1952 (as "K. C. Loving") by R&B singer Little Willie Littlefield, became a No. 1 pop hit in 1959 for Wilbert Harrison. In 1952, the duo wrote "Hound Dog" for blues singer Big Mama Thornton, which became a hit for her in 1953. The 1956 Elvis Presley rock version of "Hound Dog" was a much bigger hit. His showstopping mock-burlesque version of "Hound Dog" created such public excitement that on the Steve Allen Show they slowed down his act with Presley in a tuxedo and blue suede shoes singing his hit to a basset hound. The Leiber-Stoller song would be forever linked to Presley.
The duo's later songs often had lyrics more appropriate for pop music, and their combination of rhythm and blues with pop lyrics revolutionized pop, rock and roll.
Leiber and Stoller eventually formed Spark Records around 1954 with their mentor, Lester Sill. Their songs from this period include "Smokey Joe's Cafe" and "Riot in Cell Block #9," both recorded by The Robins. The label was later bought by Atlantic Records, which hired Leiber and Stoller in an innovative deal that allowed them to produce for other labels. This, in effect, made them the first independent record producers. At Atlantic, they revitalized the careers of The Drifters and wrote a number of hits for The Coasters, a spin-off of the Robins. Their songs from this period include "Charlie Brown," "Searchin'," "Yakety Yak," "Stand By Me" and "On Broadway." For the Coasters alone, they wrote twenty-four songs that appeared in the US charts.
The duo won Grammy awards for "Is That All There Is?" in 1969, and for the cast album of Smokey Joe's Cafe, a 1995 Broadway musical revue based on their work. Smokey Joe's Cafe was also nominated for seven Tony awards, and became the longest-running musical revue in Broadway history.
Jerry Leiber passed away on August 22, 2011 at the age of 78.
---
Sources: Leiber & Stoller Official Website.
Wikipedia.
Photograph courtesy Leiber & Stoller Archives.