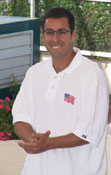 Adam Richard Sandler was born to Jewish parents on September 9, 1966, in Brooklyn, New York. Sandler was raised in Mancester, New Hampshire and attended Central High School. At age 17, Sandler took his first steps to becoming a comedian when took the stage at a comedy club in Boston, Masschusetts. From 1985 to 1989, Sandler made his first television appearance as Smitty on The Cosby Show. In 1991, Sandler graduated from New York University with a Bachelor's Degree in Fine Arts.

During his freshman year at NYU, Sandler was discovered as a comedian by Dennis Miller, who saw Sandler perform a stand-up act in a comedy club in Los Angeles. In 1990, Sandler was hired as a writer for Saturday Night Live, and became a featured act the following year. He immediately became famous by performing original songs on the show, including The Chanukkah Song. In 1995, Sandler left SNL to pursue other acting opportunities.

Sandler's first film was Billy Madison, in which he plays the leading role, a grown man who must repeat gradeschool to inherit his family's fortune. A few of Sandler's other films include Happy Gilmore (1996), The Wedding Singer (1998), and Big Daddy (1999). In 2002, Sandler was nominated for a Golden Globe for his role in the acclaimed Punch-Drunk Love. Sandler has his own production company, Happy Madison, named in reference to two of his most recognized films.

On June 22, 2003, Sandler married model Jackie Titone and the couple has two daughters, Sadie Madison (2006) and Sunny Madeline (2008).
---
Sources: Adam Sandler; Internet Movie Database: Biography on Adam Sandler; Adam Sandler Official Website; Picture by: Rita Molnár 2002