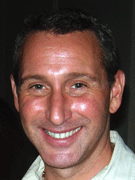 Adam Shankman is a Jewish American film director, producer, actor, dancer and choreographer.
Adam Michael Shankman was born November 27, 1964 in Los Angeles, California. He has said that he had a "traditional Jewish upbringing" in Brentwood, CA. He attended The Juilliard School in New York, but dropped out to dance in musical theater.
After dancing in music videos with Janet Jackson and Paula Abdul, Shankman broke into professional choreography in 1989. He has since choreographed dozens of films, including Hairspray (2007), She's All That (1999) and Boogie Nights (1997), and one of the Spice Girls' tours.
Shankman's first film directing gig was for the 1998 short film Cosmo's Tale, which appeared at the Sundance Film Festival. Since then, he has directed several feature-length films, including Hairspray (2007), Bringing Down the House (2003) and A Walk to Remember (2002). He was also the producer for Step Up (2006), Step Up 2: The Streets (2008), Step Up 3D (2010), Hairspray (2007) and other films. He was also one of the two producers for the 82nd Academy Awards, airing March 7, 2010.
Shankman has been a judge and choreographer on the FOX reality show So You Think You Can Dance since Season 3.
Shankman is openly gay and directed the comedy musical short Prop 8 - the Musical, following the passage of Proposition 8 in California banning gay marriage.
---
Sources: The Internet Movie Database, Wikipedia