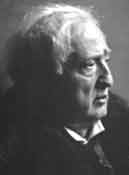 Jacob Pavlovitch Adler was a Jewish Yiddish entertainer.
He was born in Odessa, Russia, in 1855 and was raised in both the traditional Jewish world and in the more modern, European one. He first became interested in the theatre, through his uncle Arke. Growing up in Odessa, his family was faced with many horrifying pogroms, often causing them to fall further into poverty. During the Russo-Turkish War, Adler had to bribe his way into working with the Red Cross Medical Corps, rather than being conscripted into the army.
Following the war, Adler and few friends began a Yiddish theatre troupe in Odessa. The first productions were popular successes. Adler tended to rely on the translations of classics and modern European plays. In many of his performances he developed a persona he would later call "the Grand Jew." Although he began his successful acting career in Odessa, he was soon prohibited from acting when Yiddish theatre was banned in Russia in August 1883.
Soon after the ban on Yiddish theatre was issued, Adler moved to London to again pursue acting. In Whitechapel, the center of Jewish London, Adler encountered extreme poverty. Although Yiddish theatre, during this time in London consisted of amateur clubs, the arrival of Russian actors brought the Yiddish theatre to a new level. By November 1885, Adler had founded his own theatrical club, the Princes Street Club. While his weekly earnings were still minimal, Adler's fame grew exponentially.
In 1887, Adler left London for New York City, but upon finding no work, headed on to Chicago. In Chicago his acting troupe found a brief initial success, but shortly fell apart. In the fall of 1887, Adler decided to return to New York; however, after failing to find work, he returned again to London. Adler did not remain long in London; after finding some successes in Warsaw, he returned to New York in 1889. Upon this return to New York, Adler finally regained his triumphs in Yiddish theatre. He founded the Independent Yiddish Art Company and soon acquired the Poole's Theatre in New York, renaming it the Union Theatre. The Union Theatre quickly became the most serious Yiddish-language theatre in New York. Adler recruited Jacob Gordin, a well-respected novelist, to become the Theatre's main playwright, writing such successes as The Yiddish King Lear. During this time, Adler played one of his most memorable performances, as Shylock in Shakespeare's The Merchant of Venice on the Yiddish stage at the People's Theatre, and again in 1903 in a Broadway production.
In the summer of 1903, Adler returned briefly to Eastern Europe in the wake of the Kishinev pogrom, to convince family members to come to America; his sister Sarah Adler emigrated in 1905. In 1904, Adler built the Grand Theatre, the first purpose-built Yiddish theatre in New York. With the rise of new Jewish immigrants to New York, several Yiddish theatres were bidding for audience attention, causing a fall in the Grand Theatre's earnings.
In 1920, a stroke nearly ended his acting career, although he continued to appear occasionally on stage. Adler died on March 31, 1926.
---
Sources: "Jacob Adler (1855 - 1920)." American Jewish Desk Reference. NY: Random House, 1999. pg. 345, Nahshon, Gad, "The Great Eagle: great Yiddish actor-legend, Jacob Adler," 2001, The Jewish Post of New York, Internet Movie Database