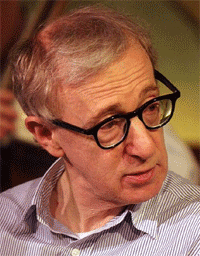 Woody Allen is a Jewish American screenwriter, actor, director, author and musician.
Born Allen Stewart Konigsberg on December 1, 1935, in New York City, Allen grew up in Flatbush, Brooklyn, where he attended Hebrew school for eight years, and then went to Public School 99 and to Midwood High School. At the age of sixteen, he began writing for stars like Sid Caesar and began calling himself Woody Allen. Following high school, Allen went to New York University, but he soon dropped out as a result of poor grades.
At nineteen, Allen began writing scripts for The Ed Sullivan Show, The Tonight Show, and Caesar's Hour. In 1960, Allen decided to become a stand-up comedian. At the same time, he also began writing for the television show, Candid Camera. He soon became an extremely popular comedian and appeared frequently on television and in nightclubs.
Allen is a celebrated movie writer and director, considered a pioneer in filmmaking. Allen draws much of his inspiration for the films from New York City, European cinema and psychology. In 1965, Allen's first movie production was What's New, Pussycat?, for which he wrote the screenplay. However, his first directorial debut film was What's Up, Tiger Lily? (1966). In this film, Allen took an existing Japanese spy movie and redubbed it in English with completely new and comical dialogue. In 1969, Allen directed his first standard film, Take the Money and Run. Before returning to the director's chair, Allen wrote two hit Broadway plays, Don't Drink the Water and Play It Again Sam.
Starting in 1977 with Allen's hit, Annie Hall, he produced a string of successful movies during a 10-year period including, The Purple Rose of Cairo and Hannah and Her Sisters (winner of three Academy Awards). Annie Hall marked a turning point in Allen's career to a more sophisticated humor and drama, setting the standard for modern romantic comedy. Since the 1970s, Allen's films have also become increasingly personal.
During the 1980s, his films became much more serious with heavy philosophical connotations. By the 1990s, he began to direct films in which he combined suspense with dark comedy, such as Manhattan Murder Mystery. However, by the late 1990s Allen seemed to have returned to lighter movies, such as Mighty Aphrodite, for which Mira Sorvino won an Academy Award. After several box office flops during the early twenty-first century, Match Point (2005) was one of Allen's most successful films ever.
Allen has become notorious in Hollywood for starring in his own movies, often as the main character. Allen has also starred in many films, in which he did not direct; a few of which include: Casino Royale (1967), Play It Again, Sam (1972), and The Front (1976).
In January 2014, Allen was awarded the Cecil B. DeMille Award for lifetime achievement at the Golden Globes.
Filmography:
What's Up, Tiger Lily? (1966)
Take the Money and Run (1969)
Men of Crisis: The Harvey Wallinger Story (1971)
Bananas (1971)
Everything You Always Wanted to Know About Sex (But Were Afraid to Ask) (1972)
Sleeper (1973)
Love and Death (1975)
Annie Hall (1977)
Interiors (1978)
Manhattan (1979)
Stardust Memories (1980)
A Midsummer Night's Sex Comedy (1982)
Zelig (1983)
Broadway Danny Rose (1984)
The Purple Rose of Cairo (1985)
Hannah and Her Sisters (1986)
Radio Days (1987)
September (1987)
Another Woman (1988)
New York Stories (1989)
Crimes and Misdemeanors (1989)
Alice (1990)
Shadows and Fog (1992)
Husbands and Wives (1992)
Manhattan Murder Mystery (1993)
Bullets Over Broadway (1994)
Don't Drink the Water (1994)
Mighty Aphrodite (1995)
Everyone Says I Love You (1996)
Deconstructing Harry (1997)
Celebrity (1998)
Sweet and Lowdown (1999)
Small Time Crooks (2000)
The Curse of the Jade Scorpion (2001)
Hollywood Ending (2002)
Anything Else (2003)
Melinda and Melinda (2004)
Match Point (2005)
Scoop (2006)
Cassandra's Dream (2007)
Vicky Cristina Barcelona (2008)
Whatever Works (2009)
Sdelka (2009)
You Will Meet a Tall Dark Stranger (2010)
Midnight in Paris (2011)
To Rome with Love (2012)
Blue Jasmine (2013)
Magic in the Moonlight (2014)
---
Sources: American Jewish Desk Reference; Wikipedia; Woody Allen Official Website