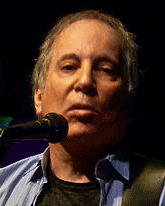 ---
Paul Frederic Simon was born October 13, 1941, in Newark Heights, New Jersey. He soon moved to Queens in New York City, where his musical career began at Forest Hills High School. It was there that Simon met Art Garfunkel, and the duo began singing together. In 1957, they recorded their first single "Hey, Schoolgirl," with Big Records; the single soon reached 49th on the pop charts.

Simon attended and graduated from Queens College, and became a Brother in the Alpha Epsilon Pi Fraternity. Between 1957 and 1964, Simon wrote, recorded, and released more than thirty songs, occasionally reuniting with Garfunkel (who attended Columbia University in Manhattan). Nevertheless, these albums would be released through minor record labels, such as Amy Records. Simon also used several different pseudonyms for these recordings, including Tico as a part of a group called Tico and the Triumphs. It was also during this time Simon met Carole King, with whom he recorded several demos as a duo called The Cosines. Simon also began producing many hit singles for other bands, including The Vels and the Pedestrians.

In early 1964, Simon and Garfunkel reunited under their own names; together they got an audition with Columbia Records and were signed to a contract. Their first record, Wednesday Morning, 3 A.M. was released on October 19, 1964. Although the album initially flopped, many radio stations began receiving requests to play the single "The Sound of Silence." The song eventually went to number one on the pop charts in the United States. In 1965, Simon went to England after Wednesday's failure to record a solo album, The Paul Simon Song Book. However, Simon returned to the United States to reunite with Garfield, upon the success of "The Sound of Silence." Together they recorded several influential albums, including Parsley, Sage, Rosemary and Thyme (1966) and Bridge over Troubled Water (1970). Simon and Garfunkel would also contribute exclusively to the soundtrack of the film The Graduate (1967).

Following the release of Bridge over Troubled Water, Simon began to pursue more solo projects. In 1972, he released Paul Simon, and There Goes Rhymin' Simon in 1973, which featured such hit songs as "Something So Right" and "Kodachrome". His 1975 album Still Crazy After All These Years is considered to be one of his finest works. In 1986, Simon won a Grammy for his album Graceland. In 2002, he recorded the theme song, "Father and Daughter", for the animated children's movie The Wild Thornberrys Movie. The song was nominated for an Academy Award for Best Song.

In 1975, Simon and Garfunkel reunited for their Top Ten single "My Little Town". In 1981, the duo reunited for the famous concert in New York City's Central Park, and released a reunion album, Hearts and Bones, in the same year.

In 1990, Simon and Garfunkel were inducted into the Rock and Roll Hall of Fame. In 2000, Simon was again inducted into the Rock and Roll Hall Fame for his solo career. In 2003, the two reunited again when they received the Grammy Lifetime Achievement Award. This reunion led to a U.S. tour, followed by a 2004 international encore, which culminated in a free concert at the Colosseum in Rome.
---
Sources: "Paul Simon (1941 - )." American Jewish Historical Society, American Jewish Desk Reference, (NY: Random House, 1999). pg. 405;
Paul Simon : American Masters on PBS;
Paul Simon: Wikipedia