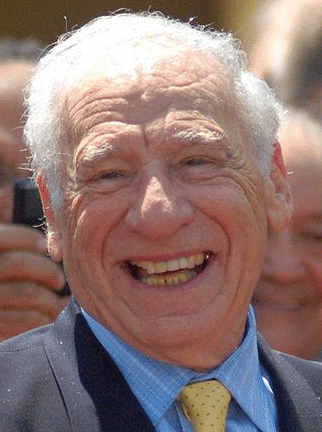 ---
Mel Brooks is a Jewish American comedian, actor, director, and producer most famous for his comical film parodies.

Brooks (born June 28, 1926) was born as Melvin Kaminsky into a Jewish family in Brooklyn, New York. When Brooks was only two years old, his father passed away from kidney disease, leaving Mel to be raised by his mother and three older brothers - Irving, Lennie, and Bernie. Brooks later said of his father's death that "there's an outrage there. I may be angry at God, or at the world, for that. And I'm sure a lot of my comedy is based on anger and hostility. Growing up in Williamsburg, I learned to clothe it in comedy to spare myself problems - like a punch in the face."

After graduating from Abraham Lincoln High School in Brooklyn, Brooks spent a year learning psychology at Brooklyn College before being drafted by the army. In the army, Brooks attended the Army Specialized Training Program and was later stationed in North Africa as an engineer during World War II. Following the war, Brooks began his career as a stand-up comic and then as a comedy writer for television. Some of his most recognized television works include the 2000 Year Old Man, the series Get Smart, and the Robin Hood parody When Things Were Rotten.

It was not until later in his career that Mel Brooks moved into cinema as an actor, director, writer and producer. A few of his most acclaimed films have been Young Frankenstein and Blazing Saddles, both of which were released in 1974. Brooks is notorious for appearing in nearly all of his films. His films usually contain many Jewish references and jokes. His movies are also recognized as containing a mocking song-and-dance number.

In 1980, Mel Brooks launched the production company Brooksfilm, to produce the film "The Elephant Man," a more dramatic picture directed by David Lynch.

In 2001, Mel Brooks returned to Broadway with his stage performance of his 1968 film The Producers. While the movie won the Academy Award for Best Original Screenplay in 1968; the Broadway show adaptation earned Brooks the Tony Award for Best Musical, Best Book of a Musical, and Best Original Score. The Producers broke the Tony record with 12 wins, originally held at 10 wins by Hello, Dolly! Brooks is one of a select group to receive an Oscar, Emmy, Tony, and Grammy in his lifetime career.

Brooks has been married twice, first to Florence Baum from 1951 to 1961, when their marriage ended in divorce. Mel and Florence have three children, Stefanie, Nicky, and Eddie. Brooks was married to his second wife, actress Anne Bancroft from 1964 until her death on June 6, 2005. Together Brooks and Bancroft had one son, Maximillian.
---
Sources: Wikipedia: Mel Brooks; Internet Movie Database: Biography on Mel Brooks