Felix Mendelssohn
(1809 - 1847)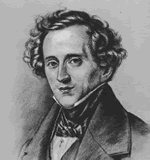 The grandson of Moses Mendelssohn, a distinguished philosopher and spiritual leader of German Jewry, wrote his inspired overture, A Midsummer Night's Dream, when only seventeen - eight years after his first public piano recital. In the vibrant, cultivated atmosphere of an affluent household, the young prodigy blossomed intellectually and musically.

Felix's father, Abraham, was a successful banker and businessman; his mother, Leah Salomon, came from a prominent German Jewish family of considerable means. When Felix was six, his parents baptized him in the Lutheran church - they believed that Judaism, with its history of torment, persecution and abuse, was an antiquated and self-defeating form of religion, an obstacle to their integration into the wider community. They also took the name Bartholdy. Felix was confirmed in the Lutheran church at age fourteen.

Despite an exhausting schedule as a much sought-after conductor, pianist and teacher, the prolific composer completed five orchestral symphonies; the Reformation (1830-32), Italian (1833) and Scottish (1842) are the best known and most frequently performed. Within his body of music is the "Wedding March" familiar to us all.

Mendelssohn earned considerable fame in his day. His tours throughout the continent brought him often to England and into the personal favor of Queen Victoria who deeply admired his genius. he also helped revive interest in the century-old works of Bach, raised the quality of orchestral performance, and founded the Leipzig Conservatory of Music which was then regarded as the finest in the world.

Musicologists consider Mendelssohn's choral and organ music as among the best the century produced. By the early 1840s he was the most acclaimed and popular composer in Central Europe. And taking up the baton he conducted the first performances of symphonies by his friend and colleague, Robert Schumann, and by Franz Schubert.

Tragedy struck at age 38 when Mendelssohn's much adored sister, Fanny (an accomplished pianist in her own right), died suddenly. Physically depleted and in failing health, on of the most gifted musicians of his day expired soon after his overwhelming bereavement.

For the most part, Felix Mendelssohn lived and died a Christian. At his Christian funeral, attended by multitudes of admirers, a six-hundred voice sang: "Christ and the Resurrection." Felix was buried in the cemetery of Holy Cross Church in Berlin. Today, a huge cross marks his grave.
---
Sources: Dor LeDor; Excerpted with permission from a sermon by Rabbi Samuel M. Stahl, February 20, 1998. Rabbi Stahl is from Temple Beth-El, San Antonio, Texas.