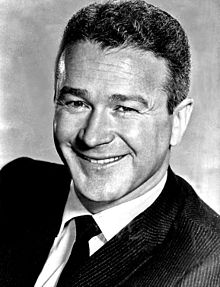 Red Buttons was a Jewish American comedian and Academy Award winning actor.
He was born Aaron Chwatt on February 5, 1919, in New York City. He won an amateur night contest at age of 12. At the age of 16 years old, he got a job as an entertaining bellhop at Ryan's Tavern in City Island, Bronx. It was there that he adopted the stage name "Red Buttons." In 1939, Buttons started working for Minsky's Burlesque. Then in 1941, he was chosen to perform in a Broadway show The Admiral Had a Wife, but the show never opened, as it was deemed inappropriate after the Japanese attack on Pearl Harbor.
In September 1942, Buttons at last got his Broadway debut in the show Vickie. Later that year, he also appeared in the show Wine, Women and Song; this was the last burlesque show in New York City history.
In 1943, Buttons was drafted in the Army Air Corps during World War II. He was also chosen to perform in the Broadway show Winged Victory. He went on to entertain troops in the European Theatre of operations. After the war, Buttons continued to do Broadway shows.
In 1952, Buttons received his own variety series on television- The Red Buttons Show. The show ran for three years, and was considered very successful; Buttons even won an Emmy for Best Comedian.
He won an Academy Award and Golden Globe as Best Supporting Actor for his portrayal of Airman Joe Kelly in Sayonara (1957). His role in Sayonara was a dramatic departure from his previous comical work. After his Oscar-winning role, Buttons performed in numerous feature films, including The Longest Day, Harlow (1966, nominated for a Golden Globe for Best Supporting Actor), They Shoot Horses, Don't They? (1970, nominated for a Golden Globe for Best Supporting Actor) and The Poseidon Adventure. He also made many memorable TV appearances on programs including It's Garry Shandling's Show.
Buttons died on July 13, 2006, in Los Angeles, California. He is #71 on Comedy Central's list of the 100 Greatest Stand-ups of All Time.
---
Sources: "Red Buttons (1919 - 2006)." American Jewish Historical Society, American Jewish Desk Reference, (NY: Random House, 1999). pg. 440. Wikipedia, IMDB