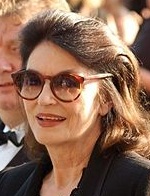 Aimee Anouk is a French Jewish actress.

Anouk was born on April 27, 1932 in Paris, France as Francoise Sorya Dreyfus to actor Henry Murray (born Henry Dryfus) and actress Genevieve Sorya nee Durand. Her father was Jewish and her mother Roman Catholic and although Aimee was raised Catholic, she converted to Judaism later in life.

She started her film career as a teenager and the daughter of actress Geneviève Sorya, the Paris-born Aimée gained the attention of the French public in 1957 in the film Les Mauvaises Rencontres. In Federico Fellini's La Dolce Vita (1960), and 8½ (1963), she was cast in roles reflecting modern boredom and world-weariness. She was nominated for an Academy Award as best actress for her part in Lelouch's A Man and a Woman (1966). Among her more than 80 films are Justine (1969), The Appointment (1970), Salto nel Vuoto (Cannes Award for Best Actress, 1980), Un Homme et une Femme: 20 Ans deja (1986), Il y a des jours…et des lunes (1990), and Robert Altman's Ready to Wear (1994). She was married to the actor Albert Finney from 1970 to 1978.
---
Sources: Wikipedia, Encyclopedia Judaica (2008)