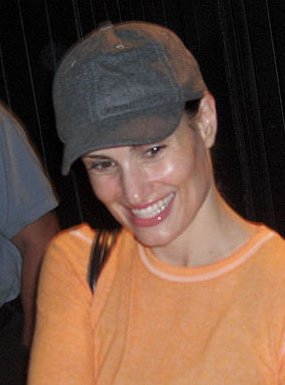 Idina Kim Menzel is an American Jewish singer-songwriter and Tony Award-winning actress.
Born on May 30, 1971 in Queens, New York, to Helene and Stuart Menzel, a psychoanalyst and pajama salesman, respectively, Menzel grew up in East Brunswick, Somerset, and Marlboro, New Jersey, but spent most of her childhood in Syosset, New York. She changed her name from Mentzel to Menzel to better reflect the name that her family, who came mostly from the former Soviet Union, took upon immigrating to the United States.
Menzel's parents divorced when she was sixteen years old, and she sang at bar mitzvahs and weddings to earn extra income for herself and her mother, and continued that job throughout her studies at the Tisch School of the Arts at New York University. Menzel earned a BA in drama at NYU before being cast as Maureen in Jonathan Larson's hit and Pulitzer Prize-winning Broadway rock musical Rent in 1996. She received a Tony nomination for her Broadway debut in Rent. Menzel's other Broadway appearances include Aida, in which she starred as Amneris, and Wicked, in which she starred as Elphaba, the wicked witch of the west opposite Kristin Chenoweth.
In film, Menzel has appeared in Just a Kiss, Kissing Jessica Stein, The Tollbooth, Water, Ask the Dust, Enchanted and Rent. In addition to her career as an actress and singer in shows, Menzel writes and sings her own music and has released three solo albums: "Minuet" (1998), "Here" (2004), and "I Stand" (2008). Additionally, "Idina Menzel Live: Barefoot at the Symphony" was released in March 2012 and aired on PBS. Menzel is inspired by Bette Midler's dynamic and successful career.
Menzel has performed with the New York Philharmonic, the Boston Pops Orchestra, and the North Carolina Symphony. She has a recurring role as a guest star in the hit ABC television series "Glee" playing Shelby Corcoran, the coach of the rival glee club Vocal Adrenaline.
Menzel is an outspoken supporter of Barack Obama and in the summer of 2010, she performed "Defying Gravity" and "What I Did for Love" for President Obama and First Lady Michelle Obama at a Broadway celebration at the White House.
In 2003, Menzel married actor Taye Diggs, whom she met on the set of the original production of Rent. The couple has a son named Walker Nathaniel Diggs, who was born in 2009.
Regarding her Jewish identity, Menzel told the Jewish Chronicle in 2008 that she would like to raise her children Jewish: "I am a Jewish woman and I feel strong connections to my culture, so yes, I would like to bring them up with knowledge of the stories and awareness of the history," she said.
Menzel is also a philanthropist as she founded the A BroaderWay Foundation with Diggs to support young people in the arts, and she performs various benefit concerts for organizations such as the Peace Academy Diversity Program.
In 2013, Menzel voiced the character of Queen Elsa in the Disney animated film Frozen. Her performance of the movies main song, "Let it Go," received wide acclaim and the song won the Academy Award for Best Original Song.
---
Sources: Idina Menzel Official Website; Facebook Fan Page; Jewish Chronicle (September 26, 2008).