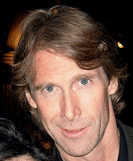 Michael Bay is a Jewish American film director and producer best known for high-budget action films with substantial usage of practical special effects.
Michael Benjamin Bay was born February 17, 1965, in Los Angeles, California. He was raised by his adoptive parents Harriet, a bookstore owner/child psychiatrist, and Jim, a CPA. In 1986, he graduated from Wesleyan University with a double major in English and Film. For his graduate work, he attended Art Center College of Design in Pasadena where he also studied film.
Soon after receiving his post-graduate degree, Bay began working at Propaganda Films, directing commercials and music videos. His first feature-length film directing job was 1995's Bad Boys, starring Will Smith and Martin Lawrence. The film grossed $141 million at the box office in the summer of 1995, and helped launch Will Smith's career as a movie star. 
Bay's next film project was The Rock, set at Alcatraz Island and starring Nicolas Cage, Sean Connery, and Ed Harris.  The film was produced by Jerry Bruckheimer and Don Simpson, who died shortly after the movie's release.  The movie was received positively and was nominated for the Academy Award for Best Sound Mixing at the 69th annual Academy Awards. 
Following the success of The Rock, Bruckheimer and Bay worked together again in 1998 on a film called Armageddon, which became the highest worldwide grossing film of 1998.  Armageddon enlisted Bruckheimer and Bay both as co-producers and Bay as the director, and starred Bruce Willis, Liv Tyler, Ben Affleck, and Billy Bob Thornton.  The movie was a huge box office success, grossing $553 million worldwide total including $9.6 million on opening day.  Although the film was not necessarilly praised by critics, it was nominated for four Oscars including Best Original Song for Aerosmith's power balad "Dont Want To Miss A Thing."  The song was Aerosmith's biggest hit, debuting at #1 on the Billboard Hot 100 chart in the US and several other countries, and selling over one million copies. 
Pearl Harbor was Bay's next project, released on Memorial Day weekend in 2001.  The movie tells the story of the Pearl Harbor bombing through the eyes of Ben Affleck, Josh Heartnet, Kate Beckinsale, and Cuba Gooding Jr. It was nominated for four Oscars and won in the category of Best Sound Editing.  This is Michael Bay's first and only Oscar to date. 
Marking Bay and Bruckheimer's fifth collaboration together, in 2003 Bad Boys 2 was released, once again starring Will Smith and Martin Lawrence. Bad Boys 2 grossed twice as much as the original worldwide. 
Michael Bay directed The Island, his first movie without Jerry Bruckheimer, in 2005.  The film was a mild success, turning a profit of $46 million worldwide. 
Bay's most successful endeavors have been his Transformers movies, based on the Hasbro Transformers franchise.  The first one was directed by Bay and Executive Produced by Steven Spielberg and released on July 3, 2007. On it's first day of release the movie shattered expectations and grossed $27.8 million, setting a record for Tuesday box office attendance and breaking Spider-Man 2's record for highest July 4th weekend opening.  Transformers grossed $155.4 million during it's opening weekend, setting the record for biggest opening of a non-sequel.  A sequel was released in 2009, Transformers: Revenge of the Fallen, that was panned by critics but grossed over $830 million worldwide.  Transformers: Revenge of the Fallen was one of the highest grossing films of 2009, and the second highest selling DVD and Blu-Ray.  A third sequel was released in 2011 titled Transformers: Dark of the Moon, which is currently the seventh highest grossing film of all time.  The film grossed $1.12 billion worldwide and was generally better received than the second installment.  A fourth sequel, Transformers: Age of Extinction was released in 2014, and is the last Transformers sequel that will see Michael Bay as it's director.  The movie represents a soft reboot, taking place five years after the previous film left off and replacing main characters. An enormous box office success, the movie grossed over $1.08 billion worldwide.  Despite being once again negatively reviewed by critics, the movie was well received by it's target audience and was praised for it's sound editing and Mark Wahlberg's acting. 
Bay's production house Platinum Dunes was founded in 2001 and has remade several classic horror movies including The Texas Chainsaw Massacre, The Amityville Horror, Friday the 13th, and A Nightmare on Elm Street.  Platinum Dunes has also produced successful original horror movies such as The Purge, The Purge: Anarchy, and The Unborn. 
Bay's films have grossed over $5 billion worldwide. He is co-founder of commercial production house The Institute for the Development of Enhanced Perceptual Awareness, co-chair and part-owner of the special effects house Digital Domain and co-owns the production house Platinum Dunes.
---
Source: Wikipedia.
Photo: This file is licensed under the Creative Commons Attribution-Share Alike 3.0 Unported license. Author: Romina Espinosa