Art Garfunkel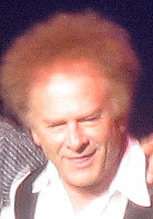 (1941 - )
---
Arthur Ira "Art" Garfunkel is an American singer, best known as half of the folk duo Simon and Garfunkel.

Garfunkel was born on November 5, 1941, in Forest Hills, New York, a section of Queens, in New York City.

He met his future singing partner, Paul Simon in the sixth grade, and between 1956 and 1960 the two performed together as Tom & Jerry. Garfunkel attended Columbia University in the early sixties.

In 1963, Simon and Garfunkel reformed their duo under their own names. The combination of Garfunkel's sweet and melodic voice with Simon's song-writing capacities caused the duo to be among the top acts of the 1960's. However, citing personal differences and divergence in career interests, they split following the release of their most critically acclaimed album, Bridge Over Troubled Water, in 1970.

In the 1970's, Garfunkel released a few solo albums, and although he did not reach the heights that Simon and Garfunkel had reached, he still scored hits with I Only Have Eyes For You, Bright Eyes (both British #1 hit singles) and All I Know (#9 in the United States). A version of Bright Eyes also appeared in the movie Watership Down.

In between, he acted in a few movies, including Catch-22 and Carnal Knowledge (1971) with Jack Nicholson, Candice Bergen and Ann-Margret.

Following disappointing sales of his 1981 album Scissors Cut, Garfunkel reunited with Simon for their famous concert in Central Park. They next worked on a new studio album together, but Garfunkel left the project after disagreements surrounding lyrics. After this, Garfunkel left the music scene for several years but returned in 1988 with the album Lefty. Neither of these projects garnered much critical success, and Garfunkel did not release another album until 1993's Up 'til Now. Perhaps his most noteworthy recent release is his live 1996 concert Across America, recorded live at the registry hall on Ellis Island. The concert features several musical guests, including James Taylor, Garfunkel's wife, Kim, and his son James.

In 2003, he reunited again with Simon for an U.S. tour, followed by a 2004 international tour.

Garfunkel made news in early 2004 when he was arrested for possession of marijuana. He was picked up for the same charge in August 2005.
---
Sources: Wikipedia