U.S.-Israel Relations: A Special Alliance
by Mitchell Bard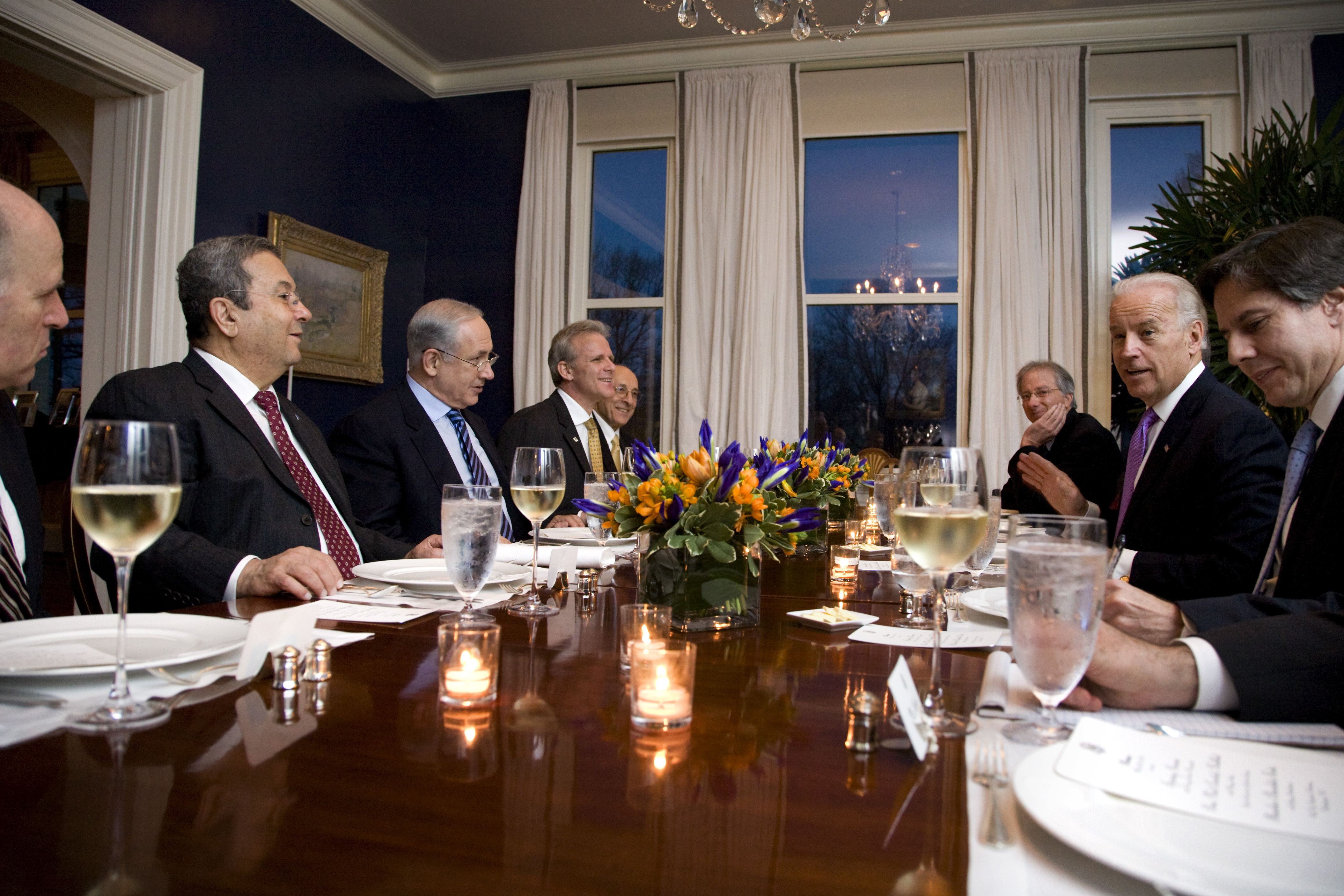 Introduction
Strategic Cooperation
Missile Defense
Economic Ties
Academic Connections
Shared Value Initiatives
States Build Bridges to Israel
A Wellspring of Sympathy
Conclusion
Introduction
Since President Harry Truman decided to recognize Israel eleven minutes after its declaration of independence, the United States and Israel have had a special relationship, which has evolved over time into a web of military, economic, academic, bureaucratic, and personal connections at the local, state and federal levels.
Strategic Cooperation
Up until the mid-1960s, State Department and Pentagon officials argued that Israel did not need American arms because it was strong enough to defend itself (as evidenced by the Suez campaign) and had access to arms elsewhere. Officials also worried that the Arabs would be alienated and provoked to ask the Soviets and Chinese for weapons that would stimulate a Middle East arms race.
U.S. policy first shifted with John Kennedy's 1962 sale of HAWK antiaircraft missiles to Israel, which was made over the objection of the State Department, but only after Egypt obtained long-range bombers from the Soviets.
Israel and the United States signed a secret memorandum of understanding in 1965 that marked the beginning of the strategic alliance with the United States. Lyndon Johnson subsequently provided Israel with tanks and aircraft, but these sales were balanced by transfers to Arab countries. U.S. policy was to avoid providing one state in the area a military advantage over the other. This changed in 1968 when Johnson announced the sale of Phantom jets to Israel. That sale established the United States as Israel's principal arms supplier. It also marked the beginning of the U.S. policy to give Israel a qualitative military edge (QME) over its neighbors.
Johnson's decision was based on Israel's perceived needs (and domestic political considerations) rather than its potential contribution to U.S. security interests. Up to this point, Israel was not viewed as having any role to play in Western defense, largely because it did not have the military might to contribute to the policy of containment. This perception began to change in 1970 when the United States asked Israel for help in bolstering King Hussein's regime. By the early 1970s, it became clear that no Arab state could or would contribute to Western defense in the Middle East. The Baghdad Pact had long before expired and the regimes friendly to the United States were weak reeds in the region compared to the anti-Western forces in Egypt, Syria and Iraq. Even after Egypt's reorientation following the signing of the peace treaty with Israel, the United States could not count on any Arab government for military assistance.
The Carter Administration began to implement a form of strategic cooperation (it was not referred to as such) by making Israel eligible to sell military equipment to the United States and engaging in limited joint exercises. The relationship could have stagnated at this point, especially after the blow-up between Ronald Reagan and Menachem Begin over the 1981 sale of AWACS to Saudi Arabia, but Reagan was the first President to see Israel as a potential contributor to the Cold War.
Prior to his election, Reagan had written: "Only by full appreciation of the critical role the State of Israel plays in our strategic calculus can we build the foundation for thwarting Moscow's designs on territories and resources vital to our security and our national well-being."
The Israelis wisely played up their capability to deter the Soviet Union. At the same time, the Arab states refused to join the "strategic consensus" that Alexander Haig tried to create to oppose Soviet expansionism in the region. The Arabs insisted the greatest threat to them was not Communism but Zionism. The Israelis never considered the Soviets their principal threat, but were prepared to say otherwise to win Reagan's favor.
They began to reap the benefits of this approach on November 31, 1981, when the two countries signed a Memorandum of Understanding (MOU) termed "strategic cooperation." The agreement was diluted by opposition from the Pentagon and State Department and did not provide for joint exercises or a regular means of cooperation. Worse, it was used as a stick to beat Israel with a month later (December 18) when the MOU was suspended because of American dissatisfaction with Israel's decision to annex the Golan Heights. Still, Israel was formally recognized as a strategic ally for the first time.
Two years later, a new MOU was signed that created the Joint Political-Military Group (JPMG) and a group to oversee security assistance, the Joint Security Assistance Planning Group (JSAP). The JPMG was originally designed to discuss means of countering Soviet threats, but it almost immediately focused more on bilateral concerns. The JSAP was formed in response to Israel's economic crisis in the mid-1980s and focused primarily on Israel's military procurement needs.
The strategic cooperation agreements established Israel as a de facto ally of the United States, institutionalized military-to-military contacts, sent a message to the Arabs that America was not afraid to risk upsetting them and shifted at least part of the focus of relations with Israel from Congress to the Executive Branch.
In 1989, the United States accepted an Israeli invitation to establish munitions stockpiles in Israel for use by the United States and, with U.S. permission, by Israel in emergency situations. The United States stores missiles, armored vehicles, and artillery ammunition in Israel. Israel was granted access to the stockpile during the 2006 war against Hezbollah in Lebanon and the July 2014 operation against Hamas.
In 1987, Congress designated Israel as a major non-NATO ally, which allowed Israeli industries to compete equally with NATO countries and other close U.S. allies for contracts to produce a significant number of defense items. Israel also began to receive $3 billion in grant economic and military assistance. A new MOU was signed the following year, encompassing all prior agreements. By the end of Reagan's term, the U.S. had prepositioned equipment in Israel, regularly held joint training exercises, began co-development of the Arrow Anti-Tactical Ballistic Missile, and was engaged in a host of other cooperative military endeavors.
Today, these strategic ties are stronger than ever. To cite a few examples:
In June 2018, the Israeli army signed contracts worth $200 million to provide the Israeli TROPHY anti-missile tank defense system to the U.S. military.
U.S. officials notified the Israeli government before striking Syrian chemical weapons facilities in April 2018.
U.S. National Security Council officials met with Israeli Security heads in November 2017 to implement a U.S.-Russia deal to eliminate foreign fighters (specifically Iranian proxies) in Southern Syria.
Israeli intelligence officers alerted U.S. government agencies of Russian hacking into their computer systems in late 2017. The Israelis watched in real-time as Russian hackers infiltrated the U.S. government computer systems using an anti-virus software manufactured by Russian company Kaspersky Lab. The software is used by over 400 million people worldwide. The Russian operation stole classified information from a National Security Agency employee who had improperly stored files on his home computer, where the Kaspersky lab software was installed. Kaspersky's, like any anti-virus software, requires full access to the users computer and files in order to scan for viruses and other dangers. This standard procedure provided cover for Russian intelligence agencies to search and exploit computers using the Kaspersky anti-virus program.
A collaborative U.S.-Israel group with the goal of combatting cyber-threats and addressing cybersecurity issues met for the first time in June 2017. Representatives from the State Department, Homeland Security, and FBI will work on these issues with their Israeli counterparts.
In early 2017, Israeli intelligence officials collaborated with FBI technical agents and field experts to catch a suspect who had been making bomb threats against U.S. Jewish centers for weeks. The FBI brought in technology that the Israelis did not have access to, which led to the successful capture of the dual US-Israeli citizen who had been using services such as Google Voice and Spoofcard to make the threatening phone calls.
As a designated "major non-NATO ally," Israel is also eligible to receive excess defense articles, and equipment the United States no longer needs. Under this program, the Obama Administration approved a delivery of 10 F-15D fighters to Israel in 2016 with an estimated value of $181 million.
Israeli company Celebrite assisted the FBI in cracking and accessing information on the iPhone of a terrorist who perpetrated a December 2015 office shooting in San Bernardino, California.
Israel Military Industries and U.S.-based Raytheon were awarded with a Pentagon contract to develop and manufacture GPS guided mortar shells in December 2015. This contract was allegedly worth $98 million.
U.S. diplomats reported in 2014 that Israel was assisting in the fight against the Islamic State by providing the United States with intelligence information, including lists of Westerners who have joined ISIS. Israel has also provided vital intelligence in the form of drones flying over ISIS territory. This information is then used to carry out air strikes and plan coordinated attacks.
In early 1997, Israel linked up to the U.S. missile warning satellite system, which would provide Israel with a real-time warning if a missile is launched against it.
More than 300 Department of Defense personnel travel to Israel every month.
Joint military exercises are regularly held.
A Joint Anti-Terrorism Working Group formed in 1996 actively monitors global threats.
A hotline connects the Pentagon and the Israeli Defense Ministry.
The United States continues to fund the research and development of Israeli weapons systems and military equipment, including the Arrow missile, the Nautilus Tactical High Energy Laser, the Barak ship self-defense missile system, Bradley Reactive Armor Tiles, Crash-Attenuating Seats, the Have-Nap missile, and Unmanned Aerial Vehicles.
The U.S. military also uses equipment manufactured by Israeli companies such as the Enhanced Night Vision Goggle-Binocular used by the army that was developed by Israel's Elbit Systems.
 Elbit Systems' Iron Fist active protection system has been incorporated onto a Bradley infantry fighting vehicle.
One of the most important joint ventures involves Israeli participation in the development of the F-35 Joint Strike Fighter; a stealth aircraft considered the most technologically advanced fighter jet ever made. Israel has ordered 50 F-35s and has the approval to purchase up to 75. In December 2016, Israel became the first country outside of the United States to receive the F-35 and plans to install Israeli-made C4 (command, control, communications, computers) systems in each plane. As part of the F-35 deal, the United States agreed to make reciprocal purchases of equipment (known as "offsets") from Israeli defense companies. If Israel elects to purchase all 75 F-35s, offsets could total $4 billion. As of 2016, Israeli firms had received $993 million worth of business from Lockheed Martin in building components for the F-35.
Another project was provoked by Hamas's success in building tunnels in Gaza to infiltrate Israel. In 2016, the United States announced an investment of $120 million in Israel's anti-tunneling technology and Israel pledged to invest a comparable amount. The system is designed to detect digging and other minor activity dozens of meters underground.
President Biden's National Security Advisor Jake Sullivan and Israeli National Security Advisor Dr. Eyal Hulata convened a virtual meeting on January 26, 2022, of the U.S.-Israel Strategic Consultative Group (SCG). They were joined by senior representatives from their respective foreign policy, defense, and intelligence agencies. The two sides discussed upcoming military training exercises and welcomed American observation at a recent aerial exercise conducted by the Israel Defense Forces. The officials also discussed significant regional developments since the last SCG meeting in December, including advances in Iran's nuclear program. Mr. Sullivan emphasized that while the United States remains committed to diplomacy as the best means for preventing Iran from obtaining a nuclear weapon, the United States is preparing alternative options, in coordination with its partners should diplomacy fail. The U.S. and Israeli officials agreed that they will remain in close coordination on the full range of issues of mutual interest, and to remain united against all threats to their national security.
A secret meeting was held under U.S. auspices in March 2022 at Sharm el Sheikh, Egypt, that, for the first time brought together participants from Israel, Saudi Arabia, Qatar, Egypt, the United Arab Emirates, Bahrain, and Jordan. The meeting was notable for several reasons, it was the first such high-level discussion between officials from Israel and Arab countries, including two with which it has no diplomatic relations – Saudi Arabia or Qatar. It resulted in a decision to create a notification system to identify aerial threats, with alerts passed by phone or computer rather than through a U.S.-style military data-sharing system. The meeting advanced the idea of a regional alliance to deter Iranian aggression.
The U.S. was represented by Gen. Frank McKenzie, then the head of the U.S. Central Command, which incorporated Israel under its coverage during the Trump administration. The meeting was an illustration of the dramatic changes in the region produced by the Abraham Accords and the common threat of Iran. For decades, the United States kept Israel at arm's length for fear of alienating its Arab allies.
Missile Defense
The United States actively supports Israeli missile defense programs. The two countries have been jointly developing the Arrow Anti-Missile system since 1988, and the system is now operational after an investment by the United States of more than $2.6 billion. In 2008, the United States agreed to co-develop David's Sling, a short/medium-range system designed to counter long-range rockets and slower-flying cruise missiles fired at ranges from 40 to 300 kilometers. The United States contributed more than $1.1 billion to the project, and the system was deployed in 2016. Through FY2016, Congress provided roughly $1.4 billion for Iron Dome batteries, interceptors, co-production costs, and general maintenance. The system was originally developed in Israel with proprietary technology, but in 2014, a co-production agreement was signed to manufacture components in the United States and to provide the U.S. Missile Defense Agency with full access to the technology.
During a press conference following talks with Israeli Defense Minister Moshe Ya'alon in November 2015, U.S. Defense Secretary Ashton Carter stated, "I hesitate to make invidious comparisons, but if you're making comparisons to, say, the European legacy arms (industry), the guys who have made the tanks and planes and ships in Europe, they've been very slow to come out of the industrial age. The Israelis you will find to be more clever and more innovative." Carter referenced the Israeli solution to taking care of dangerous improvised explosive devices (IEDs). He said that there was "no question that lives were saved as a consequence of their (the Israelis) help."
In September 2016, the two governments signed a new ten-year Memorandum of Understanding (MOU) on military aid covering FY2019 to FY2028. Although Prime Minister Benjamin Netanyahu sought a larger package, the MOU provides Israel with a record $38 billion in military aid ($33 billion in Foreign Military Financing (FMF) grants plus $5 billion in missile defense appropriations). According to the Congressional Record Service, This new MOU replaces the $30 billion 10-year agreement, which expires in FY2018. The terms of this MOU differ from previous U.S.-Israel aid agreements. For example, under the terms of the new MOU, Israel's ability to convert 26.3% of annual FMF grants from dollars to shekels for use in Israel will remain until FY2024, but will then be gradually phased out, ending entirely in FY2028.(Jeremy M. Sharp, U.S. Foreign Aid to Israel, Congressional Research Service, December 22, 2016).
Israel also will no longer be permitted to use a portion of its FMF to purchase fuel from the United States. In addition, under the terms of the new MOU, the Administration pledges to request $500 million in annual combined funding for joint U.S.-Israeli missile defense programs such as Iron Dome, Arrow II, and Arrow III, and David's Sling. Previous MOUs did not include missile defense funding. Finally, as part of the new MOU, it has been reported that Israel pledged to reimburse the U.S. government if Israel receives more congressional assistance for FMF or missile defense in the last years of the current MOU (2017-2018). Israel also pledged not to request that Congress appropriate regular or supplemental military aid to Israel above the agreed-upon annual amounts in the 2019-2028 MOU except in emergency circumstances, such as a regional war. In response, many Members of Congress have reiterated that funds pledged by the executive branch in any MOU are always subject to Congressional approval and that Congress may appropriate funds as it sees fit.  
It was reported on May 15, 2017, that in meetings during the previous week with Russian officials, President Donald Trump had disclosed classified information and intelligence regarding the Islamic State terror group. This intelligence, known as code-word intelligence (the highest level of classification), included information so sensitive and specific that it had not even been widely shared with U.S. allies, or many officials in the U.S. government. Israeli intelligence officials confirmed that the information disclosed had come from an Israeli intelligence source. Israeli Defense Minister Avigdor Lieberman subsequently announced that Israel had made adjustments to its intelligence-sharing protocol with the United States to prevent this from happening in the future.
Despite this incident, U.S.-Israel intelligence cooperation remains robust. "The United States benefits tangibly now from this relationship with Israel. There are things I cannot say in this forum, but there are people in the United States today who are safe, who are alive, because of intelligence cooperation that Israel has provided to the United States," U.S. Ambassador to Israel David Friedman said in April 2018 (Times of Israel, April 23, 2018).
Before the president embarked on his first international trip in May 2017, which included a stop in Israel, the Trump administration announced it added an additional $75 million to the MOU signed in September 2016 for Israel's missile defense programs. The $1.3 trillion budget passed by Congress in March 2018 contained $3.1 billion in military aid for Israel, along with $705.8 million for U.S.-Israel missile defense cooperation, and $47.5 million for U.S.-Israel anti-tunnel cooperation. That's a record package of nearly $3.9 billion. The military aid was the first installment of the MOU approved by the Obama administration. While the amount of that agreement was hailed for being a record amount, Obama added several conditions aimed at weakening AIPAC's influence and preventing Israel from seeking additional aid from Congress. It appears Congress sees no obligation to be bound by those terms, however, and increased the appropriation for Israel's missile defense program by $105 million and anti-tunneling technologies by $5 million over last year's budget.
U.S. General Joseph Votel, the head of the United States Central Command (CENTCOM), made an official visit to Israel for meetings with defense officials in late April 2018. This was the first time that a head of CENTCOM had ever visited Israel on official business.  
Following reports the Trump administration was considering the sale of F-35s to the UAE and Qatar, alternative Prime Minister and Defense Minister Benny Gantz met in Washington with U.S. Secretary of Defense Mark Esper and signed a joint declaration confirming America's commitment to maintaining Israel's qualitative military edge in the Middle East.
"It was important for me once again to reaffirm the special relationship between our two countries, the commitment we have made to Israel's security based on our shared values, our shared history," Esper said.
Congress passed the annual National Defense Authorization Act in December 2020. The $740 billion legislation includes $3.3 billion in security assistance to Israel, and $500 million for U.S.-Israel missile defense cooperation, including for the Iron Dome, David's Sling, and Arrow missile defense systems. New in this year's bill is the easing of restrictions on the transfer of precision-guided munitions (PGMs) to Israel in emergencies and the permitting of the president to exceed the current limitation of $200 million on the transfer of PGMs in non-emergency situations. Also, $14 million was authorized for U.S.-Israel cooperation in energy, water, agriculture, and cyber, $6 million over the next three years to finance joint projects with developing countries, and $12 million over three years to enhance partnerships between American and Israeli companies engaged in COVID-19 research.
On November 1, 2021, the Department of Defense established the U.S.-Israel Operations Technology Working Group (OTWG) to strengthen defense, science, and tech cooperation between the department and Israel's Ministry of Defense to address mission challenges. The same month, the U.S. Treasury Department entered a partnership with Israel to combat ransomware. A broader U.S.-Israeli task force was also launched to address issues related to fintech and cybersecurity.
Economic Ties
To enhance Israeli security, the Nixon Administration began what became an unprecedented foreign assistance program. Between 1946 and 1971, the U.S. provided Israel with an average of about $60 million a year, a total of $1.5 billion. By comparison, the Arab states received nearly three times as much aid, $4.4 billion, or $170 million per year. Of the total, Israel received only $162 million in military aid, all in the form of loans as credit sales. The bulk of the economic aid was also loaned to Israel.
Since 1974, Israel has received more than $120 billion in aid and has been the largest recipient of U.S. foreign aid. In 1997, a 10-year MOU was signed known as the Glide Path Agreement, which provided Israel with at least $26.7 billion in total aid ($21.3 billion in military aid) and a schedule to gradually phase out economic assistance. Israel received the final economic aid allocation in 2007. Part of the deal involved increasing Israel's military aid, an augmentation that continued until 2012. Since then, Israel has received $3.1 billion per year, roughly 75 percent of which is required to be spent in the United States.
Israel also received $3 billion in special assistance as part of the Camp David agreements ($2.2 billion in high-interest loans), $1.5 billion in emergency economic assistance to stabilize the Israeli economy in 1985-86, and $10 billion in loan guarantees (spread over five years) in 1992. In 2003, Congress approved an additional $9 billion in loan guarantees. 
In December 2016, Congress passed the United States-Israel Advanced Research Partnership Act of 2016, which authorizes expanding an existing joint research-and-development program at the U.S. Department of Homeland Security to include cybersecurity technologies. The Water Infrastructure Improvements for the Nation Act was also passed that month, calling for further U.S. cooperation with Israel in desalination and the development of new water technologies.
The economic relationship between the two countries grew more interdependent in 1984 when Secretary of State George Shultz suggested the creation of an American-Israeli Joint Economic Development Group (JEDG) to work continuously on Israel's economic challenges. The JEDG played a pivotal role in formulating Israel's ambitious stabilization plan in 1984. At the time, Israel was in serious economic distress. Years of shouldering the enormous defense burden imposed by Arab hostility and the accumulated result of dependence on imported raw materials and fuel for Israel's industry -- to say nothing of the continuing cost of absorbing waves of destitute immigrants and providing them with the full range of social services -- had led to extensive borrowing and a huge foreign debt. Foreign reserves had plummeted, unemployment was at an 18-year high, and inflation was raging at 450 percent per year and rising.
Israel requested economic assistance, but Shultz insisted on economic reforms that included budget cuts, tighter control of the money supply, and devaluation of the shekel. When Israel took these and other steps, Reagan approved a $1.5 billion emergency aid program, which helped save the Israeli economy from collapse and to stimulate the recovery that reduced inflation from triple digits to low double digits and laid the groundwork for Israel to have one of the world's fastest growth rates just a decade later.
It is not unusual for the United States to instruct other nations on how to stabilize their economies; however, this case was distinctive because the U.S. Treasury, rather than the World Bank or IMF provided financial assistance. It was also remarkable because the disbursement (along with $3 billion in non-emergency economic and military aid) provoked no real opposition (the Senate vote was 75-19, the House vote was part of a continuing resolution). Finally, the dialogue with Israel that began at that time on issues such as privatization (in 1996 agreements were reached to establish joint frameworks for assessing means of implementing the rapid privatization of the Israeli economy and expanding the capital market), represents perhaps the only example of a country willingly cooperating with the United States on the development of its macroeconomic policy.
At the same time the United States was bailing out Israel's economy, Reagan decided to sign America's first free trade agreement with Israel. This unprecedented treaty opened up the entire U.S. market to Israel and served as the model for later agreements with Canada and Mexico. In contrast to the later treaties, however, the FTA met with no political opposition. In fact, the Senate vote on the agreement was unanimous. Like most trade agreements, the FTA has generated its share of disputes, on both sides, but it has also clearly achieved the intended purpose of increasing the volume of trade from about $4.7 billion in 1985 to more than $11 in 1995. In 1996, the FTA was amended to permit the President to reduce tariffs on goods and services from Gaza and the West Bank. In November 1996, the United States signed a new agreement with Israel to specifically boost agricultural trade.
While the anti-Semitic BDS movement has worked to promote a boycott of Israel, U.S.-Israel economic relations have been unaffected and remain robust with imports and exports totaling more than $35 billion. In addition, each of the 50 states benefits from their ties with Israel. In 2016, 22 states exported more than $100 million worth of goods to Israel, led by New York with exports of nearly $5 billion. More than 10,000 U.S. companies do business in Israel, including all major high-tech companies. Eighty-six Israeli companies are listed on U.S. stock exchanges as of March 2016.
In addition to promoting trade, the United States has created institutions to stimulate joint R&D. The Binational Industrial Research and Development Foundation (BIRD) was established in 1977. Both countries provided equal contributions to create a $110 million endowment that funds joint U.S.-Israel teams in the development and subsequent commercialization of innovative, nondefense technological products from which both the Israeli and American companies can expect to derive benefits commensurate with the investments and risks. Most grant recipients are small businesses involved with software, instrumentation, communications, medical devices, and semiconductors. Since its inception, BIRD has funded more than 800 joint high-tech R&D projects. The cumulative sales of products developed through BIRD projects have exceeded $8 billion and BIRD has received nearly $100 million in royalty repayments from projects.
To encourage economic cooperation as a pillar of the peace process, the United States, Jordan and Israel created TRIDE (Trilateral Industrial Development) in 1996. Modeled after BIRD, TRIDE will support joint venture projects by private sector firms from the three countries.
A third institution created to stimulate cooperation is the U.S.-Israel Science & Technology Commission (USISTC). The USISTC was established in 1993 with the promise of $15 million from each government over three years. Its mission is to encourage high-tech industries in both countries to engage in joint projects, foster scientific exchanges between universities and research institutions; promote the development of agricultural and environmental technologies, and assist in the adaptation of military technology to civilian production. The Commission has task forces on food standards harmonization; commercialization of military technologies; cosmetic standards; energy and environmental standards harmonization; legal, patent, and intellectual property rights; telemedicine and information technology.
One of the early results of the Commission's work has been progressing toward the harmonization of standards for testing drugs and medical devices, which led to the Food and Drug Administration's announcement last year that it will recognize some Israeli tests of Israeli-developed drugs and medical equipment. The USISTC has also funded six high-risk technology projects between American and Israeli companies.
Academic Connections
American and Israeli scholars have had long and fruitful contacts. Many U.S. colleges have student and faculty exchange programs with Israeli institutions, and several have joint degree programs. To give an example of one of the more unique programs, The College Fund/UNCF (formerly the United Negro College Fund), in cooperation with the World Jewish Congress, World Zionist Organization and the Israeli Office of Academic Affairs operates the UNCF/Israel Exchange Program, which includes the Wilberforce Summer Program. The program begins with a two-day orientation at Wilberforce University in Ohio. UNCF students then spend one month working on Kibbutz Ramot Menshae (e.g., laying down irrigation systems and manufacturing water meters), one month teaching English to disadvantaged Israelis at a Kefiada (summer camp) in Holon, and the last month studying at Hebrew University.
In the 1970s, two unique foundations were created to fund joint research. In 1972, a relatively unknown agreement was reached that laid the groundwork for a vast array of nonstrategic relationships between Israelis and Americans. That year the United States and Israel created the Binational Science Foundation (BSF) to promote research cooperation between scientists in the two countries. Each government initially contributed $30 million and, in 1984, added another $20 million each to create a $100 million endowment used to fund projects. Since then, BSF has awarded over $600 million to more than 5,000 research projects involving many thousands of scientists from more than 400 U.S. institutions located in 46 states, Puerto Rico, and the District of Columbia. Many of these projects have led to important scientific, medical and technological breakthroughs with wide-ranging practical applications.
The creation of BSF set a precedent for the establishment of other foundations. In 1977, the aforementioned Binational Industrial Research and Development Foundation (BIRD) was established for private sector R&D. A third foundation, the Binational Agricultural Research and Development Fund (BARD), was created in 1978 with equal contributions of $55 million by the United States and Israel. Since its inception, BARD has funded 725 projects that have led to new technologies in drip irrigation, pesticides, fish farming, livestock, poultry, disease control, and farm equipment.
These foundations were created with little fanfare and continue to operate independently of economic or political pressures. In the last two and a half decades, they have played an important role in creating networks between American and Israeli researchers in academia, government, and the private sector. The collaboration also continues outside the framework of these institutions.
Another unique institution is the International Arid Lands Consortium (IALC), an independent nonprofit organization formed to explore the problems and solutions of arid and semiarid regions. The Consortium consists of the universities of Arizona, Illinois, New Mexico State, South Dakota, and Texas A&I, along with the U.S. Forest Service and the Jewish National Fund. The IALC has expanded its reach to include representatives from Egypt and Jordan.
Shared Value Initiatives
The United States signed various cooperative agreements with Israel dating back to the 1950s; however, Ronald Reagan dramatically expanded the number of areas for possible joint activities. Just as he institutionalized military-to-military relations through formal agreements and mutually beneficial projects, so too did he begin to make bureaucracy-to-bureaucracy relations routine. During the Reagan Administration, agreements were signed or renewed between nearly every U.S. government agency, from NASA to EPA to HHS and their Israeli counterparts. In 1987, the Jewish National Fund signed the first of several MOUs with the U.S. Forest Service for cooperation in firefighting, conservation, and land management. In 1996, the Department of Energy renewed its agreement with its counterpart and a new MOU was signed between the Security Exchange Commission and Israel's Securities Authority for cooperation in enforcing each other's security regulations. The FBI also announced plans to open an office in Tel Aviv to facilitate security cooperation. Other local, state and federal law enforcement officials and first responders regularly visit Israel to share best practices.
Though many of these MOUs are little more than pieces of paper, they symbolize interest in broader and deeper cooperation than the United States has with any other nation. The Shared Value Initiatives undertaken through these agreements also help tangibly reinforce the values the countries do share in areas like protecting the environment, providing education, and promoting health.
States Build Bridges to Israel
Americans and Israelis have always had relationships at the state and local levels. A milestone in formalizing these contacts occurred in 1984 when the Texas-Israel Exchange was created to promote mutually beneficial projects between the Texas Department of Agriculture and Israel's Ministry of Agriculture. Since then, at least 32 other states and the District of Columbia have signed agreements with Israel to increase cooperation in trade, tourism, research, culture, and other activities of particular interest to individual states. It has now become routine for governors to lead delegations of business leaders, educators, and cultural affairs officials to Israel and for state agencies and institutions to initiate joint projects.
A Wellspring of Sympathy
The gradual evolution of the relationship from friendship to alliance could not have been achieved without the support of the American public, the majority of which consistently sympathized with Israel. Americans see much of themselves in the Zionist struggle. Like the early American pioneers, the Jews who originally settled the land had a commitment to manual labor to build the nation. Immigrants to Israel have tried to make better lives for themselves and their children like newcomers to America. Americans' affinity for Israelis also stems from our shared Judeo-Christian heritage.
Public sympathy toward Israel can be influenced by Presidential attitudes and events, as we saw during the Lebanon war when support briefly dipped to its all-time low. The public also has shown less love for Israelis than distaste for the Arabs. It was not until the late 1980s and early 1990s that Americans began to distinguish between Arab countries and, in a few instances, to feel more positively about Arab countries than Israel. Even so, the rise of Islamic fundamentalism, and dramatic terrorist incidents attributed to Arabs, have perpetuated negative stereotypes that have helped ensure Israelis are viewed in a relatively favorable light.
Also, unlike America's Arab allies, Israel never attacked U.S. interests. It has periodically acted contrary to them, as in Suez and Lebanon, but these anomalies are a far cry from Arab states' routine criticism of U.S. policy; often active support for America's enemies, such as the Soviet Union, Iran, Iraq, and Libya; and direct opposition, as in the refusal to allow U.S. troops to be stationed in their countries. One quantitative index of the relative support of Israel and the Arabs for U.S. policy is the consistency of voting with the United States at the U.N. Israel has annually been at or near the top of those countries voting most often with the U.S., while the Arab states, including friendly nations, have always been at the bottom.
In addition, today, the Israeli lobby is indeed influential. Thirty years ago, the organization now considered the most powerful foreign policy lobby in Washington, the American-Israel Public Affairs Committee (AIPAC), was a one-person operation. Today, it has more than 100 employees, seven regional offices, and a budget of approximately $100 million. Though its influence is limited primarily to issues where Congress has a say, in particular, economic matters, the organization also serves as a watchdog to deter anti-Israel policies from being adopted.
Jews also occupy more positions of influence today than ever before. For example, in the 114th Congress, Jewish members comprised 10 percent of the Senate and nearly 4 percent of the House (Jews comprise only 2 percent of the U.S. population). Three of the nine Supreme Court Justices are Jewish. Dozens of Jews have held cabinet and other key administration posts. Bureaucracies that historically have been hostile to Israel, and sometimes outright anti-Semitic, such as the CIA and State Department now employ Jews at the highest levels. Jews in the Trump administration include Senior Advisor Jared Kushner, Ambassador to Israel David Friedman, and Secretary of the Treasury Steve Mnuchin.
The evolution of the relationship has also been influenced by the ideologies of the presidents, or more accurately, how consistent particular policies were with their ideologies and objectives. In those cases where a pro-Israel policy was inconsistent, even the sympathetic presidents became opponents. This was the case, for example, when Harry Truman imposed an arms embargo on Palestine. In that case, he was convinced U.S. weapons would further undermine the region's stability and hinder the prospects for peace.
Dwight Eisenhower is often considered anti-Israel because of his Arabist orientation for the first several years of his presidency and his reaction to the Suez War. By the end of his term, however, his attitude changed completely, and he viewed Israel as the only reliable pro-Western country in the Middle East.
Presidents Lyndon Johnson and Jimmy Carter felt more of a religious/moral attachment to Israel. Johnson, for example, spoke about how the Bible stories are woven into my childhood memories as the gallant struggle of modern Jews to be free of persecution is also woven into our souls. And Carter wrote in his memoirs that he believed very deeply that the Jews who had survived the Holocaust deserved their own nation, and that they had a right to live peacefully among their neighbors. I considered this homeland for the Jews to be compatible with the teaching of the Bible, hence ordained by God. These moral and religious beliefs made my commitment to the security of Israel unshakable. The two presidents ended their terms very differently, however, with Johnson establishing the policy that the United States will ensure Israel's qualitative military edge over its enemies, and Carter viewed as undermining Israel's security despite his role in mediating peace negotiations with Egypt.
George H.W. Bush saw the Jewish state as just another country. Bush's Secretary of State, James Baker, viewed the Arab-Israeli conflict as no different from a management-labor dispute, so he saw no need to be especially sensitive to Israel's concerns. Bush demonstrated that a President openly critical of Israel could affect the quality of the relationship. Bush also set the negative precedent of openly interfering in an Israeli election, making no secret of his contempt for Yitzhak Shamir, and desire to see Yitzhak Rabin elected Prime Minister. Still, under Bush, aid to Israel was maintained, strategic cooperation enhanced, and a $10 billion loan guarantee package approved (albeit with punitive deductions for the construction of settlements).
Harry Truman and Ronald Reagan felt gut-level emotional sympathy toward Israel, which translated into landmark decisions that established and strengthened the relationship. No president, including these two, pursued policies that were entirely pro-Israel. In Truman's case, for example, he embargoed arms to Israel during the 1948 War. Reagan publicly criticized Israel's actions in Lebanon and the annexation of the Golan Heights. Furthermore, he punished Israel by temporarily holding up arms deliveries and suspending strategic cooperation. Reagan also was at odds with Menachem Begin over the sale of AWACS to the Saudis.
Bill Clinton falls into a similar category and is now considered by many people the most pro-Israel President in history. Nevertheless, he followed Bush's precedent of interfering in Israeli politics by trying to help the reelection effort of Shimon Peres. Clinton's pro-Israel reputation was won mainly by what he did not do, that is, publicly criticizing Israel or taking punitive measures against it. For most of his first term, the Israeli policy was far more compatible with U.S. policy than in the past, which ensured a low level of conflict. Still, even in those few cases where disagreements arose, Clinton essentially looked the other way. In terms of new initiatives, Clinton did little beyond creating the U.S.-Israel Science & Technology Commission, a comparatively tiny program for cooperation in high technology announced early in his presidency that took most of his first term to get off the ground. Though the negotiations were primarily the product of direct talks between Israelis, Palestinians, and Jordanians, Clinton played a role in finalizing the Oslo agreements and the peace treaty between Israel and Jordan.
George W. Bush was widely viewed in the Middle East as one-sidedly pro-Israel. He was outspokenly supportive of Israel and critical of the Palestinians. Though, like all presidents, he had his disagreements with Israel. During the first year of the Palestinian War, for example, the United States imposed an arms embargo on spare parts for helicopters because of anger over using U.S.-made helicopters in targeted killings. The Bush administration also punished Israel for agreeing to sell military equipment to China.
When Barack Obama took office, he made clear that he thought Bush had essentially been Israel's lawyer and that he had to take a more evenhanded approach to gain credibility with the Arabs. When Obama insisted that Israel freeze settlements in the West Bank and Jerusalem, he alienated even Israelis on the left who opposed settlements but did not accept the idea that Jews living in their capital were settlers. They were also offended when Obama refused to visit Israel after going to Cairo for his first major speech. And many were appalled by what they viewed as Obama's naiveté concerning the Middle East in general and radical Islam in particular. Like Carter, Obama viewed Israel as a persecutor rather than a victim and believed that he could solve the region's problems by the force of his intellect and personality rather than using the prestige and power of the United States to push the parties together. And, like Carter, he blamed his failures on Israel and did not understand that Israelis would only take risks for peace if they were confident the U.S. had their back. Obama repeatedly claimed that he did support Israel and backed it up with support for Israel's defensive needs, but many Israelis did not believe him.
Donald Trump offered a stark contrast to Obama, expressing unreserved support for Israel during his campaign and the early months of his presidency. While Obama skipped Israel, Trump made it the second stop on his first foreign trip. He subsequently took several steps to strengthen ties with Israel, notably recognizing Jerusalem as Israel's capital, moving the U.S. embassy from Tel Aviv to Jerusalem, and recognizing Israeli sovereignty over the Golan Heights.
Conclusion
When we look at the evolution of the alliance and the current, broad institutionalization of friendship, it is easier to understand why an Israeli election that brought to power a man whose policies clashed with the President's would have so little impact on the relationship. The truth is the differences between the present administrations in Israel and the United States are relatively narrow, primarily disagreements over the means to the same end. In the worst case, a future American administration may pressure the Israelis and might even reduce the level of cooperation (e.g., suspend arms deliveries, reduce strategic cooperation), but the ties today are so broad and deep the alliance is unlikely to crack. Unlike in the 1950s, no President could credibly threaten a cutoff of aid since Congress would not support such action. Most other countries' economic, academic, and professional relationships are immune to political vagaries. The further development of the relationship might be retarded, but the evolution cannot be reversed.
For Israel, the strength of the alliance provides security. Israelis know their ally will maintain its commitment and be limited in its ability to apply pressure to force them to take actions they oppose. The impact on the Arabs should dispel the persistent delusion that a wedge can be driven between the United States and Israel. Despite Israel's reliance on America, the state of the relationship today is such that U.S. influence on its ally is constrained. Still, no Prime Minister wants strained relations with Israel's closest friend and the world's most powerful nation.
For all the complexity of the alliance, the American position might have been summed up most succinctly by Lyndon Johnson. When Soviet Premier Aleksei Kosygin asked him why the United States supports Israel when there are 80 million Arabs and only 3 million Jews, the President replied simply, Because it is right.
---
Sources: "Joint Statement on the Virtual Meeting of the U.S.-Israel Strategic Consultative Group," White House Press Office, (January 26, 2022).
Michael R. Gordon and David S. Cloud, "U.S. Held Secret Meeting With Israeli, Arab Military Chiefs to Counter Iran Air Threat," Wall Street Journal, (June 26, 2022).
Jen Judson, "With issues resolved, Bradley to get Iron Fist protection system," DefenseNews, (January 24, 2023).
Photo: Then-Vice President Joe Biden and Prime Minister Benjamin Netanyahu. Pictured with Biden at right are Dennis Ross and Antony Blinken. Those pictured with Netanyahu include Ehud Barak and Michael Oren Mandatory. Credit: David Lienemann - White House via CNP