The Iron Dome Missile Defense System
The most recent addition to Israel's missile defense system is the Iron Dome. It was designed and developed jointly by the United States and Israel as a response to the threats Israel faces from short and medium-range rockets and mortar shells fired from Gaza. It has also been deployed to intercept rockets fired by Hezbollah from Lebanon.
Development
Capability
U.S. Funding
Battle Tested
C-Dome
Foreign Sales
Development
The decision to build the Iron Dome system was made by the Ministry of Defense in 2007, following a year in which Hezbollah fired thousands of missiles into northern Israel during the Second Lebanon War. Israel had also experienced rocket attacks on its southern communities from the Gaza Strip, mainly carried out by Hamas.
Between 2008 and 2010, the Iron Dome system underwent a number of comprehensive tests and was declared operational in March 2011. On April 7, 2011, the system successfully intercepted its first projectile, a rocket fired from Gaza toward Israel. Immediately afterward, IAF aircraft targeted a rocket-launching terrorist cell. The following day, the system successfully intercepted three rockets fired from Gaza toward Israel.
The first-ever trial of an Iron Dome interceptor on U.S. soil was conducted on April 20, 2016. The Tamir interceptor, fired by the Iron Dome system, successfully struck and destroyed its drone target during a test conducted by Israel-based Rafael Systems and U.S. defense contractor Raytheon.
Capability
The system has the capability to identify and destroy such projectiles before they land in Israeli territory and is now one of the most effective anti-missile systems in the world. The system is comprised of three components: the design and tracking radar built by the Elta defense company; the battle management and weapon control system designed by the mPrest Systems software company; and the missile firing unit manufactured by Rafael Advanced Defense Systems Ltd.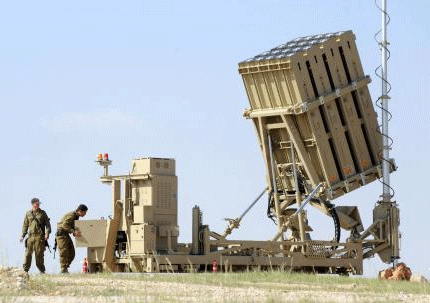 IDF Soldiers man an Iron Dome battery
Iron Dome's rockets, which cost $20,000 each, are fired from a team-operated battery, and act in conjunction with battery-deployed radar-guided early warning systems. The Iron Dome relies upon a high-resolution EL/M-2084 Active Electronically Scanned Array radar to detect and track incoming projectiles. If the rocket is targeting a populated area, it is intercepted. Each Iron Dome battery has an effective range of approximately 90 miles.
According to Sebastien Roblin, the Tamir interceptor travels at "2.5 times the speed of sound, guided by the ground-based radar. However, as the three-meter-long missiles close with the targeted projectile, their nose-mounted electro-optical sensor takes over to provide more precise terminal guidance. A proximity fuse detonates the missile's thirty-five-pound fragmentation warhead once it enters range."
Iron Dome joins Israel's comprehensive missile defense network, which includes the David's Sling system, intended to protect against mid-range missiles, and the Arrow Interceptor system, designed to provide defense against long-range missiles.
Israel introduced a new maritime missile interception system in 2017. Using an altered Iron Dome missile battery, the Tamir Adir system demonstrated its ability to strike airborne targets with accuracy from a moving platform. Developed over several years, the new system will help the Israeli military protect strategic maritime assets such as oil rigs.
In March 2021, the Israeli Defense Ministry announced it had upgraded the Iron Dome system so it can now intercept rocket and missile salvos as well as multiple drones.
Chairman of the Joint Chiefs of Staff Mark Milley told the  Senate Armed Services Committee in April 2022, "It's a great system and it's a very accurate system and it's got a very good track record and there's all kinds of utility for it in a wide variety of environments, so I'm a big fan of the Iron Dome." 
U.S. Funding
In May 2012, President Obama directed Defense Secretary Leon Panetta to allocate an additional $70 million to pay for more Iron Dome batteries and interceptor missiles.
In 2014, U.S. Secretary of Defense Chuck Hagel said the U.S. government had initially invested $900 million in Iron Dome production, and after seeing its performance, Congress proposed an additional $235 million for its continued development. Israel agreed to spend more than half the funds on contractors in the United States.
In 2014, Massachusetts-based Raytheon was awarded a contract from Rafael Advanced Defense Systems Ltd worth $149 million to manufacture the anti-missile rocket (Tamir) used in the Iron Dome.
The fiscal year 2015 Defense Authorization Bill authorized the allocation of $351 million for the Iron Dome. Congress later added an additional $619 million for the production of the Iron Dome. The legislation stipulated that 55% of the new components for the Iron Dome be manufactured within the United States by Raytheon.
The U.S. government's spending bill passed in March 2018 included a record-high $705 million in funding earmarked for Israel's missile defense systems, including up to $92 million for Tamir interceptors.
As of April 2018, the United States had provided $1.397 billion to Israel for Iron Dome batteries, interceptors, coproduction costs, and general maintenance.
As of early 2019, Israel had ten batteries deployed, with five more planned.
In 2022, Congress voted, with President Joe Biden's support, to provide $1 billion in funding to replenish the stock of rockets used during 2021's Operation Guardian of the Walls. 
 Defense Budget Appropriations for U.S.-Israeli Missile Defense
(Current U.S. dollars in millions)
| | |
| --- | --- |
| FY2011 | 205.000 |
| FY2012 | 70.000 |
| FY2013 | 194.000 |
| FY2014* | 460.309 |
| FY2015 | 350.972 |
| FY2016 | 55.000 |
| FY2017 | 62.000 |
| FY2018 | 92.000 |
| FY2019 | 70.000 |
| FY2020 | 95.000 |
| FY2021 | 73.000 |
| FY2022** | 1,108.000 |
| FY2023 | 80.000 |
| Total | 2,915.281 |
*Including supplemental
**Emergency funding
Battle Tested
During the middle of March 2012, when terrorists in Gaza went on a rocket offensive against southern Israel, firing nearly 200 rockets in less than 72 hours, the Iron Dome system successfully shot down no fewer than 52 rockets aimed at Beersheva, Ashdod, and Ashkelon. 
In November 2012, a wave of Hamas rocket attacks on Israel precipitated the IDF to embark on Operation Pillar of Defense to destroy the terror group's rocket launching capability. Over the course of the operation, Hamas launched more than 1,500 rockets toward Israel – including Qassam, GRAD, and Fajr rockets – and Israel used the Iron Dome to successfully intercept more than 420 incoming projectiles.
Iron Dome also intercepted missiles over the skies of Jaffa and Tel Aviv for the first time in Israeli history.
During Operation Protective Edge (July 8, 2014 - August 26, 2014), Iron Dome shot down 90 percent of the rockets fired from Gaza. Between July 7 and July 10 alone, Iron Dome intercepted approximately 100 rockets. On July 12, 2014, Israel deployed its seventh Iron Dome battery, and within a week, the system intercepted five Gaza-based rockets targeting Tel Aviv.
In less than 48 hours, May 4-6, 2019, Hamas and PIJ launched 690 rockets toward Israel, 240 of which were intercepted by the Iron Dome. Most landed in open territory and caused no injuries, and another 21 hit homes.
The terrorists hoped to overwhelm the system with a large, sustained barrage. For example, between 7 p.m. and 8 p.m. on May 5, 2019, 117 rockets were fired toward Ashdod; only one rocket struck the city, killing a man running for shelter.

On May 10, 2021, PIJ and Hamas began launching hundreds of rockets into Israel. Terrorists fired 4,350 rockets at Israel from Gaza. The salvos decreased in intensity as Israel ramped up its air raids in Operation Guardian of the Walls; nevertheless, the number of rockets launched simultaneously was unprecedented and apparently designed to overwhelm the Iron Dome. The terror groups believe they have exposed vulnerabilities in the missile defense system by firing dozens of rockets from multiple directions. Iron Dome, however, has the capacity to launch some 800 interceptors at a given time, making it hard for Hamas to overwhelm the system, and the IDF reported that more than 1,400 incoming rockets, 90 percent, were intercepted.

If the video doesn't play, click Watch on YouTube
C-Dome
A ship-mounted version of the Iron Dome air defense system – C-Dome – was declared operational in November 2022, following tests simulating threats the system is likely to face at sea. In May 2023, further tests were conducted demonstrating the system's ability to counter a wider array of threats, such as rockets, cruise missiles, and drones.
The 2023 tests "integrated shipboard systems with Israel's multi-tier defense array and tested new technologies to enhance the air and missile defense multi-tier array's operational effectiveness at sea and on land," according to the Defense Ministry. "The success of the tests is another significant milestone in the array's development to counter existing and future threats in various combat arenas."
The system deployed on the Israel Navy's Sa'ar-6 corvettes will enhance their ability to guard the natural gas platforms off Israel's coast and its shipping lanes. "The C-Dome System constitutes a significant addition to the Israeli Navy's defense capabilities in a wide array of missions, including the guarding of strategic assets, the Exclusive Economic Zone, and maintaining the regional maritime superiority of the State of Israel," according to the Defense Ministry.
Foreign Sales
In 2016, Israel made the first foreign sale of the Iron Dome to Azerbaijan. Since then, India and Romania have signed deals to buy the system.
Member states of the Gulf Cooperation Council (GCC), including Qatar, Bahrain, and Saudi Arabia, expressed interest in purchasing the Iron Dome.
In January 2019, the U.S. Army was expected to request funding from Congress to procure two Iron Dome batteries. The $373 million deal would include 240 Tamir interceptor missiles, twelve launchers, and two radars and command trailers.
In August 2020, Raytheon Technologies and Israeli-based Rafael Advanced Defense Systems announced a joint venture to build the Iron Dome in the United States under the name Raytheon Rafael Area Protection Systems. A facility will be built to produce the Iron Dome, the Tamir interceptor and launcher, and the SkyHunter missile (the U.S. version of Tamir).
"This will be the first Iron Dome all-up-round facility outside of Israel, and it will help the U.S. Department of Defense and allies across the globe obtain the system for defense of their service members and critical infrastructure," according to Sam Deneke, vice president of Raytheon Missiles & Defense's land warfare and air defense business.
Congress ordered the purchase of two Iron Dome systems for around $373 million in 2019 and said one should be deployed in an operational theater by 2021. In September 2020, Israel delivered the first of two Iron Dome batteries to the U.S. Army. In March, the Army canceled plans to purchase more of the batteries because of difficulties integrating them into its existing air defense systems. The key to long-term acceptance is whether Iron Dome can be configured to work with the new Integrated Air & Missile Defense Battle Command System (IBCS).
In 2021, Israel agreed to allow the United States to deploy Iron Dome batteries in unspecified Gulf states, but instead, it was decided to test the system in Guam, a U.S. territory in the Pacific that is home to around 190,000 American civilians and servicemen. Its Air Force, Navy, and Marines bases are about 1,800 miles from China, making them the closest bases to China on American soil. The other battery remains in the United States.
"If we can't defend Guam—the air base and the other things there—it's really hard to project power into the Pacific," Tom Karako, director of the Missile Defense Project at the Center for Strategic and International Studies, told the Wall Street Journal.
Israel resisted pressure to provide the Iron Dome to Ukraine, arguing that the training and infrastructure necessary for their use would take several years and that the country is too big for it to effectively stop Russian missiles. Israel is also concerned they could fall into the hands of the Russians, who might share the technology with Iran.
In 2023, the U.S. Marine Corps announced plans to acquire three batteries worth of Iron Dome systems, including 44 launchers and 1,840 Tamir interceptors.
---
Sources: Israel Defense Forces.
"Barak confirms: 'Iron Dome' to be deployed within days," Jerusalem Post, (March 25, 2011).
"Israeli ambassador thanks US for aiding Iron Dome development," YnetNews, (March 11, 2012).
YouTube.
Mitch Ginsburg, "IDF deploys sixth Iron Dome battery," Times of Israel, (August 18, 2013).
Barbara Opall-Rome, "Israel Readies First US Co-Production Order for Iron Dome," Defense News, (N.p., 12 July 2014. Web. 18 July 2014).
Dana Bash and Tom Cohen, "Congress approves more money for Israel's Iron Dome," CNN, (August 3, 2014).
"House Spending Bill Earmarks $3.7 Billion in Military Aid for Israel, With Special Emphasis on Anti-Missile Systems," Algemeiner, (December 12, 2014).
"Gulf States set to buy Iron Dome system," SkyNews, (October 13, 2015).
Yaakov Lapin, "US Army tests Iron Dome interceptor missile against drones," Jerusalem Post, (April 20, 2016).
Raoul Wootliff, "Israel successfully tests shipborne Iron Dome Missile interceptor," Times of Israel, (May 18, 2016).
Barbara Opall-Rome, "Israel declares operational capability for sea-based Iron Dome," Defense News, (November 27, 2017).
"Israel thanks US for 'record-breaking' missile defense aid," ABC News, (March 26, 2018).
Sebastien Roblin, "Israel's Iron Dome Is a Rocket Killer (And the U.S. Military Wants It)," The National Interest, (February 2, 2019).
Anna Ahronheim, "The Iron Dome Faced Challenges This Week: How Did It Do?" Jerusalem Post, (May 10, 2019).
Jacob Nagel and Jonathan Schanzer, "Assessing Israel's Iron Dome Missile Defense System," FDD, (November 13, 2019).
Jen Judson, "Raytheon and Rafael to build Iron Dome in US," Defense News, (August 3, 2020).
Marcy Oster, "Israel delivers first Dome defense system to the US Army," JTA, (September 30, 2020).
Sydney J. Freedberg Jr., "Iron Dome Heads For Key US Integration Test," Breaking Defense, (January 5, 2021).
Yaniv Kubovich, "Israel Allows U.S. to Deploy Iron Dome Missile Defense in the Gulf," Haaretz, (January 24, 2021).
Yaakov Lappin, "One decade since its appearance, Iron Dome has intercepted over 2,500 enemy rockets … and counting," JNS, (February 24, 2021).
"Israel announces upgrade of Iron Dome rocket defense system," AP, (March 16, 2021).
Yaroslav Trofimov and Felicia Schwartz, "As Hamas Rockets Rain on Israel, Iron Dome Proves It Can Withstand the Barrages," Wall Street Journal, (May 16, 2021).
"Secretary of Defense Lloyd J. Austin III and Israeli Minister of Defense Benjamin Gantz Opening Remarks at Bilateral Meeting," U.S. Department of Defense, (June 3, 2021).
Alastair Gale, "U.S. Tests Israel's Iron Dome in Guam as Defense Against Chinese Cruise Missiles," Wall Street Journal, (November 9, 2021).
Marc Rod, "Joint Chiefs Chair Milley wants to keep IRGC terror designation," Jewish Insider, (April 7, 2022).
Emanuel Fabian, "Israeli navy declares ship-mounted version of Iron Dome operational," Times of Israel, (November 17, 2022).
Yonah Jeremy Bob, "IDF successfully tests naval Iron Dome defense system against multiple attacks," Jerusalem Post, (May 29, 2023).
Joseph Trevithick, "USMC Buying Nearly 2,000 Tamir Interceptors For Its Iron Dome Systems," The War Zone, (August 25, 2023).
Photos courtesy of the IDF Spokesperson.