U.S.-Israel Strategic Cooperation: Arrow Missile Program
The Arrow weapons system (AWS) is an "anti­tactical ballistic missile" program and one of the centerpieces of the U.S.-Israel strategic relationship. On May 6, 1986, Israel and the United States signed an agreement (the contents of which are secret) for Israeli participation in the Strategic Defense Initiative (Star Wars) research. Under SDI, Israel began developing the missile with U.S. funding.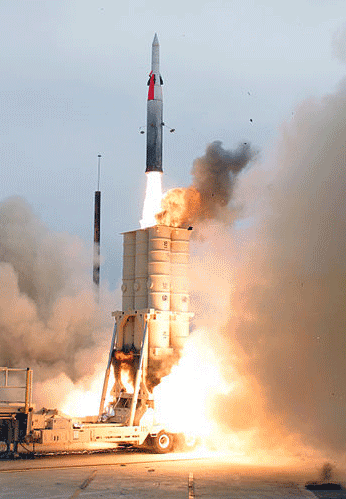 Arrow 2 Missile
The Arrow is one of the most advanced missile defense systems in existence, providing Israel with an essential capability against Scud-type ballistic missiles. The program will also provide the U.S. with critical research and technology for other "theater missile defense" programs.
Given Israel's small size — the same as New Jersey — all ballistic missiles deployed by hostile Mideast powers represent a potential "strategic" threat to the existence of the Jewish state. Thus, Israel must have an "area" anti­ballistic missile defense network based on a high-altitude interceptor like the Arrow to provide overall protection for the country's whole population.
Arrow's design is, therefore, optimized for the specific requirements of Israel's operational environment.
The range and speed of Arrow — capable of reaching a height of 30 miles at nine times the speed of sound — will allow hostile missiles to be intercepted high enough so that any weapons of mass destruction would not detonate or be dispersed over Israel. This also allows time for a second Arrow missile to be fired if it is determined that the first has not intercepted the incoming target. It is reportedly able to detect and track missiles as far away as 300 miles and then disable the incoming warhead by exploding within 40 to 50 yards of the target.
The system cannot distinguish between types of warheads; therefore, it was designed to destroy all types.
Tests of the Arrow also led to the determination that should it intercept a missile with a chemical weapon warhead, no chemical agents would reach the ground, given the warhead was destroyed above the jet stream. The jet stream flows from west to east, so anything that comes down from the destroyed warhead should be blown back to the sender, according to Uzi Rubin, the former head of the Arrow program.
The joint effort took a dramatic step forward during the summer of 1995 with the first test flight of the new "Arrow 2." A year earlier, an experimental Arrow 1 missile intercepted and destroyed a target missile in Israel. On September 14, 1998, a second successful test was conducted, and on November 1, 1999, yet another successful test of the Arrow was conducted by the Israeli Air Force, and Israel deployed the first battery of Arrow missiles on March 14, 2000.
The system is designed to intercept as many as 14 incoming missiles. The first test of its ability to launch multiple missiles at different targets was conducted in January 2003. In seven interception tests, six have been successful.
After meeting with Israeli Defense Minister Yitzhak Mordechai in the U.S. on March 27, 1998, U.S. Defense Secretary William Cohen indicated that Washington has agreed to expand the joint Arrow anti-missile project and provide $45 million in funding for a third battery of missiles for Israel. Cohen told reporters that the U.S. is "committed to maintaining Israel's qualitative edge, and we...concur that there is a need, for example, for Israel to acquire a third Arrow battery, and we will cooperate as best we can to see that that occurs."
The United States and Israel jointly fund the system's development. Since 1988, the United States has provided Israel with more than $1 billion in grants for research and development of the Arrow through the defense budget. President Bush requested $60 million for the Arrow for FY2003. The 2004 budget also includes a request for $136 million for the Arrow, of which $66 million is for an improvement program and $70 million for production. The U.S. has also funded two programs to complement the Arrow, the Boost Phase Intercept program ($53 million) and the Tactical High Energy Laser ($139 million).
Arrow Missile System Tests
   January 2021 - Arrow-3 
   July 2019 - Arrow-3 
   January 2019 - Arrow-3 
   February 2018 - Arrow-3 
   March 2017 - Arrow-3   
   December 2015 - Arrow-3
   December 2014 - Arrow-3
   September 2014 - Arrow-2
   January 2014 - Arrow-3
   Sept 2013 - Radar Systems
   July 2013 - Arrow-3
   Feb 2013 - Arrow-3
   Feb 2012 - Radar Systems
   July 2011 - Arrow-3
   Feb 2011 - Arrow-2
   April 2008 - Radar Sytems
   March 2007 - Arrow-2
   Feb 2007 - Nighttime
   Dec 2005 - Ballistic Interception
   August 2004 - Failure in Action
   July 2004 - Interception Success
   Dec 2003 - Arrow-2
   January 2003 - Multiple Launch
   August 2001 - Arrow-2
   Sept 2000 - Interception Test
   Nov 1999 - Arrow-1
   Sept 1998 - Arrow-1
The Arrow program has provided the United States with a wide range of technical and operational data and experience that benefit similar American weapons development projects such as the THAAD missile, also designed to counter missile attacks. The U.S. Army says it will not procure the Arrow for American use.
Two Arrow batteries have been deployed, one at the Palmachim base to provide cover for Tel Aviv and another near the city of Hadera. A third battery is in development and will have twice the range of Arrow 2, even though it is significantly smaller and weighs half as much.
In December 2005, Israel tested the Arrow missile against a mock-up of an Iranian Shihab-3 missile. The Arrow successfully intercepted the missile during the test to expand its range to a higher altitude and to evaluate the interface between the Arrow and the Patriot missile system.
Arrow tests continue regularly. In 2011, Israel Aerospace Industries (IAI) tested the Arrow-3, a new missile in the program designed to destroy, in space, medium-range ballistic missiles fired from countries such as Iran before they reenter Earth's atmosphere. The Arrow 3 is the most advanced missile defense system in the world. The interceptor missile for Arrow-3 is smaller, more agile, and flies faster and higher than any previous anti-missile system, and the price of the interceptor is expected to be cheaper than that of current models.
In late 2014, Israel suffered a series of embarrassing technical failures when conducting tests of the Arrow 2 and 3. During a test of the Arrow 2 system in September 2014, the missile successfully acquired and tracked its target but did not intercept the intended dummy missile. Officials stated that this failure was due to a minor software glitch and should be fixed easily.  The failure of this test was not reported until long after it occurred. A second test was due to be carried out on the Arrow 3 missile on December 16, but when the dummy target fired, the missile did not follow.  Due to technical problems at the last minute during the trial, the dummy missile fired over the sea was not intercepted by the Arrow 3 missile.  Israeli Defense Ministry officials released a statement claiming conditions were not ripe for launching the intercepting missile. Defense officials did not refer to this test as a success or a failure but stated that certain conditions for the launch were not in place and could not be completed. 
In the first validation of the capabilities of the Arrow-3 missile system, on December 10, 2015, Israel and the United States conducted a successful test during which the Arrow-3 system shot down a projectile. The missile successfully calculated the object's location and engaged it in the air, destroying it. The director of Israel Aerospace Industries missile division, Yoav Turgeman, referred to the exercise as "a perfect test."
On March 17, 2017, the Israeli Air Force conducted its first successful deployment of the Arrow 3 battery, intercepting a SAM (surface-to-air missile) fired by Syrian forces loyal to Bashar al-Assad. 
The first successful test of the updated Arrow-3 system took place on February 19, 2018, after two unsuccessful tests due to bad weather conditions. In January 2019, another test was successful. 
In a statement, the Defense Ministry said, "The success of this test presents an important milestone in the operational capabilities of the State of Israel in defending itself against current and future existential threats."
In July 2019, Israel successfully conducted a series of tests of the Arrow 3 missile defense system in Alaska in cooperation with the American Missile Defense Agency (MDA). This was the first time a real missile, simulating a ballistic missile, was intercepted. The test also demonstrated a successful link between U.S. detection radar and Israeli missile systems.
According to Tal Inbar, head of the Space Research Center at the Fisher Institute for Air & Space Strategic Studies, the Arrow-3 will allow Israel to defend itself further from its borders. Because of the great speed and high altitude involved in the interception, it will be possible to launch additional interceptor missiles if the first one misses its target. The Arrow 3 will significantly increase Israel's ability to defend itself against the ballistic missiles of hostile countries.
In February 2021, Israel announced plans to develop a new ballistic missile shield with the United States. "The development of Arrow-4 together with our American partners will result in a technological and operational leap forward, preparing us for the future battlefield and evolving threats in the Middle East and beyond," Defense Minister Benny Gantz said. In July, IAI signed a memorandum with Lockheed-Martin to develop the new system.
The Arrow 4 is intended to replace the Arrow 2 and will be designed to defeat maneuverable hypersonic cruise missiles and glide vehicle-type weapons, as well as ballistic missiles that release multiple warheads. Hypersonic missiles fly five times faster than the speed of sound and have complex flight paths. They can also carry nuclear warheads. In November 2022, Iran claimed it had developed a hypersonic missile that could "penetrate every missile defense shield."
Israel's Defense Ministry, the IDF, and the U.S. Missile Defense Agency (MDA) conducted another test of the Arrow-3 in central Israel on January 18, 2022. The targets were meant to simulate ballistic missiles like those developed in Iran. The AWS detected the target and successfully fired two interceptors to shoot it down.
MDA Director Vice Adm. Jon Hill said the agency "remains committed to assisting the Government of Israel in upgrading its missile defense capability against current and emerging threats."

IAF receives Arrow-3 ballistic interceptors in a formal transfer ceremony.
(Credit: Defense Ministry)
"With every step forward, with every development, we equip the State of Israel with the capabilities to defend itself against developing threats. Our systems provide Israel with the freedom to maneuver strategically," said Gantz. 
During the war with Hamas in 2023, Houthis in Yemen fired a ballistic missile toward Eilat, which was intercepted outside the Earth's atmosphere by the Arrow in its first test of the war and what was believed to be the first combat ever to take place in space.
U.S. Contributions to the Arrow Missile Program (Arrow, Arrow II, and Arrow III)
| | |
| --- | --- |
| Fiscal Year | Total ($ Millions) |
| 2023 | $253,000 |
| 2022 | $235,000 |
| 2021 | $250,000 |
| 2020 | $214.000 |
| 2019 | $243.000 |
| 2018 | $392.300 |
| 2017 | $272.224 |
| 2016 | $146.069 |
| 2015 | $130.908 |
| 2014 | $119.070 |
| 2013 | $115.500 |
| 2012 | $125.175 |
| 2011 | $125.393 |
| 2010 | $122.342 |
| 2009 | $104.342 |
| 2008 | $118.572 |
| 2007 | $117.494 |
| 2006 | $122.866 |
| 2005 | $155.290 |
| 2004 | $144.803 |
| 2003 | $135.749 |
| 2002 | $131.700 |
| 2001 | $95.214 |
| 2000 | $81.650 |
| 1999 | $46.924 |
| 1998 | $98.874 |
| 1997 | $35.000 |
| 1996 | $59.352 |
| 1995 | $47.400 |
| 1994 | $56.424 |
| 1993 | $57.776 |
| 1992 | $54.400 |
| 1991 | $42.000 |
| 1990 | $52.000 |
| Total | $4,501,811 |
---
Sources: American Israel Public Affairs Committee.
"IAF 'Arrow battery intercepts Syrian missile, in first reported use of the system," Times of Israel, (March 17, 2017).
Middle East Security Report and Clyde R. Mark, "Israel: U.S. Foreign Assistance," Congressional Research Service, (October 3, 2003).
Uzi Rubin, "The Origins of Israel's Arrow System," Jerusalem Issue Brief Vol. 2., No. 19, Jerusalem Center for Public Affairs, (March 5, 2003).
Gabriel Schieneman. "Readying the quiver – Arrow 3 set to fly," Jerusalem Post, (November 4, 2012).
Yaakov Lappin. "Israel announces successful joint missile test with US in Med, after Russia detects launch," Jerusalem Post, (September 3, 2013).
"Israel tests rocket propulsion system," YNet News, (July 12, 2013).
"Israel, US conduct successful joint test of Arrow 3," Times of Israel, (January 3, 2014).
Gili Cohen."Israeli Test of Arrow 3 Fails for Second Time - and Defense Ministry Waffles Again," Haaretz, (December 16 2014).
Judah Ari Gross. "Arrow 3 missile downs ballistic target in first successful test," Times of Israel, (December 10, 2015).
Jeremy Sharp. "US Foreign Aid to Israel," Congressional Research Service (February 18, 2022, March 1, 2023).
Anna Aronheim,  Israel Successfully Carries out Arrow 3 Test, Jerusalem Post, (February 19, 2018).
Judah Ari Gross, "Israel, US test-fire Arrow 3 missile, declare trial a success," Times of Israel, (January 22, 2019).
Yaniv Kubovich, "Israel 'Successfully Tests' Arrow 3 Missile Defense System in Alaska," Haaretz, (July 28, 2019).
"Israel says developing new Arrow-4 ballistic missile shield with U.S.," Reuters, (February 18, 2021).
Sebastien Roblin, "Israel and U.S. To Develop New Arrow 4 Missile to Defeat Hypersonic Weapons," The National Interest, (September 7, 2021).
Anna Ahronheim, "Israel's Arrow system intercepts target simulating Iranian missile," Jerusalem Post, (January 18, 2022).
Ellen Mitchell, "Israel says test of long-range missile defense system was successful," The Hill, (January 18, 2022).
Anna Ahronheim, "Israel, US working together to counter threat of hypersonic missiles," Jerusalem Post, (November 10, 2022).
Harriet Barber, "How Israel shot down a ballistic missile in space for the first time," The Telegraph, (November 5, 2023).