Trump Administration: Trump and Israel
Key Staff
Early Meetings
First Foreign Visit
The United Nations
Recognition of Jerusalem
Iran
The "Ultimate Deal"
The Abraham Accords
Other Developments
The Woodward Book
Concerns About the Saudis and Lebanese
The Israeli Ambassador's "Worst Day"
Reversing Policy on Settlements
International Criminal Court
Opposition to China Investments
Military Aid
Boycotting Boycotters
Post-Presidency Revelations
Remarks On American Jews, Democrats, and Israel

Donald Trump was inaugurated as the 45th President of the United States on January 20, 2017. He was defeated for reelection in 2020 by former Vice President Joe Biden.
Key Staff
Supporters of Israel uncomfortable with Trump's lack of political and, especially, foreign policy experience, looked to his son-in-law Jared Kushner for reassurance. Trump's daughter Ivanka had converted to Orthodox Judaism to marry Kushner and he was viewed as one of the new president's closest advisers. Kushner has a personal relationship with Israeli Prime Minister Benjamin Netanyahu going back many years. He reportedly wrote the very pro-Israel speech Trump delivered at the AIPAC Policy Conference in 2016 and was expected to be a positive influence on the president's policy toward Israel.
Trump also chose two close friends, neither of whom had any foreign policy experience, to work directly with Israel. The first, David Friedman, a 57-year-old bankruptcy attorney was appointed ambassador to Israel. Friedman aroused controversy because of his role as the president of the Friends of Bet El, a settlement in the West Bank. Friedman also was an outspoken critic of the two-state solution and had angered some Jewish leaders when he referred to J Street as being worse than kapos and made derogatory remarks about the ADL. Friedman was confirmed after testifying before Congress that he would support the pursuit of a two-state solution and apologizing for the comments he had made about J Street. After Trump recognized Jerusalem as Israel's capital, he became the first U.S. ambassador to make an official visit to the Western Wall.
Trump's other surprising appointment was Jason Greenblatt, the executive vice president and chief legal officer to The Trump Organization, as Special Representative for International Negotiations. Greenblatt traveled to Israel and the West Bank in March 2017 and impressed many of his interlocutors with his open-mindedness. He spoke to Jews and Arabs with a variety of opinions, including Israeli settlers and Palestinian refugees, and presented the image of someone who would be a skilled negotiator. Palestinian President Mahmoud Abbas said after meeting the envoy he believed Trump was serious about reaching an agreement. Arab leaders who met with him on the sidelines of the Arab League summit in Jordan a few weeks later came away with the same opinion.
While the president repeatedly expressed his commitment to Israel and his intention to take a friendlier approach toward Israel and its prime minister – statements that alarmed the Palestinians -- some of Israel's supporters were concerned when Trump chose Exxon executive Rex Tillerson as secretary of state. Yet another appointee with no foreign policy experience, Tillerson had extensive ties in the Middle East due to his position in the oil industry, but, given that industry's traditional closeness to the anti-Israel oil producers of the region, his views on Israel were uncertain. Early on, however, he sought to reassure Israel and its friends, stating during his confirmation hearings, for example, "Israel is, has always been and remains our most important ally in the region." He criticized Security Council Resolution 2334 and his predecessor's "troubling" speech condemning Israeli policy. "The president-elect has already made it clear that we're going to meet our obligations to Israel as the most important ally in the region." He also expressed skepticism about negotiations with the Palestinians so long as they refuse to recognize Israel as a Jewish state and cease terrorism. Tillerson also vowed support for congressional action to combat the BDS movement and a full review of the Iran nuclear deal, which he opposed.
Tillerson was replaced as Secretary of State by Mike Pompeo on March 13, 2018, who was viewed as more sympathetic to Israel and hostile toward Iran. In March 2019, Pompeo became the first Secretary of State to pay an official visit to the Western Wall, ending a longstanding taboo. During his trip, Pompeo said that Israel has no better friend than the United States and that Israelis "can be confident that President Trump will maintain this close bond."
In April 2018, John Bolton replaced H.R. McMaster as National Security Adviser. Bolton is considered especially hawkish on dealing with Iran and a strong friend of Israel.
In mid-June 2018, Greenblatt and Kushner traveled to the Middle East to test the waters for a potential Israeli-Palestinian peace plan and explore options for rehabilitating Gaza. Greenblatt and Kushner met with officials in Jordan and Israel to discuss these topics, but Palestinian leaders refused to meet with the U.S. delegation.
Early Meetings
Trump held his first meeting with a leader of the Arab world, King Abdullah of Jordan, on February 2, 2016. After the meeting, the White House issued a statement clarifying that while they "don't believe the existence of settlements is an impediment to peace, the construction of new settlements or the expansion of existing settlements beyond their current borders may not be helpful in achieving that goal."
Two days after his inauguration Trump called Israeli Prime Minister Benjamin Netanyahu to discuss the Iran nuclear issue as well as the regional threat of ISIS. Trump invited the Prime Minister to visit the White House, which he did on February 15, 2017. During a joint press conference with the Prime Minister, the President dropped the historic U.S. commitment to a two-state solution to the Israeli-Palestinian conflict, stating I'm looking at two states and one state, and... I can live with either one.
Trump also surprised Netanyahu by publicly urging the prime minister to "hold back on settlements for a little bit." Prior to their meeting, the White House had told Israel to stop announcing new settlements. Press secretary Scott Spicer said, "While we don't believe the existence of settlements is an impediment to peace, the construction of new settlements or the expansion of existing settlements beyond their current borders may not be helpful in achieving that goal." To read a full transcript of the joint press conference, please click here.
On May 3, 2017, President Trump hosted Palestinian Authority President Mahmoud Abbas in the White House.
The Washington Post reported on May 15, 2017, that five days earlier Trump had revealed highly classified information in a White House meeting to Russian Foreign Minister Sergei Lavrov and Russian Ambassador to the U.S. Sergey Kislyak. It was subsequently revealed that the information had been obtained by an Israeli source embedded within ISIS in Syria. Israeli officials feared that the leak could compromise intelligence sources and put Israeli agents in danger.
The administration also declared National Jewish American Heritage Month in May 2017.
First Foreign Visit
President Donald Trump embarked on his first foreign trip as President on May 19, 2017, with plans to visit Saudi Arabia, Israel, the Vatican, and then various European nations on a 9-day trip. On May 21, 2017, Trump arrived in Israel on the first-ever direct flight from Riyadh, Saudi Arabia to Tel Aviv, and was greeted by a red-carpet ceremony at Ben-Gurion International Airport. After issuing joint statements with Israeli Prime Minister Netanyahu, Trump met with Israeli President Reuven Rivlin and then toured Jerusalem's Old City with his entourage. President Trump wore a Yarmulke and prayed at the Western Wall during the afternoon of May 21, 2017, becoming the first sitting President to ever visit the holy site.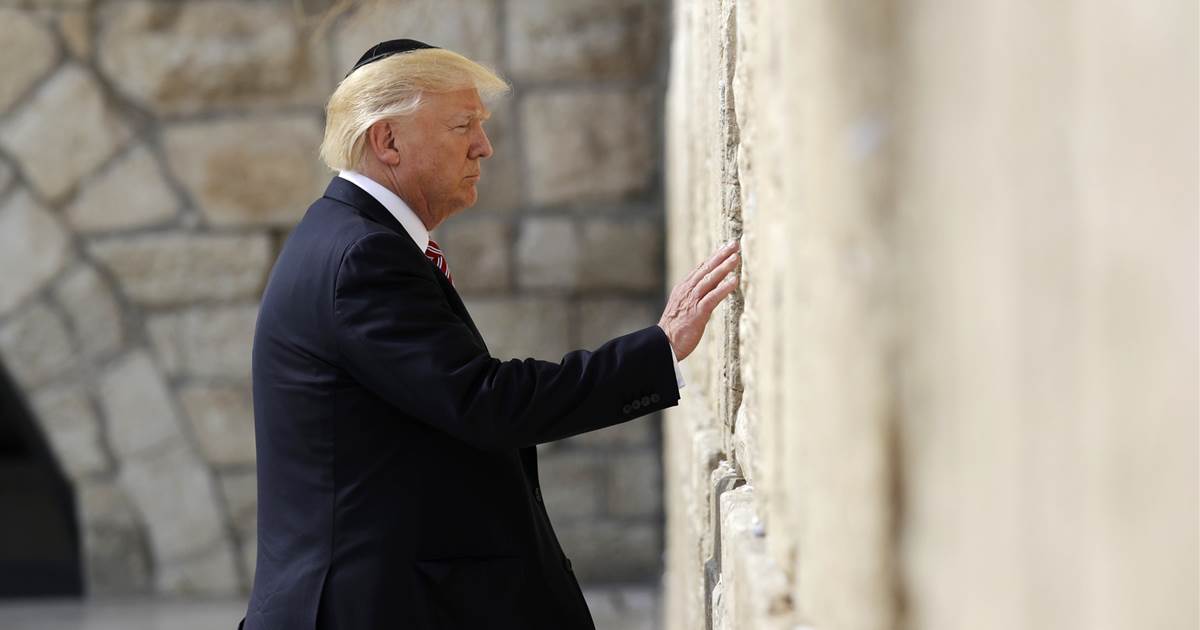 Trump visits the Western Wall
During Trump's visit to Israel, he also took time to meet with Palestinian Authority President Mahmoud Abbas in Bethlehem. While initial reports surfaced of a cordial meeting, this was soon disproven by officials with knowledge of the exchange. Trump reportedly screamed at Abbas, saying he had deceived me [Trump] in Washington, after being shown by the Israelis that Abbas personally ha[s] a hand in incitement.
Trump was also furious about the PA's "pay-for-slay" policy of providing salaries to convicted Palestinian terrorists in Israeli prisons and reiterated the demand he had made at the White House for Abbas to end the practice. Abbas told Trump he would not "stop the allowances of the families of the prisoners and Martyrs (Shahids), and emphasized his absolute support for them (i.e., for the payments)."
In a meeting with Palestinian officials on June 20, 2017, Trump's envoy Jason Greenblatt reiterated the demand that the Palestinians cease payments to the so-called Martyr's Fund. A Palestinian official said the meeting did not go well and the request was rejected. Reportedly, the PA increased payments to terrorists and their families in 2018 by nearly $56 million after distributing $347 million in 2017.
In 2018, Trump signed into law the Taylor Force Act, which halted U.S. foreign aid to the Palestinian Authority until Palestinian terrorists and their families cease to be paid.
The United Nations
The Trump administration wasted no time sending a message to the UN that it would no longer tolerate its ally being singled out for condemnation. One of the president's first appointments, South Carolina Governor Nikki Haley, blasted the UN's bias and declared that there "is a new sheriff in town."
A particular target of Israel and the administration's wrath is the Human Rights Council, where some of the world's worst human rights violators pillory Israel and ignore the horrors taking place elsewhere in the world. The Obama administration often protested the absurdity of the council's positions; nevertheless, it remained a member and opposed efforts to cut funding to the UN. Haley called the Council "corrupt," and Tillerson warned the U.S. would withdraw from the Council if it does not undertake "considerable reform."
Israeli Prime Minister Benjamin Netanyahu was the first person President Trump met one-on-one with during the United Nations General Assembly in September 2017. Later that month, Trump's Ambassador to Israel, David Friedman, sparked angry reactions from around the globe when he broke with formal U.S. policy and stated that the settlements are a part of Israel. The U.S. State Department clarified that Friedman's statements did not indicate a shift in policy and should not be used to prejudge negotiations to come.
After weeks of internal debate as to whether to eliminate all UNRWA funding as punishment for opposition to President Trump's policies, the Trump Administration decided on January 16, 2018, that the U.S. would pledge $60 million to Palestinian refugee programs. This is slightly less than half of what was expected, and according to administration officials, the remaining $65 million would be held for future consideration. The following week the U.S. State Department announced that they would be withholding an additional $45 million in food aid pledged the previous month in a separate agreement.
Nikki Haley was one of the strongest advocates for Israel to ever serve as ambassador to the UN. Following her resignation in December 2018, she was briefly replaced by Jonathan Cohen. Her permanent successor, Kelly Craft, was not allowed to remain in the Cabinet, and is a much more low-key representative; nevertheless, she immediately established herself as a vigorous defender of Israel as well. In September 2019, for example, she blocked a UN Security Council statement on tensions between Israel and Hezbollah because of its criticism of Israel.
During Trump's term, the United States vetoed two Security Council resolutions. One mentioned below regarding Jerusalem and a second in 2018 condemning Israel's response to Palestinian riots along its border with Gaza that the Palestinians called the "Great March of Return."
Recognition of Jerusalem
On December 6, 2017, President Trump announced the official U.S. recognition of Jerusalem as Israel's capital and the beginning of the process of moving the U.S. embassy in Israel from Tel Aviv to Jerusalem. The decision was widely criticized by leaders around the globe as detrimental to the peace process. Every other member of the United Nations Security Council voted in favor of a draft resolution reversing Trump's decision two weeks later on December 18, but the resolution was vetoed by the United States. The General Assembly subsequently voted overwhelmingly on December 21, 2017, for a resolution implicitly calling on the U.S. to withdraw its recognition of Jerusalem.
Vice President Mike Pence made a two-day visit to Israel in January 2018. Palestinian officials refused to meet with him in protest of the decision on Jerusalem, but he was warmly greeted by Israelis. During the trip, Pence announced the U.S. embassy would be moved to Jerusalem before the end of the year, contradicting earlier State Department statements suggesting the move would be delayed for years until a new building could be constructed. Soon after, the administration announced that it would move the U.S. embassy to the grounds of the consulate in Jerusalem on May 14, 2018, to coincide with the celebration of Israel's 70th birthday.
The new United States embassy in Jerusalem was opened on May 14, 2018, coinciding with Israel's independence day. Officials from the Trump administration attended the ceremony, along with representatives from 33 other countries. Noticeably absent were representatives from Western European nations.
It took another two years, but the administration announced in October 2020 that the U.S. passports of Americans born in Jerusalem can now mention Israel as their country of birth. This had been a longstanding anomaly where Americans in this circumstance were considered by the State Department as having no country of birth.
Iran
The election outcome signaled a change in American policy toward Iran after Trump had repeatedly called the nuclear deal a disaster. In early February 2017, the new administration sanctioned 13 individuals and 12 entities for their support of Iran's detrimental activities. Trump also announced a review of the Iran deal, which he continued to describe as "one of the worst deals I've ever witnessed."
Under the deal, the State Department must update Congress on Iran's compliance every 90 days and Secretary of State Rex Tillerson continued to fulfill that obligation in a letter to House Speaker Paul Ryan saying that Iran is complying with the terms of the agreement. Tillerson also says, however, that Iran "remains a leading state sponsor of terror, through many platforms and methods" and that Trump had ordered an interagency review to determine whether the deal is "vital to the national security interests of the United States."
After Trump had warned he would cancel the nuclear deal with Iran, administration officials spent months trying to negotiate an agreement with European allies on how to strengthen the JCPOA to satisfy the president's concerns. The Europeans were unwilling, however, to make significant changes in the agreement, and were particularly opposed to reimposing sanctions that would threaten their business opportunities in Iran. Consequently, on May 8, 2018, Trump announced the United States would be exiting the nuclear deal
Trump also announced the U.S. would reimpose sanctions lifted as part of the JCPOA and that "no new contracts" with Iran will be permitted. The U.S. Treasury Department said it would halt transactions in Iranian government debt or currency, and purchases involving the country's automobile sector within 90 days. Deals involving Iran's oil and energy sector, shipping and ports, would be banned within 180 days. Individuals and entities that were delisted from sanctions will be re-designated.
In subsequent months, the administration imposed additional sanctions with the objective of bringing Iran back to the negotiating table and allowing the international community to forge a deal that will prevent Iran from building a nuclear weapon and stop its other destabilizing activities. The day after withdrawing from the agreement, Trump warned if Iran resumed its nuclear program, there would be "very severe consequences."
European Union leaders met with their Iranian counterparts to reassure them they would do what they could to protect the JCPOA from the effects of the sanctions. Trump warned, however, that "any nation that helps Iran in its quest for nuclear weapons could also be strongly sanctioned by the United States." Secretary of State Mike Pompeo added later: "We understand that our reimposition of sanctions and the coming pressure campaign on the Iranian regime will pose financial and economic difficulties for a number of our friends. Indeed, it imposes economic challenges to America as well. These are markets our businesses would love to sell into as well. And we want to hear their concerns. But we will hold those doing prohibited business in Iran to account."
The decision to withdraw from the deal was met with widespread criticism from many foreign policy experts, former Obama administration officials, and some nuclear proliferation analysts. A poll published by Politico also indicated the American public was split on the decision (40-37 percent opposed pulling out in response to one question but, when worded differently, respondents approved by a 42-40 percent margin) and most felt it made both the United States and Israel less safe.
Meanwhile, America's Middle Eastern allies expressed enthusiastic support for the U.S. announcement. Israel, Saudi Arabia, Egypt, the UAE, and Bahrain all pointed out the flaws in the agreement and hailed Trump's decision.
Trump also sent a message to Tehran when he ordered air strikes in April 2017 and 2018 against targets in Syria which President Bashar Assad had used to launch chemical weapons attacks. By demonstrating that he was willing to use military force when red lines were crossed, Trump put the Iranians on notice that they could not count on using the nuclear agreement as a shield against an American response to their provocations.
In May 2019, tensions between the United States and Iran escalated as American intelligence indicated an increased threat to U.S. interests. American forces were moved to the region and there was heightened concern that the two countries were headed for war. "If Iran wants to fight, that will be the official end of Iran," Trump tweeted on May 19, 2019. "Never threaten the United States again!" He added in an interview with Fox News, "I don't want to fight. But you do have situations like Iran, you can't let them have nuclear weapons — you just can't let that happen."
The same month, Trump said, "We're not looking for regime change. I want to make that clear…We're looking for no nuclear weapons." He added, "I do believe Iran would like to talk, and if they'd like to talk, we'll talk also. . . . Nobody wants to see terrible things happen, especially me."
Asked about his views on Iran during his state visit to Britain, Trump said, there's a "chance" he will order military actions against Iran, but stated, "I'd much rather talk" with Iranian leaders. "There's always a chance [for military action]. Do I want to? No. I'd rather not. But there's always a chance."
Before meeting with French President Macron in June 2019, Trump said, "The one thing that [Iran] can't have is they can't have nuclear weapons. And I think the President of France would agree with that very strongly. I think that he would agree that they cannot have nuclear weapons."
Israelis became concerned when they learned in September 2019 that Trump was considering easing sanctions on Iran and meeting with Iranian Foreign Minister Mohammad Javad Zarif. In his memoir, Bolton said he and Secretary of State Pompeo lobbied Trump not to attend the meeting arranged by French President Emmanuel Macron. Trump ultimately did not go, which pleased the Israelis, but they later lost Bolton as an ally inside the administration when he was fired by the president.
Iran's economy has been decimated by U.S. sanctions, but Iran's policies have not changed. It has remained hostile toward the United States, committed to developing ballistic missiles and sponsoring terror, and creating a land bridge to the Mediterranean. Iran has also continued to destabilize the region by its involvement in supporting rebels in Yemen and backing Bashar Assad's forces in Syria.
Worse, from Israel's perspective, Iran is attempting to establish bases in Syria from which it can attack Israel and provide logistical support to Hezbollah. Iran also had not ceased its pursuit of a nuclear weapon, which had continued after signing the nuclear agreement thanks, in part, to its loopholes. Those covert actions were supplemented by the overt flouting of the terms of the agreement. In early June 2020, the International Atomic Energy Agency (IAEA) disclosed that Iran's total stockpile of low-enriched uranium exceeded the amount allowed under the agreement, that Iran had increased the purity of the uranium it is enriching to 4.5%, violating the agreement's limit of 3.67%, and that it was denied access to two locations that could be used for storing or processing nuclear material.
At a fundraiser in August 2020, Trump said if he was reelected, "we will have a deal with Iran within four weeks."
Chuck Freilich, a former deputy Israeli national security adviser concluded, "The bottom line, from Israel's perspective, is that its overall strategic situation vis-a-vis Iran has deteriorated severely under Trump. Iran is closer to a bomb, Israel is surrounded by Iran and its proxies, and increasingly likely to find itself standing essentially alone in the confrontation with Tehran."
In 2022, NPR reported that Trump tweeted a classified image of an Iranian rocket exploding on the launch pad taken by a reconnaissance spy satellite.
Other Developments
The Trump Administration released a National Security Strategy paper on December 18, 2017, featuring a section detailing the administration's regional Middle East Strategy.
Israeli Prime Minister Benjamin Netanyahu met with President Trump on March 5, 2018. Netanyahu thanked the president for his support, and specifically the recognition of Jerusalem, but the main focus of their meeting was mutual concerns about Iran.
On March 13, 2018, the U.S. hosted a conference with the goal of addressing the humanitarian crisis in the Gaza Strip. Enraged by President Trump's decision to unilaterally recognize Jerusalem as the capital of Israel, the Palestinians rejected an invitation to the conference, which was attended by representatives from 19 nations, including Israel and all of the Arab Gulf states.
On March 25, 2019, Trump announced the United States would recognize Israeli sovereignty over the Golan Heights. Some observers believed the timing of the announcement was meant to help Netanyahu's reelection campaign. A subsequent visit by Pompeo days before the election reinforced this perception as did the administration's silence following Netanyahu's campaign remark about annexing the settlements and the State Department's decision to designate Iran's Islamic Revolutionary Guard Corps as a foreign terrorist organization.
Trump tweeted his reaction to Hamas rocket attacks on Israel in May 2019: "Once again, Israel faces a barrage of deadly rocket attacks by terrorist groups Hamas and Islamic Jihad," the president said on Twitter. "We support Israel 100% in its defense of its citizens. To the Gazan people — these terrorist acts against Israel will bring you nothing but more misery. END the violence and work towards peace — it can happen!"
In a move many criticized as interfering in Israel's electoral process, Trump tweeted while Netanyahu was working to form a coalition government, "Hoping things will work out with Israel's coalition formation and Bibi and I can continue to make the alliance between America and Israel stronger than ever. A lot more to do!"
Netanyahu was unable to form a government and Israel was forced to schedule another one for September 17, 2019. Trump was not happy about the development. "Israel is all messed up with their election — I mean, that came out of the blue three days ago. So that's all messed up. They ought to get their act together," Trump said. "I mean, Bibi [Netanyahu] got elected, now all of a sudden they're going to have to go through the process again until September. That's ridiculous. So we're not happy about that."
In August 2019, the U.S. Agency for International Development (USAID) signed a Memorandum of Understanding (MOU) with Israel to strengthen the global partnership in development between the two countries.
In November 2019, following the inconclusive election in Israel, Trump said, "They keep having elections and nobody gets elected." He joked that he has a "98 percent approval rating in Israel," and that "if anything happens here, I'm taking a trip to Israel — I'll be prime minister there." He added, "They're all fighting and fighting each other. Here we have other kinds of fighting, but at least we know who the boss is."
Commenting on the flareup of violence during which Palestinian Islamic Jihad fired rockets into Israel, Trump said, "It's crazy, missiles are flying and Israel is shooting back."
Just days before leaving office, President Trump ordered U.S. Central Command, which is responsible for military policy in the Middle East, to include Israel, which has been part of the European command. Until now, the U.S. was afraid including Israel would jeopardize military cooperation with the Arab states. This concern has diminished following Israel's normalization of relations with the United Arab Emirates and Bahrain. Pro-Israel groups have advocated the change for many years and believe it will improve coordination in addressing the threat to the region from Iran.
On his last day as president, Trump pardoned Aviem Sella, an IAF colonel who was indicted by a U.S. federal grand jury in March 1987 on three counts of espionage for recruiting Jonathan Pollard to spy for Israel.
High-resolution satellite imagery showing construction at Israel's Dimona nuclear facility released in February 2021 was made possible by an executive order by President Trump allowing U.S. companies to sell images at a resolution of .4 meters instead of 2 meters. The 1997 Kyl-Bingaman Amendment restricted the quality of imagery to protect secure Israeli facilities.
The Woodward Book
In his book, Rage, journalist Bob Woodward reported that in the spring of 2017, Trump was beginning to have "doubts about Netanyahu and wondering aloud if the Israeli prime minister might be the real problem." Woodward adds, "Trump had even earlier said to Netanyahu on a Washington visit that he believed he was the obstacle to peace, not Abbas."
Netanyahu met with Trump on May 22, 2017, and gave him a video showing statements made by Abbas. "It sounded like Abbas was ordering the murder of children," Woodward writes. Tillerson insisted, but Kushner disputed, that the video was doctored to "counter any pro-Palestinian sentiments that were surfacing," according to Woodward, though Kushner disputes this.
Trump subsequently met Abbas and called him a "murderer" and a "liar." The video also impelled the president to order the closure of the PLO office in Washington, D.C., and the cancellation of "nearly all U.S. aid to the West Bank and Gaza, as well as $360 million in annual aid previously given to the U.N. agency for Palestinian refugees."
Kushner gave Tillerson "four or five versions" of a Middle East peace plan, all of which the secretary of state regarded with "skepticism." Woodward notes that in "one version Kushner proposed Israel take the Jordan Valley," but Tillerson told Kushner that would "never fly."
"So it came out, only to go back in the plan later," Woodward writes. While Kushner believed that "economic benefits" were key to the plan, Tillerson thought that was naive. "These people are not going to care about your money," Woodward quotes Tillerson as saying. "Or they'll take your money and five years from now, you'll be right back where you are today. That's not going to buy you peace." Tillerson also told Woodward Kushner's relationship with Netanyahu was "nauseating to watch" and "stomach-churning."
Concerns About the Saudis and Lebanese
Even as Israel was quietly improving relations with Saudi Arabia because of their mutual concern about Iran, officials were concerned about reports in 2018 that the U.S. planned to build nuclear reactors in Saudi Arabia. The Saudis were discussing a deal to build at least 16 nuclear reactors at a cost of $80 billion to reduce the kingdom's dependence on oil. This would be a windfall for U.S. companies, but Israel is worried nuclear materials could be diverted for military purposes. Like the Iranians, the Saudis insist they are only interested in peaceful uses of nuclear energy; however, given their threat to obtain a bomb if Iran does, Israel has a reason for alarm. Initially, Israel hoped to stop the deal, but when it was clear they could not, officials asked the administration to take steps to assuage their concerns. For example, Israel wants to be informed of what equipment the Saudis will receive, assurances that they will not be allowed to enrich uranium and that spent fuel will be removed from the kingdom.
Israel and its friends in the U.S. were also concerned with the administration's decision to continue to arm the Lebanese army. The army was once seen as a possible counter to the growing influence of Iran's proxy Hezbollah in the country; however, after the 2018 elections in which Hezbollah strengthened its position within the government, Israel feared the Lebanese army was compromised.
The Israeli Ambassador's "Worst Day"
According to Bob Woodward's book, Fear, after Assad launched a chemical attack on civilians in April 2017 Trump considered assassinating Assad. "Let's fucking kill him! Let's go in. Let's kill the fucking lot of them," Trump told Defense Secretary Jim Mattis.
On September 5, 2018, Trump denied discussing the idea. Almost exactly two years later, however, the president criticized Mattis, who had come out against Trump's reelection, and said, "I would've rather taken him out." Though he did not need Mattis's permission, Trump said he did not act because of the secretary's opposition. He did, however, order an air strike on other targets in Syria.
According to former National Security Adviser John Bolton's book, The Room Where it Happened, Ambassador to the United States Ron Dermer told Bolton that Trump's unexpected decision to withdraw U.S. troops from Syria in December 2018 was the "worst day he had experienced thus far in the Trump administration."
On December 14, 2018, Turkish President Recep Tayyip Erdogan asked Trump to help get an investigation of a Turkish bank dropped, according to Bolton. In addition, Erdogan wanted the American forces to withdraw so that his forces could fight ISIS and the Kurdistan Workers Party. "Trump said he was ready to leave Syria if Turkey wanted to handle the rest of ISIS," according to Bolton.
Trump justified the move by claiming, inaccurately, the war against ISIS had been won and it was no longer necessary for American soldiers to be on the ground. This was also consistent with his campaign pledge to bring troops home and end U.S. involvement in foreign wars. In agreeing, Trump ignored his advisers, members of Congress, and allies in Europe and the Middle East, including Israel. Critics were concerned that Erdogan would slaughter the Kurds, who were allies of the United States in the fight against ISIS in Syria. Israel also had a good relationship with the Kurds and a tense one with Turkey at the time.
Bolton believed the U.S. presence was necessary to confront Iran and that abandoning the Kurds would force them to "ally with Assad against Turkey" or be ethnically cleansed. Turkey had also taken actions that were contrary to U.S. and Israeli interests, such as buying anti-aircraft missiles from Russia, hosting members of Hamas, criticizing Israel, opposing U.S. sanctions on Iran and the relocation of America's embassy to Jerusalem.
Israel feared the United States' abandonment of the Kurds could damage America's relations with Arab allies, which might look to the Russians for support or, in the case of Saudi Arabia, consider a rapprochement with Iran. Israel also worried the American withdrawal would give Iran the opportunity to create a land corridor from Tehran to Beirut, which was obstructed by the Kurdish presence. The likelihood of the Kurds allying with Syria against Turkey also strengthen Syrian President Bashar Assad. In October 2019, after U.S. troops were withdrawn from Syria, Pompeo went to Jerusalem to reassure Israel it would keep some troops near the Syria-Iraq border where they could prevent Iran from creating its desired land bridge.
The "Ultimate Deal"
After months of deliberating and planning, the administration was expected to finally unveil its peace plan after the April 2019 election in Israel. When Netanyahu was unable to form a government, however, and a new election was called for September the timeline changed. As was the case before April, Trump did not want to release the plan out of concern it might impact the election.
In the short-run, the administration planned to go ahead with a conference in Bahrain on June 25-26, 2019, to discuss the economic elements of the plan. The Palestinians immediately announced they would boycott the meeting and lobbied Arab governments to do the same.
Meanwhile, Pompeo reinforced widespread skepticism of the plan when he told a group of Jewish leaders the administration peace plan "may be rejected," Trump responded on June 2, 2019, "Look, we're doing our best to help the Middle East to get a peace plan, and he [Pompeo] may be right. I mean, most people would say that," he said. "But if we can get a Mideast peace plan that would be good. And when Mike says that, I understand when he says that, because most people think it can't be done. I think it probably can. But as I say often, we'll see what happens."
In what some analysts viewed as an effort to aid Netanyahu's campaign just three days before the Israeli election, Trump said on September 14, 2019, he discussed a possible "mutual defense treaty" between the U.S. and Israel in a call with the prime minister. He tweeted, the potential deal would "further anchor the tremendous alliance between our two countries." He added that he looked forward to "continuing those discussions after the Israeli Elections when we meet at the United Nations later this month!"
On January 28, 2020, the much-anticipated peace plan was released during Netanyahu's visit to Washington. The Prime Minister welcomed the initiative, which received a mixed reception in the American Jewish community. Several left-leaning organizations denounced it because the Palestinians were not involved in its formulation and the conception of a two-state solution is dramatically different from past peace plans. Even some on the right were critical of its call for the creation of a Palestinian state with its capital in a part of Jerusalem. Some liked that Israel would be allowed to annex about 30 percent of the West Bank and that no settlements would have to be evacuated, but were less happy with the proposed four-year freeze on the establishment of new communities. No one was entirely satisfied, but the president's supporters generally viewed the plan as consistent with his pro-Israel positions while his detractors saw it as a case of interfering in Israel's upcoming election for the benefit of Netanyahu.
With no support from the Palestinians or the international community and ongoing political chaos in Israel, the administration made little effort to advance the plan. Instead, it focused on promoting peace between Israel and Arab nations.
The Abraham Accords
Following the Israeli election in March 2020, Netanyahu announced plans to unilaterally apply sovereignty to some or all the Jewish communities in the West Bank as early as July 1. He was encouraged by U.S. Ambassador David Friedman, but Jared Kushner was reportedly advising Israel not to move ahead and Netanyahu complied. Then, in In a dramatic and unexpected joint announcement by the United States, Israel, and the UAE on August 13, 2020, Israel and the UAE "agreed to the full normalization of relations." In addition, the statement said, "As a result of this diplomatic breakthrough, and at the request of President Trump with the support of the United Arab Emirates, Israel will suspend declaring sovereignty over areas outlined in the President's Vision for Peace and focus its efforts now on expanding ties with other countries in the Arab and Muslim world."
The UAE emphasized the point regarding the suspension of sovereignty in an effort to demonstrate it had not totally abandoned the Palestinian cause. The UAE also reportedly secured a commitment from the administration that the United States will not recognize Israeli annexation of parts of the West Bank until at least 2024. Though this would not obligate a Biden administration to do the same, the former Vice President has said he opposed Israeli annexation so it is likely he would not abrogate the promise.
Winning this concession from Israel did not prevent the Palestinians from lambasting the agreement. The Palestinian Authority condemned the agreement as "a betrayal of Jerusalem" and an "aggression against the Palestinian people." Hamas called it "cowardly" and "a blatant assault on our religious, national, and historical rights in Palestine, a treacherous stab in the back of the Palestinian people and their resistance forces, and a miserable attempt to influence their struggle and resistance path aimed defeating the occupation."
Reports suggested Trump personally had little or nothing to do with the agreement and that Kushner played the major role on the U.S. side. UAE-Israel relations had already been steadily improving and other reports indicated a representative of the Mossad was instrumental in brokering the final deal. Nevertheless, Trump reaped the benefits of appearing to have pulled off a major foreign policy accomplishment in facilitating a peace agreement between Israel and a third Arab country.
"You're going to end up with peace in the Middle East, real peace in the Middle East," Trump said afterward. "Now, by the way, UAE was the leader and they signed the first one and now all of the countries, almost all, are calling, 'Well what about us? We want to sign too.'"
"It's an incredible thing for Israel," he concluded. "It's incredible for the evangelicals by the way, the evangelicals love Israel. Love Israel. So we're doing things that nobody else would do or could do."
One matter of controversy emerged after the announcement of the Abraham Accords regarding the possible sale of F-35 stealth fighters to the UAE. It was initially reported that Netanyahu acquiesced to the sale, seeing it as the price of the agreement, but he later denied such a quid pro quo.
There is a precedent for such a deal. Following the signing of the peace treaty with Egypt, Israel dropped objections to the sale of fighter planes to Egypt. This case is different, however, because the F-35 is the most advanced fighter plane in the world and, though Israel already has them, Israeli officials, members of Congress, and some analysts argued the sale would erode Israel's qualitative military edge (QME) in the region.
The president faces a dilemma. By selling the planes, the United States would get billions of dollars that would help the economy, create jobs, and benefit his reelection campaign. Simultaneously, it would upset the Israelis and their supporters and offset some of the goodwill created by the Accords, though they may not try to block the sale to avoid angering the president. The sale also could potentially violate the law that requires Israel's QME to be maintained, though it is likely the administration would argue that Israel's edge remains intact.
Fulfilling Trump's prediction that other countries would follow the UAE's example, he announced on September 11, 2020, that Bahrain had also agreed to establish diplomatic relations with Israel.
On September 15, 2020, President Trump hosted the signing ceremony for the Abraham Accords. The President, Prime Minister Netanyahu, UAE Minister of Foreign Affairs Abdullah bin Zayed Al Nahyan, and Bahraini Foreign Minister Abdullatif Al Zayani signed a declaration expressing their common interests. Trump, Netanyahu, and Al Nahyan signed a UAE-Israel peace treaty, and Trump, Netanyahu, and Al Zayani signed a Bahrain-Israel peace agreement.
Trump promised more agreements would be forthcoming and expectations were raised that Saudi Arabia might be the next to take the leap, given that the Saudis would have had to give their approval for the other Gulf states to make their moves. The Saudis, however, were not the next countries to establish relations with Israel. Instead, it was Sudan, which was won over in large measure by a promise to be removed from the U.S. list of sponsors of terrorism. Next, Morocco, which had rescinded recognition of Israel, reestablished relations in December 2020 and flew aboard the first direct commercial Israeli flight on El Al from Israel to Morocco.
Speaking to the Republican Jewish Coalition in 2022, Trump said he would have brokered additional peace agreements between Israel and the Arab states if the 2020 election had not been "rigged."
"We would have had maybe all of them, that includes Saudi Arabia, within a short time after the election," Trump said. "They haven't signed any of them. We could have truly had peace in the Middle East." He insisted, "The election was rigged, and it's too bad it was, and Israel lost a lot."
Reversing Policy on Settlements
On November 18, 2019, Secretary of State Michael Pompeo announced a shift in U.S. policy on settlements. He said, "The establishment of Israeli civilian settlements in the West Bank is not per se inconsistent with international law."
Pompeo acknowledged a legal opinion that the settlements were illegal was expressed during the Carter administration. He noted that Ronald Reagan rejected this opinion. Pompeo also recalled that his predecessor had referred to them as illegal, but the Trump administration agreed with the Reagan interpretation.
Prime Minister Netanyahu and U.S. Ambassador to Israel Friedman signed an agreement on October 27, 2020, extending the United States and Israel's scientific cooperation to apply to Israeli institutions in the West Bank and the Golan Heights. The deal removed geographic restrictions on funding from the Binational Science Foundation (BSF), the Binational Industrial Research and Development Foundation (BIRD), and the Binational Agricultural Research and Development Fund (BARD) which previously were not allowed to sponsor projects in "areas which came under the administration of the Government of Israel after June 5, 1967" and related "to subjects primarily pertinent to such areas."
Prof. Eugene Kontorovich of George Mason Law School said, "This is really quite momentous. It is the first time the U.S. has adopted a policy that explicitly and clearly authorizes the use of funds across the green line… It's a very strong recognition that settlements are not illegal." Furthermore, he said, it sends "send an important message that science has no borders, and you can't politicize science."
In November 2020, Pompeo became the first U.S. cabinet member to pay an official visit to a settlement when he visited a winery in Psagot. The State Department also announced that products from settlements can now be labeled Made in Israel.
International Criminal Court
In June 2020, the administration announced sanctions against the International Criminal Court (ICC). Secretary of State Mike Pompeo said, the United States is "also gravely concerned about the threat the court poses to Israel. The ICC is already threatening Israel with an investigation of so-called war crimes committed by its forces and personnel in the West Bank and in the Gaza Strip. Given Israel's robust civilian and military legal system and strong track record of investigating and prosecuting wrongdoing by military personnel, it's clear the ICC is only putting Israel in its crosshairs for nakedly political purposes. It's a mockery of justice."
Pompeo acknowledged receiving letters from a bipartisan group of 69 senators and 262 House members urging him to call on the International Criminal Court to halt its "politically motivated" investigations of Israel and the United States. "That's what the U.S. is dead set on doing, and with good reason," Pompeo declared. "They're a trusted and wonderful partner and a buttress of American security. If a rogue court can intimidate our friend or any other ally into abrogating its right to self-defense, that puts Americans at risk as well."
Opposition to China Investments
The administration expressed opposition to China's involvement in construction in the ports of Haifa and Ashdod. In May 2020, Secretary of State Mike Pompeo flew to Jerusalem to deliver the message that Israel should stop all Chinese investment in Israel, either in high tech companies or infrastructure. According to Breaking Defense, Israeli officials said Pompeo warned Israel "to stop any action that strengthens the Chinese Communist Party, even if that means canceling projects already planned."
Pompeo said, "We don't want the Chinese Communist Party to have access to Israeli infrastructure and to Israeli communication systems – all of the things that put Israeli citizens at risk, and in turn – put the capacity for America to work alongside Israel on important projects at risk as well."
Following U.S. pressure against allowing China to participate in infrastructure projects, Israel decided to award an Israeli group a contract to build the world's largest desalination plant.
Military Aid
In December 2019, Trump approved the 2020 budget, which included $3.8 billion in U.S. security assistance to Israel and $500 million for U.S.-Israel missile defense cooperation, as outlined in the 2016 U.S.-Israel Memorandum of Understanding.
In March 2020, the Department of Defense announced plans to sell KC-46 Pegasus aerial refueling aircraft to Israel. In July, the Trump administration agreed to provide Israel with 990 million gallons of diesel and gasoline for ground vehicles, and jet fuel for aircraft at a cost of $3 billion. The expense of the fuel will be covered by U.S. aid money given to Israel.
Boycotting Boycotters
During a trip to Israel in November 2020, Pompeo announced the U.S. would brand the BDS movement as anti-Semitic and bar any groups that participate in it from government funding. The U.S. "strongly opposes the global discriminatory boycott, divestment, and sanctions (BDS) campaign," a statement from Pompeo said, "and practices that facilitate it, such as discriminatory labeling and the publication of databases of companies that operate in Israel or Israeli-controlled areas." He also asserted that "anti-Zionism is anti-Semitism."
Further, Pompeo directed the Office of the Special Envoy to Monitor and Combat Anti-Semitism to identify organizations that support the BDS movement and whether these organizations are working to penalize or limit commercial relations with Israel or "any territory controlled by Israel."
Post-Presidency Revelations
After Trump left office, he continue to make comments about Israel, former Prime Minister Netanyahu, and American Jews (see below). Many books were published about his administration by journalists, and several memoirs were written by members of his administration that revealed new details about the Trump White House.
In addition to being bitter over his defeat in the 2020 election, he also expressed anger after Netanyahu congratulated Joe Biden on his victory. He accused Netanyahu of disloyalty and claimed he had helped his counterpart survive politically with his pro-Israel decisions. For example, Trump's recognition of the Golan Heights came right before the 2019 election when Netanyahu was trailing in the polls. "He would have lost the election if it wasn't for me," Trump said.
He also told journalist Barak Ravid, "I'll tell you what - had I not come along I think Israel was going to be destroyed. Okay. You want to know the truth? I think Israel would have been destroyed maybe by now."
In his memoir, "Bibi: My Story," Netanyahu had his own complaints about Trump. He said World Jewish Congress President Ron Lauder convinced Trump that Netanyahu was the main obstacle to peace with the Palestinians. Netanyahu said that when Trump came to Israel, he told President Reuven Rivlin, "Bibi doesn't want peace."
Netanyahu says he changed Trump's mind after showing him a video in which Abbas spoke to an international audience in English about wanting peace while glorifying terrorists when he spoke to Palestinians in Arabic.
Netanyahu also was unhappy with Kushner when he suggested to Amb. Dermer that Israel freeze construction in the settlements "for a couple of years."
Though Netanyahu accepted the Trump peace plan, which called for the establishment of a Palestinian state, he now says it was only because he expected the Palestinians to reject it (as they did).
According to Netanyahu, before the peace plan was announced, he received a letter from Trump agreeing to support Israel's declaration of sovereignty over the territory allotted to Israel. While Friedman had encouraged Netanyahu to quickly move ahead, Kushner was opposed to Israel annexing the land.
The New York Times's Maggie Haberman had extraordinary access to President Trump and broke numerous stories about the administration. In her book, Confidence Man, she claims that Trump accepted a $20 million Super PAC contribution from the billionaire Sheldon Adelson to move the U.S. Embassy in Israel from Tel Aviv to Jerusalem.
In November 2022, Trump attracted criticism from both inside and outside the Republican Party when he had dinner with rapper Kanye West and white nationalist Holocaust denier Nick Fuentes. Only days before, West had made a number of anti-Semitic remarks. Trump initially refused to condemn his guests. He claimed not to know Fuentes and said he had shown up with West. "Nobody has to prove or be defensive of me and Israel," he told Fox News in response to allegations of racism and anti-Semitism. "They have acknowledged that I'm the best friend and president to Israel. I gave them the embassy in Jerusalem."
Weeks later, when asked about the furor in an interview with Breitbart, Trump said no one espousing anti-Semitism or Holocaust denialism, or racism had any place in the GOP. He said, "We don't want ill will," adding that it was "very unfairly covered" by the media.
Remarks On American Jews, Anti-Semitism, Democrats, and Israel
"I have to say this, whatever you can do in terms of November 3 is going to be very important because if we don't win, Israel is in big trouble."

"We're in the Middle East because of Israel."

"This is really a time that's very important in the life of Israel and the safety of Israel. And we will do a great job. If the other side gets in all bets are off. I think it'll be a whole different story. I think it'll be exactly the opposite."

"I remember Bibi coming over and begging him, begging him [Obama] to a point of humiliation that please don't do the Iran deal. He did it. I broke it, but he did it. And yet the Democrats get 75 percent sort of like habit. It's automatic. I hope you can do better with that. I hope you can explain to people what's going on."

"Which really amazes me, and I have to tell you, because I saw a poll that in the last election, I got 25 percent of the Jewish vote and I said here I have a son-in-law and a daughter who are Jewish, I have beautiful grandchildren that are Jewish. I have all of these incredible achievements. I'm amazed that it seems to be almost automatically a Democrat." (JTA, September 16, 2020)

"When I took office, the Middle East was in total chaos. ISIS was rampaging, Iran was on the rise, and the war in Afghanistan had no end in sight. I withdrew from the terrible, one-sided Iran Nuclear Deal. Unlike many presidents before me, I kept my promise, recognized Israel's true capital and moved our Embassy to Jerusalem. But not only did we talk about it as a future site, we got it built. Rather than spending $1 billion on a new building as planned, we took an already owned existing building in a better location, and opened it at a cost of less than $500,000. We also recognized Israeli sovereignty over the Golan Heights, and this month we achieved the first Middle East peace deal in 25 years." (Speech at Republican National Convention, August 27, 2020)

"I could run in Israel, and I think they set up probably a 98% approval rating in Israel....And you know who appreciates it the most are the evangelical Christians. They appreciate it the most." (JTA, August 24, 2020).

Re protests in Charlottesville: TRUMP: "Excuse me, excuse me. (inaudible) themselves (inaudible) and you have some very bad people in that group. But you also had people that were very fine people, on both sides. You had people in that group -- excuse me, excuse me -- I saw the same pictures as you did. You had people in that group that were there to protest the taking down of, to them, a very, very important statue and the renaming of a park from Robert E. Lee to another name….

TRUMP: George Washington was a slave owner. Was George Washington a slave owner? So, will George Washington now lose his status? Are we going to take down -- excuse me -- are we going to take down -- are we going to take down statues to George Washington?

TRUMP: How about Thomas Jefferson? What do you think of Thomas Jefferson? You like him?

TRUMP: OK. Good. Are we going to take down the statue? Because he was a major slave owner. Now, are we going to take down his statue? So you know what? It's fine. You're changing history. You're changing culture. And you had people, and I'm not talking about the neo-Nazis and the white nationalists, because they should be condemned totally. But you had many people in that group other than neo-Nazis and white nationalists. OK? And the press has treated them absolutely unfairly. Now, in the other group also, you had some fine people, but you also had troublemakers and you see them come with the black outfits and with the helmets and with the baseball bats. You've got -- you had a lot of bad -- you had a lot of bad people in the other group…

QUESTION: ... treated unfairly (inaudible) you were saying. You were saying the press has treated white nationalists unfairly? (inaudible) understand what you're saying.

TRUMP: No, no. There were people in that rally, and I looked the night before. If you look, they were people protesting very quietly the taking down of the statue of Robert E. Lee. I'm sure in that group there were some bad ones. The following day, it looked like they had some rough, bad people -- neo-Nazis, white nationalists, whatever you want to call them. But you had a lot of people in that group that were there to innocently protest and very legally protest, because you know -- I don't know if you know, they had a permit. The other group didn't have a permit. So, I only tell you this, there are two sides to a story. I thought what took place was a horrible moment for our country, a horrible moment. But there are two sides to the country (sic)." (Los Angeles Times, August 15, 2017)

"I am the least anti-Semitic person that you've ever seen in your entire life." (Vanity Fair, December 9, 2019)

"The Jewish state has never had a better friend in the White House than your president, Donald J. Trump."

"You've got to be very careful, make no mistake, radical lawmakers who support the BDS movement are advancing anti-Israel and anti-Semitic propaganda. My administration strongly opposes this despicable rhetoric, and as long as I am your president, it makes no difference, it is not happening."

"I don't think they [the Obama administration] liked Israel too much, I'm sorry. After eight years of which our alliance was undermined and neglected, I am happy to report the United States-Israeli relationship is stronger now than ever before."

"I love deals and I was told the toughest of all deals is peace with Israel and the Palestinians. But if Jared Kushner can't do it, it can't be done." (Politico, December 8, 2019)

"[There are Jews who] don't love Israel enough."

"A lot of you are in the real estate business, because I know you very well. You're brutal killers, not nice people at all. But you have to vote for me – you have no choice. You're not gonna vote for Pocahontas, I can tell you that. You're not gonna vote for the wealth tax. Yeah, let's take 100% of your wealth away!" (Vanity Fair, December 9, 2019)

"It would show great weakness if Israel allowed Rep. Omar and Rep.Tlaib to visit. They hate Israel & all Jewish people, & there is nothing that can be said or done to change their minds. Minnesota and Michigan will have a hard time putting them back in office. They are a disgrace!" (@realDonaldTrump, Aug 15, 2019)

"Representatives Omar and Tlaib are the face of the Democrat Party, and they HATE Israel!"

"I am only involved from the standpoint of they are very anti-Jewish and they are very anti-Israel. I can't imagine why Israel would let them in, but if they want to let them in, they can, but I can't imagine why they would do it."

"I think it would be a terrible thing, frankly, for Israel to let these two people who speak so badly about Israel to come in." (Lauren Egan, "Trump urges barring Omar and Tlaib, and Israel agrees, NBC News, August 15, 2019)

"I think any Jewish people that votes for a Democrat – I think it shows either a total lack of knowledge or great disloyalty." Fox News, (August 20, 2019)

"If you vote for a Democrat, you're being disloyal to Jewish people and you're being very disloyal to Israel." (@jeneps Aug 21, 2019)

"Rep Tlaib wants to cut off aid to Israel. This is the new face the of Democrat Party? Read the AOC PLUS 3 statements on their hatred of Jews and Israel. Check out Rep. Omar (the great people of Minnesota won't stand for this)." (@realDonaldTrump. August 21, 2019)

"Thank you to Wayne Allyn Root for the very nice words. 'President Trump is the greatest President for Jews and for Israel in the history of the world, not just America, he is the best President for Israel in the history of the world...and the Jewish people in Israel love him....like he's the King of Israel. They love him like he is the second coming of God...But American Jews don't know him or like him. They don't even know what they're doing or saying anymore. It makes no sense! But that's OK, if he keeps doing what he's doing, he's good for..........all Jews, Blacks, Gays, everyone. And importantly, he's good for everyone in America who wants a job.' Wow!" (@realDonaldTrump. August 21, 2019)

Regarding Israel barring two congresswomen from entering Israel because of their support for BDS: "I'm talking about all four but these two that want to get in Omar and Tlaib. And I think it would be a very bad thing for Israel but Israel has to do what they want to do, but I would not cut off aid to Israel, and I can't even believe that we're having this conversation. Five years ago, the concept of even talking about this, even three years ago, of cutting off aid to Israel because of two people that hate Israel and hate Jewish people. I can't believe we're even having this conversation. Where is the Democratic Party gone, where have they gone, where they're defending these two people over the state of Israel. And I think any Jewish people that vote for a Democrat. I think it shows either a total lack of knowledge or great disloyalty." (Fox News, August 20, 2019)

"On my first trip overseas as President, I visited the Holy Land of Israel. I was deeply moved and amazed by what this small country had achieved in the face of overwhelming odds and never-ending threats. The State of Israel comprises only a minuscule amount of land in the Middle East and yet it has become a thriving center of democracy, innovation, culture, and commerce."

"Israel is a light unto the world. The hearts and history of our people are woven together. The Land of Israel is an ancient home, a sacred place of worship, and a solemn promise to the Jewish people that we will never again repeat history's darkest hour."

"As everyone knows, I have done a lot for Israel: moving the United States Embassy to Jerusalem; recognizing –recognizing the Golan Heights – and, frankly, perhaps most importantly, getting out of the terrible Iran nuclear deal….Therefore, it is only reasonable that I have to do a lot for the Palestinians, or it just wouldn't be fair." (The White House, January 28, 2020)

"We need more jews [sic] in the U.S. that love Israel. Unfortunately, there are Jews that don't like Israel. You just lost a great supporter of Israel, (NY Rep.) Elliot Engle. We need more people that love Israel." (@TheBelaaz, August 9, 2020)

"It's a very dangerous thing that's happening...There's people in this country that are Jewish and no longer love Israel," Trump said. "I'll tell you, the evangelical Christians love Israel more than the Jews in this country."

"It used to be that Israel had absolute power over Congress, and today I think it's the exact opposite. And I think Obama and Biden did that," Trump added. "And yet in the election, they still get a lot of votes from the Jewish people. Which tells you that the Jewish people, and I've said this for a long time, the Jewish people in the United States either don't like Israel or don't care about Israel."

Trump said The New York Times "hates Israel" even though "they're Jewish people that run The New York Times." (CNN, December 17, 2021)

"The first person that congratulated [Biden] was Bibi Netanyahu, the man that I did more for than any other person I dealt with. ... Bibi could have stayed quiet. He has made a terrible mistake."

"F**k him."

"I liked Bibi. I still like Bibi. But I also like loyalty. The first person to congratulate Biden was Bibi. And not only did he congratulate him, he did it on tape."

"I can tell you that people were very angry with him when he was the first one to congratulate Biden," Trump told journalist Barak Ravid. "The video was almost like he's begging for love. And I said, 'My, my how things change.' So, you know, I was disappointed. That hurt him badly with the people of Israel. As you know, I'm very popular in Israel. I think it hurt him very badly." (Salon, December 10, 2021)

"No President has done more for Israel than I have," Trump wrote on his social media platform Truth Social, adding that "our wonderful Evangelicals are far more appreciative of this than the people of the Jewish faith, especially those living in the U.S." (CNN, October 16, 2022)

Trump asked whether a documentary filmmaker recording an interview with him last year was a "good Jewish character" and, commenting on his relative popularity with Israeli and American Jews said, "In Israel, I'm at like 94 percent, but I got 27, 28 percent." He also said, "In Israel, I'm the most popular. With Orthodox, I'm the most popular." (New York Times, October 19, 2022)

Regarding other Arab countries joining the Abraham Accords, Trump said, "we would have had maybe all of them, that includes Saudi Arabia, within a short time after the election. They haven't signed any of them. We could have truly had peace in the Middle East."

"I'll tell you who does appreciate Israel very much are the evangelicals, because the evangelicals are on your side." (Haaretz, November 19, 2022)

"How quickly Jewish Leaders forgot that I was the best, by far, President for Israel....They should be ashamed of themselves. This lack of loyalty to their greatest friends and allies is why large numbers in Congress, and so many others, have stopped giving support to Israel." (Haaretz, December 10, 2022)
---
Sources: Trump visits with Jordan's King Abdullah in Washington, Reuters, (February 2, 2017).
"Transcript And Analysis: Trump And Netanyahu Hold Joint Press Conference," NPR, (February 15, 2017).
Kavita Surana, Dan De Luce and Robbie Gramer, "Israeli Intelligence Furious Over Trump's Loose Lips," Foreign Policy, (May 19, 2017).
Peter Baker, Michael Shear, and Ian Fisher, "Trump Comes to Israel Citing a Palestinian Deal as Crucial," New York Times, (May 22, 2017).
Phillip Rucker and Karen DeYoung. "In Israel, Trump urges new Middle East 'harmony' but faces old suspicions," Washington Post, (May 22, 2017).
Herb Keinon, "Official says Palestinian terror glorification going out of style under Trump," Jerusalem Post, (May 28, 2017).
Transcript of President Trump' Remarks at Trump Tower on Charlottesville, (Los Angeles Times, August 15, 2017).
Loveday Morris, "U.S. ambassador breaks with policy: 'I think the settlements are part of Israel,'" Washington Post, (September 29, 2017).
"U.S. vetoes U.N. Jerusalem resolution, designed to reverse Trump recognition," CBS News, (December 18, 2017).
Ruth Eglash and Jenna Johnson, "Prospects of peace elusive as Pence wraps up visit to Middle East," Washington Post, (January 23, 2018).
"President Trump Gives a Statement on Jerusalem," The White House, (December 6, 2017).
"National Security Strategy of the United States," The White House, (December 18, 2017).
"PM Netanyahu's Remarks at the Start of his Meeting with US President Donald Trump," Israeli Prime Minister's Office, (September 18, 2017).
Steve Holland. "Exclusive: Trump likes two-state solution, but says he will leave up to Israelis, Palestinians," Reuters, (February 23, 2017).
Statement by the Press Secretary, (February 2, 2017).
"U.S. Ambassador to the United Nations Nikki Haley address to AIPAC Policy Conference," (March 27, 2017).
Somini Sengupta. "Nikki Haley Calls United Nations Human Rights Council 'So Corrupt,'" New York Times, (March 29, 2017).
John Hudson Lynch, "Tillerson To U.N. Rights Council: Reform or We're Leaving," Foreign Policy, (March 14, 2017).
Margaret Hartmann, "Trump Orders Review of Iran Nuclear Deal, Though Iran Has Been Complying," New York, (April 19, 2017).
"US-Israel Relations and Obama's Mixed Legacy Followed by the Uncertainty of Trump," in Arnold Dashefsky and Ira Sheskin, Eds., American Jewish Yearbook 2017, (CT: Springer, 2018).
Nathan Guttman, "How Payments To Terrorists Became An Issue At The Trump-Abbas Meeting," Forward, (May 4, 2017).
Herb Keinon, US increased military aid to Israel ahead of Trump visit, Jerusalem Post, (May 25, 2017).
Jack Moore, "Trump Raged At Palestinian Leader Mahmoud Abbas In Bethlehem Meeting: 'You Lied To Me,'" Newsweek, (May 29, 2017).
Itamar Marcus and Nan Jacques Zilberdik, "Did the PA lie to the US Secretary of State?" Palestinian Media Watch, (June 14, 2017).
"Kushner kicks off Mideast peace push with first solo visit," Associated Press, (June 21, 2017).
Lahav Harkov, "Palestinians Increase Payments To Terrorists To $403 Million," Jerusalem Post, (March 6, 2018).
Cristiano Lima, "Trump warns of 'very severe consequence' if Iran restarts nuclear program," Politico, (May 9, 2018).
"Saudi Arabia, UAE, Bahrain, Egypt Welcome President Trump's Withdrawal From JCPOA," MEMRI, (May 9, 2018).
Tom O'Connor, "Saudi Arabia Says It Will Build Nuclear Bomb If Iran Does," Newsweek, (May 9, 2018).
National Tracking Poll, Politico, (May 10-14, 2018).
Ori Lewis, "Most foreign envoys absent as Israel, U.S. launch embassy festivities, Reuters, (May 14, 2018).
Mike Pompeo, "After the Deal: A New Iran Strategy," remarks at the Heritage Foundation, (May 21, 2018).
Philip Gordon and Prem Kumar, "Jared Kushner's Middle East Fantasy," The Atlantic, (June 25, 2018).
Jason Lemon, "Saudi Arabia Wants to Be a Nuclear Power and Israel Has Demands, Report Says," Newsweek, (July 9, 2018).
"New defense budget bill foresees US-Israel counter-drone cooperation," Defense News, (August 13, 2018).
Mitchell Bard, "American Jews and the International Arena (April 2017 – July 2018): The Gap Between American and Israeli Jews Widens as the Gap Between Governments Narrows," in Arnold Dashefsky and Ira Sheskin, Eds., American Jewish Yearbook 2018, (CT: Springer, 2019).
Herb Keinon and Tovah Lazaroff, "Netanyahu To Pompeo: Time For The U.S. To Recognize The Golan As Israeli," Jerusalem Post, (March 20, 2019).
"Pompeo, in first, accompanies Israeli PM to Jerusalem's Western Wall," Reuters, (March 21, 2019).
Adam Taylor, "What Trump did to push the Israeli election in Netanyahu's favor — and what he didn't do," Washington Post, (April 9, 2019).
Ron Kampeas, "4 Democratic Presidential Candidates Weighed In On The Gaza Violence," JTA, (May 6, 2019).
Sam Dorman, "Trump takes on Biden, vows not to let Iran get nuclear weapons during Fox News interview," Fox News, (May 20, 2019).
Michael Kranish, "Trump says he is not seeking 'regime change' in Iran," Washington Post, (May 27, 2019).
@realDonaldTrump, (May 27, 2019).
Chris Mills Rodrigo, "Trump: Pompeo 'may be right' in casting doubt on Middle East plan," The Hill, (June 2, 2019).
Amir Tibon, "Trump on 'Messed Up' Israeli Election: 'Not Happy, Get Your Act Together,'" Haaretz, (June 3, 2019).
Rym Momtaz, "Macron and Trump (almost) kiss and make up," Politico, (June 6, 2019).
Interview on Good Morning Britain, (June 5, 2019).
Amir Tibon, "Jewish Groups Rebuke Trump Over Claim That U.S. Jews Voting Democrat Are 'Disloyal,'" Haaretz, (August 21, 2019).
"Trump Makes It Clear He Meant Jews Voting Democrat Are 'Disloyal to Israel,'" Haaretz, (August 21, 2019).
"Trump Says He Talked Defense Treaty With Netanyahu, to Be Discussed After Israel's Election," Haaretz, (September14, 2019).
"US blocks UN Security Council statement on Israel: source," Agence-France Presse, (September 5, 2019).
Amir Tibon, "Trump: Gaza Violence 'Crazy,' Israel 'Keeps Having Elections and Nobody Gets Elected,'" Haaretz, (November 12, 2019).
Meridith Mcgraw, "'Never had a better friend': Trump touts Israel record at Jewish gathering," Politico, (December 8, 2019).
Bess Levin, "Trump Goes Full Anti-Semite In Room Full Of Jewish People," Vanity Fair, (December 9, 2019).
"Remarks by President Trump and Prime Minister Netanyahu of the State of Israel in Joint Statements," The White House, (January 28, 2020).
Arie Egozi, "US To Israel: No More Chinese Deals. Pompeo's Flying Visit," Breaking Defense, (May 13, 2020).
Lahav Harkov, "Pompeo puts Netanyahu on the spot over China and coronavirus," Jerusalem Post, (May 13, 2020).
Amos Harel, "It Wasn't Concern About West Bank Annexation That Brought Pompeo to Israel," Haaretz, (May 15, 2020).
Jonathan S. Tobin, "Pro-Israel Jews Will Still Vote Trump. Even When He Promotes anti-Semites and Holocaust Deniers," Haaretz, (May 25, 2020).
Yoram Gabison, "Amid U.S. Pressure, Chinese Firm Loses Tender for Israeli Plant in Sensitive Location," Haaretz, (May 26, 2020).
Lara Jakes and Michael Crowley, "U.S. to Penalize War Crimes Investigators Looking Into American Troops," New York Times, (June 11, 2020).
"Secretary Michael R. Pompeo At a Press Availability with Secretary of Defense Mark Esper, Attorney General William Barr, and National Security Advisor Robert O'Brien," U.S. Department of State, (June 11, 2020).
"Executive Order on Blocking Property Of Certain Persons Associated With The International Criminal Court," The White House, (June 11, 2020).
"Bolton exit followed bust-up over mooted Trump-Rouhani meeting," Guardian, (September 11, 2019).
Herb Keinon, "The message for Israel after the US withdrawal from Syria," Jerusalem Post, (October 11, 2019).
Gabriel T. Rubin, "Pompeo Scrambles to Reassure Israel Over Syria Withdrawal," Wall Street Journal, (October 18, 2019).
Amir Tibon, "Trump: Gaza Violence 'Crazy,' Israel 'Keeps Having Elections and Nobody Gets Elected,'" Haaretz, (November 12, 2019).
Seth J. Frantzman, "Bolton: Dermer said Trump's Syria withdrawal - 'worst day' of Trump admin," Jerusalem Post, (June 21, 2020).
Amir Tibon, "How Bolton, Netanyahu and Pompeo Sabotaged Trump's Dream of Talks With Iran," Haaretz, (June 21, 2020).
Kiyoko Metzler And David Rising, "UN agency: Iran violating all restrictions of nuclear deal," AP, (June 5, 2020).
Omri Nahmias, "Iran experts react to IAEA: 'It's time for the world to get involved'," Jerusalem Post, (June 9, 2020).
Benjamin Weinthal, "German intel report lays bare Iran's attempts to obtain nuclear proliferation technology," Fox News, (June 17, 2020).
Chuck Freilich, "Trump Is Failing to Protect Israel Against Iran," Haaretz, (January 21, 2020).
AIPAC.
"Amid Iran tensions, Israel said to ask US to speed up delivery of air refuelers," Times of Israel, (July 8, 2020).
"Israel to receive 990 millions gallons of diesel from United States," Jerusalem Post, (July 8, 2020).
Avital Chizhik-Goldschmidt, "Trump says U.S. needs 'more Jews that love Israel,'" Forward, (August 10, 2020).
Steve Hendrix and Kareem Fahim, "Israel-UAE deal condemned by Palestinians, cheered by Egypt and Bahrain," Washington Post, (August 13, 2020).
Charlie Nash, "Trump Lauds UAE-Israel Treaty: 'We're Doing Peace in the Middle East,'" Mediaite, (August 17, 2020)
Mitchell Bard, "Carter, Trump and Peacemaking," Algemeiner, (August 19, 2020).
Ron Kampeas, "Israel, the Trumps, the extremism question: What we're watching at the RNC," JTA, (August 24, 2020).
"Despite Public Denial, Netanyahu Privately Let U.S. Sell F-35 to UAE, Report Says," Haaretz, (September 4, 2020).
Matthew Kassel, "Bob Woodward's 'Rage' paints in-depth portrait of Trump's foreign policy approach," JewishInsider, (September 11, 2020).
Jacob Magid, "US assured UAE it won't back Israel annexation before 2024 at earliest, ToI told," Times of Israel, (September 13, 2020).
(Ron Kampeas "On Rosh Hashanah Call, Trump Tells American Jews 'We Love Your Country' and Asks for Their Vote," JTA, (September 16, 2020).
Aaron Blake, "Trump confirms he wanted to assassinate Assad. In 2018, he denied it was even considered," Washington Post, (September 15, 2020).
Lahav Harkov, "US acts on declaration settlements are legal, extends deal to West Bank," Jerusalem Post, (October 27, 2020).
Noa Landau, Hagar Shezaf, Shira Kadari-Ovadia, "Netanyahu, Ambassador Friedman Ink Deal Expanding Scientific Cooperation to Settlements," Haaretz, (October 28, 2020).
Nahal Toosi And Daniel Lippman, "U.S. to allow 'Israel' to be added to passports of Americans born in Jerusalem," Politico, (October 28, 2020).
Michael R. Pompeo, "U.S. Citizens Born in Jerusalem," Press Statement, State Department, (October 29, 2020).
Joseph Krauss, "Pompeo is 1st top US diplomat to visit an Israeli settlement," AP, (November 19, 2020).
Lahav Harkov, "Pompeo: US to recognize BDS movement as antisemitic," Jerusalem Post, (November 19, 2020).
Michael R. Gordon and Gordon Lubold, "Trump Orders Military Shift to Spur Israeli-Arab Cooperation Against Iran," Wall Street Journal, (January 14, 2021).
Gil Hoffman, "Trump pardons Aviem Sella, Jonathan Pollard's handler," Jerusalem Post, (January 20, 2021).
Chaim Levenson, "Trump Administration Order Allowed Release of High-resolution Satellite Imagery of Israeli Nuclear Facility," Haaretz, (February 26, 2021).
Igor Derysh, "'F**k him': Trump not speaking to former ally Bibi Netanyahu — because he congratulated Biden," Salon, (December 10, 2021).
"Netanyahu Asked Obama to Bomb Iran's Nuke Installations, Former PM Says in New Book," Haaretz, (October 14, 2022).
Joe Klein, "What's the Key to Understanding Donald J. Trump? Start With Queens," New York Times, (September 28, 2022).
Geoff Brumfiel, "Trump tweeted an image from a spy satellite, declassified document shows," NPR, (November 18, 2022).
Ben Samuels, "Trump Tells GOP Jews He Would've Delivered Israel-Saudi Arabia Peace Deal if 2020 Election Wasn't 'Rigged,'" Haaretz, (November 19, 2022).
Jacob Magid, "'Rigged' 2020 election prevented Israel-Saudi peace, Trump tells Jewish GOP confab," Times of Israel, (November 20, 2022).
"'I Gave Them the Embassy': Trump Doubles Down After Kanye West, Fuentes Meeting," Haaretz, (December 1, 2022)
Matthew Boyle, "Trump Denounces Fuentes: 'Nobody' That Embraces Antisemitism Has a Place in America First Movement or GOP," Breitbart, (December 16, 2022)