U.S. Foreign Aid to Israel: History & Overview
Meeting Israel's Special Needs
Regular Economic and Military Assistance
Refugee Assistance
Bush Agrees to 10-Year Military Aid Agreement
Obama Signs Largest Aid Agreement
U.S.-Israel Scientific and Business Cooperation
Implementing the Obama-Netanyahu MOU
The Biden Era Begins
Qualitative Military Edge
Total Aid
"It is my responsibility to see that our policy in Israel fits in with our policy throughout the world; second, it is my desire to help build in Palestine a strong, prosperous, free and independent democratic state. It must be large enough, free enough, and strong enough to make its people self-supporting and secure," President Truman said in a speech on October 28, 1948.
Truman's commitment was quickly tested after Israel's victory in its War of Independence when the new government applied to the U.S. for economic aid to help absorb immigrants. President Truman responded by approving a $135 million Export-Import Bank loan and the sale of surplus commodities to Israel. In those early years of Israel's statehood (also today), U.S. aid was seen as a means of promoting peace.
In 1951, Congress voted to help Israel cope with the economic burdens imposed by the influx of Jewish refugees from the Arab countries. Arabs then complained the U.S. was neglecting them, though they had no interest in or use for American aid then. In 1951, Syria rejected offers of U.S. aid. Oil-rich Iraq and Saudi Arabia did not need U.S. economic assistance, and Jordan was, until the late 1950s, the ward of Great Britain. After 1957, when the United States assumed responsibility for supporting Jordan and resumed economic aid to Egypt, assistance to the Arab states soared. Also, the United States was by far the biggest contributor of aid to the Palestinians through UNRWA, a status that continues to the present.
U.S. economic grants to Israel ended in 1959. U.S. aid to Israel from then until 1985 consisted largely of loans, which Israel repaid, and surplus commodities, which Israel bought. Israel began buying arms from the United States in 1962 but did not receive any grant military assistance until after the 1973 Yom Kippur War. As a result, Israel had to go deeply into debt to finance its economic development and arms procurement. The decision to convert military aid to grants that year was based on the prevailing view in Congress that without a strong Israel, a war in the Middle East was more likely and that the U.S. would face higher direct expenditures in such an eventuality.
Israel has received more direct aid from the United States since World War II than any other country, but the amounts for the first half of this period were relatively small. Between 1949 and 1973, the U.S. provided Israel with an average of about $122 million a year, a total of $3.1 billion (and actually more than $1 billion of that was loaned for military equipment in 1971-73). Prior to 1971, Israel received a total of only $277 million in military aid, all in the form of loans as credit sales. The bulk of the economic aid was also lent to Israel. By comparison, the Arab states received nearly three times as much aid before 1971, $4.4 billion, or $170 million per year. Moreover, unlike Israel, which receives nearly all its aid from the United States, Arab nations have gotten assistance from Asia, Eastern Europe, the Soviet Union, and the European Community. Congress first designated a specific amount of aid for Israel (an earmark) in 1971.
Meeting Israel's Special Needs
Since 1973, Israel has received more than $120 billion in assistance, including three special aid packages. The first followed the signing of the Israel-Egypt peace treaty and Israel's withdrawal from the Sinai. The redeployment of Israeli forces and rebuilding of air bases in the Negev cost $5 billion. To partially compensate for this sacrifice, Israel received $3 billion ($2.2 billion of which was in the form of high-interest loans) in U.S. aid in 1979.
The second special package was approved in 1985, following a severe economic crisis in Israel, which sent inflation rates soaring as high as 445 percent. The $1.5 billion in emergency assistance -- disbursed in two installments, in 1985 and 1986-was provided as part of Israel's economic stabilization program, which was implemented under the guidance of the U.S.-Israel Joint Economic Development Group (JEDG).
An extraordinary package was approved in 1996 to help Israel fight terrorism. Israel is to receive a total of $100 million, divided equally between fiscal years 1996 and 1997.
Regular Economic and Military Assistance
Israel's economic aid changed from the Commodity Import Program (CIP), which provides funds to foreign nations for the purchase of U.S. commodities, to a direct cash transfer in 1979. In return, Israel provided the Agency for International Development with assurances that the dollar level of Israel's non-defense imports from the U.S. would exceed the level of economic assistance granted to Israel in any given year. Thus, Israel guaranteed that U.S. suppliers would not be disadvantaged by the termination of Israel's CIP Program.
Starting in 1982, Israel began to receive all its economic aid in a lump sum early in the fiscal year instead of in quarterly installments as is done for other countries. From fiscal year 1987 until 1999, Israel received $1.2 billion annually in all grant economic aid and $1.8 billion in all grant military assistance. In 1998, Israel offered to voluntarily reduce its dependence on U.S. economic aid. According to an agreement reached with the Clinton Administration and Congress, the $1.2 billion economic aid package will be reduced by $120 million each year so that it will be phased out in ten years. Half of the annual savings in economic assistance each year ($60 million) will be added to Israel's military aid package in recognition of its increased security needs. In 2005, Israel received $360 million in economic aid and $2.22 billion in military aid. In 2006, economic aid was scheduled to be reduced to $240 million and military aid increased to $2.28 billion.
For several years, most of Israel's economic aid went to pay off old debts. In 1984, foreign aid legislation included the Cranston Amendment (named after its Senate sponsor), which said the U.S. would provide Israel with economic assistance not less than the amount Israel owes the United States in annual debt service payments. The Cranston Amendment was left out of the FY1999 and subsequent appropriations bills. At that time, Israel received $1.2 billion in ESF and owed only $328 million in debt service so the amendment was no longer needed.
In 1998, Israel was designated as a "major non-NATO ally," which allows it to receive outdated military equipment the U.S. military wishes to sell or give away.
For several years, roughly 26 percent of what Israel received in Foreign Military Financing (FMF) could be spent in Israel for military procurement. From FY1988 to FY 1990, Israel was allowed to use $400 million in Israel. From FY1991 to FY1998, the amount was increased to $475 million. As U.S. military aid to Israel increased, according to the agreement to cut economic aid, the amount set aside for defense purchases in Israel has increased (but the percentage has remained roughly the same). In 2009, the figure was $671 million. The remaining 74 percent of FMF was spent in the United States to generate profits and jobs. More than 1,000 companies in 47 states, the District of Columbia and Puerto Rico have signed contracts worth billions of dollars through this program.
At the end of 1998, Israel requested an additional $1.2 billion in aid to fund moving troops and military installations out of the occupied territories as called for in the October 23, 1998, Wye agreement. Israel received $600 million of this in military aid in FY1999 and $300 million in each fiscal year 2000 and 2001 (see Wye funding table). 
In February 2003, for the first time, Congress voted to cut aid to Israel against the wishes of the pro-Israel lobby and the government of Israel. The 0.65 percent deduction was not aimed at Israel; however, it was an across-the-board cut of all foreign aid programs for fiscal year 2003. The lobby and government also suffered a defeat when Congress deleted an administration request for an extra $200 million to help Israel fight terrorism. Even while cutting aid to Israel (which still was budgeted at $2.1 billion for military aid and $600 million for economic assistance), Congress included a number of provisions in the aid bill viewed as favorable to Israel, including a provision that bars federal assistance to a future Palestinian state until the current Palestinian leadership is replaced, and that state demonstrates a commitment to peaceful coexistence with Israel, and takes measures to combat terrorism.
The setbacks were also temporary as the Administration approved a supplementary aid request in 2003 that included $1 billion in FMF and $9 billion in loan guarantees to aid Israel's economic recovery and compensate for the cost of military preparations associated with the war in Iraq. One-quarter of the FMF is a cash grant and three quarters will be spent in the United States. The loan guarantees are spread over three years and must be spent within Israel's pre-June 1967 borders. Each year, an amount equal to the funds Israel spends on settlements in the territories will be deducted from the loan amount, along with all fees and subsidies.
Refugee Assistance
Since 1973, Israel has received more than $1.7 billion in grants from the State Department's Migration and Refugee Assistance account to assist in the resettlement of migrants to Israel. Originally the funds were for resettlement in Israel of refugees from the Soviet Union. Starting in 1985, funding was made available to "refugees resettling in Israel" to ensure that Ethiopian Jews would be covered by the funding.
Funds are paid to the United Israel Appeal, which in turn transfers the funds to the Jewish Agency for Israel. Annual amounts have varied from a low of $5 million to a high of $80 million, based at least partly on the number of Jewish refugees. According to the Congressional Research Service, "little differentiation is made between Jewish 'refugees' and other Jewish immigrants, and the funds are used to support the absorption of all immigrants."
Bush Agrees To 10-Year Military Aid Agreement
In August 2007, the Bush Administration agreed to increase U.S. military assistance to Israel by $6 billion over the following decade. Israel is to receive incremental annual increases of $150 million, starting at $2.55 billion in FY2009 and reaching $3.15 billion per year for FY2013-2018.
| | |
| --- | --- |
| 2009 | $2.55 billion |
| 2010 | $2.70 billion |
| 2011 | $2.85 billion |
| 2012 | $3.00 billion |
| 2013-2018 | $3.15 billion per year |
In 1991, Israel began to receive its FMF in a lump sum in the first month of the fiscal year. Israel also enjoys the benefit of cash flow financing, which enables Israel to negotiate major arms purchases with U.S. defense suppliers with payments scheduled over a longer time horizon.
In addition to FMF, Israel also receives money for the joint development of missile defense systems. These amounts have been growing over the years, with the bulk of the funding going to the Arrow program.
Obama Signs Largest Aid Agreement
In September 2016, the two governments signed a new ten-year Memorandum of Understanding (MOU) on military aid covering FY2019 to FY2028. Although Prime Minister Benjamin Netanyahu sought a larger package, the MOU provides Israel with a record $38 billion in military aid ($33 billion in Foreign Military Financing (FMF) grants plus $5 billion in missile defense appropriations). According to the Congressional Record Service, This new MOU replaces the $30 billion 10-year agreement, which expires in FY2018. The terms of this MOU differ from previous U.S.-Israel aid agreements. For example, under the terms of the new MOU, Israel's ability to convert 26.3% of annual FMF grants from dollars to shekels for use in Israel will remain until FY2024 but will then be gradually phased out, ending entirely in FY2028. Israel also will no longer be permitted to use a portion of its FMF to purchase fuel from the United States.
In addition, under the terms of the new MOU, the Administration pledges to request $500 million in annual combined funding for joint U.S.-Israeli missile defense programs such as Iron Dome, Arrow II and Arrow III, and David's Sling. Previous MOUs did not include missile defense funding. Finally, as part of the new MOU, it has been reported that Israel pledged to reimburse the U.S. government if Israel receives more congressional assistance for FMF or missile defense in the last years of the current MOU (2017-2018). Israel also may have pledged not to request that Congress appropriate regular or supplemental military aid to Israel above the agreed-upon annual amounts in the 2019-2028 MOU except in emergency circumstances, such as a regional war. In response, many Members of Congress have reiterated that funds pledged by the executive branch in any MOU are always subject to Congressional approval and that Congress may appropriate funds as it sees fit (Jeremy M. Sharp, U.S. Foreign Aid to Israel, Congressional Research Service, December 22, 2016).
Before embarking on his first international trip in May 2017, where he visited Saudi Arabia, Israel, and various European nations, the Trump administration announced it was adding an additional $75 million to the MOU signed in September 2016 for Israel's missile defense programs.
The $1.3 trillion budget passed by Congress in March 2018 contained $3.1 billion in military aid for Israel, along with $705.8 million for U.S.-Israel missile defense cooperation, and $47.5 million for U.S.-Israel anti-tunnel cooperation to research, develop, test, and evaluate anti-tunnel capabilities that detect, map, and neutralize underground tunnels. That's a record package of nearly $3.9 billion. The military aid was the first installment of the MOU approved by the Obama administration. While the amount of that agreement was hailed as being a record amount, Obama added several conditions aimed at weakening AIPAC's influence and preventing Israel from seeking additional aid from Congress. The MOUs are not legally binding, however, and Congress is not bound by their terms. Hence, Congress increased the appropriation for Israel's missile defense program by $105 million and anti-tunneling technologies by $5 million over the previous year's budget.
In addition, for the first time, the U.S. defense budget for FY2019 included a provision for cooperation with Israel in countering unmanned aerial systems. Specifically, the two countries will identify the capability gaps that exist, identify cooperative projects that would address the gaps, assess the costs of research and development, and assess the costs of procuring and fielding the capabilities developed.
The 10-year security assistance MOU signed by Obama went into effect under the Trump administration in October 2018.
U.S.-Israeli Scientific & Business Cooperation  
In the early 1970s, Israeli academics and businessmen began looking for ways to expand investment in Israel's technology sector. At the time, Israel's nascent technology sector, which would later become the driving force in the country's economy, was in need of private capital for research and development. The United States and Israel launched several programs to stimulate Israeli industrial and scientific research, and Congress has on several occasions authorized and appropriated funds for this purpose to the Israel-U.S. Binational Research & Development Foundation (BIRD), U.S.-Israel Binational Science Foundation (BSF), Binational Agriculture and Research and Development Fund (BARD) and the U.S.-Israel Science and Technology Foundation (USISTF).
In 2005, Congress began to consider legislation to expand U.S.-Israeli scientific cooperation in the field of renewable energy. In 2007, language from earlier proposed legislation, The United States-Israel Energy Cooperation Act, was incorporated into the Renewable Fuels, Consumer Protection, and Energy Efficiency Act of 2007. The law established a seven-year grant program to support research, development, and commercialization of renewable energy or energy efficiency. In December 2014, President Obama signed the United States-Israel Strategic Partnership Act of 2014, which reauthorized the U.S.-Israeli Energy Cooperation program for an additional ten years until September 30, 2024. As of FY2021, the U.S. and Israeli investment in BIRD Energy for 60 approved projects totaled $47.5 million – $23.7 million from the United States. In 2021, BIRD Energy awarded $5.48 million in grants to six clean energy projects to advance "vehicle technologies, batteries, energy efficiency measures, energy storage, and the water-energy nexus."
The BIRD Foundation also manages the BIRD Homeland Security Program, a cooperative undertaking between the U.S. Department of Homeland Security (DHS) and the Israel Ministry of Public Security (MOPS) to further joint research of advanced technologies for Homeland Security. Currently, DHS's Science and Technology Directorate (S&T) is working together with Israeli counterparts to develop technologies for first responders. As of FY2021, Congress has provided a total of $11 million in funding for BIRD HLS
The Partnership Act of 2014 also called on the Secretary of Energy to establish a joint United States-Israel Energy Center in the United States, leveraging the experience, knowledge, and expertise of institutions of higher education and entities in the private sector, among others, in offshore energy development to further dialogue and collaboration to develop more robust academic cooperation in energy innovation technology and engineering, water science, technology transfer, and analysis of emerging geopolitical implications, crises and threats from foreign natural resource and energy acquisitions, and the development of domestic resources as a response.
In 2018, the U.S. Department of Energy and the Israeli Energy Ministry agreed to establish the U.S.-Israel Center of Excellence in Energy, Engineering and Water Technology. As of FY2021, Congress has appropriated $16 million for the center, and the Israeli government and private sector partners have matched those funds. Potential research areas identified by the Energy Center include energy cybersecurity in critical infrastructure, energy storage, and production and utilization of natural gas.
Since 1978, medical and health researchers from the U.S. Army and Israel Defense Forces have held the biennial Shoresh conference to share information on military operational medicine, infectious disease, and combat care. Congress appropriated $2 million in FY2021 funding "for the development of health technologies, including but not limited to the following: artificial intelligence, biofeedback, sensors, monitoring devices, and kidney care." Another $4 million was authorized for bilateral cooperation between the U.S. Department of Health and Human Services and the Government of Israel to focus on health technologies to address the challenge of the COVID-19 pandemic.
Implementing the Obama-Netanyahu MOU
In December 2019, Congress passed the 2020 budget, which included $3.8 billion in U.S. security assistance to Israel and $500 million for U.S.-Israel missile defense cooperation, as outlined in the 2016 U.S.-Israel Memorandum of Understanding. The legislation included several significant provisions, including:
$13 million for U.S.-Israel counter-unmanned aerial systems cooperation to develop technologies to counter drone warfare.
$6 million is included for energy, water, homeland security, and cybersecurity cooperation.
The agreement for emergency weapons stockpiles in Israel was extended for two years.
Withholding 5% of U.S. funding to any UN specialized agency that acts against the national security interest of the U.S. or an ally of the U.S., including Israel. No funding is provided to UN bodies with a history of anti-Israel bias, including UNRWA, UNESCO, and the Human Rights Council.
Adding new reporting requirements related to the UN Interim Force in Lebanon (UNIFIL) and expressing concerns regarding Hezbollah's violations of UN Security Council Resolution 1701.
Incorporating the Eastern Mediterranean Security and Energy Partnership Act of 2019, which provides for expanded energy and security cooperation between the U.S., Greece, Cyprus, and Israel.
Funding for the construction of a permanent compound for the U.S. Embassy in Jerusalem.
Continuing dollar-for-dollar reductions in aid for any prisoner- or terrorist-related payments by the Palestinian Authority (referred to as "pay-to-slay").
Funding Israeli-Palestinian security cooperation, people-to-people initiatives, and joint research cooperation between Israel and its neighbors.
In March 2020, the Department of Defense announced plans to sell new KC-46 Pegasus aerial refueling aircraft to Israel. In July, the Trump administration agreed to provide Israel with 990 million gallons of diesel and gasoline for ground vehicles and jet fuel for aircraft at a cost of $3 billion. The expense of the fuel will be covered by U.S. aid money given to Israel.
The coronavirus relief bill passed in December 2020 included $250 million over a five-year period for the Nita M. Lowey Middle East Partnership for Peace Act to expand peacebuilding measures between Israel and the Palestinians, as well as support projects to bolster the Palestinian economy.
The Biden Era Begins
In February 2021, the Israeli cabinet agreed to use roughly $2.74 billion in military assistance to purchase F-35 and F-15 fighter jets, heavy transport helicopters, refueling planes, interceptor missiles, advanced bombs for aircraft, and other equipment deemed critical by the military.
In May 2021, the administration agreed to a weapons transfer worth $735 million consisting mainly of Joint Direct Attack Munitions, or JDAMS, kits that transform so-called "dumb" bombs into precision-guided missiles. Boeing will provide the weapons.
In August 2021, the State Department approved the sale of 18 CH-53 King Stallion heavy lift helicopters to Israel for $3.4 billion. The choppers will enhance the IAF's capability to transport armored vehicles, personnel, and equipment to support military operations.
President Biden also pledged to provide $1 billion to replenish Iron Dome stocks depleted during Operation Guardian of the Walls. In September, the House voted 420-9 to approve the aid; however, Senator Rand Paul (R-KY) blocked a unanimous consent resolution to approve the funding in the Senate. It was ultimately approved in the final aid bill signed in 2022.
In December 2021, the defense authorization for FY2022 was passed. It includes authorization of $500 million in funding for Israel – $200 million in procurements  for missile defense ($108 million for Iron Dome, up to $30 million for David's Sling, up to $62 million for the Arrow 3 Upper Tier Interceptor), $300 million for "U.S.-Israel Cooperative Programs" under the category of "Research, Development, Test, and Evaluation." It also includes authorization for an additional $30 million (at least) over 5 years ??to fund U.S.-Israel cybersecurity cooperation.
The same month, the U.S. and Israel signed a $2 billion deal to purchase 12 Lockheed Martin-Sikorsky helicopters to replace the Yasur helicopters currently in operation. Under a second agreement, worth $1 billion, Israel will acquire two Boeing KC-46 refueling aircraft.
In March 2022, Congress approved the largest funding package for Israel in history. It included:
$1 billion in emergency Iron Dome funding.
$3.3 billion in security assistance.
$500 million in missile defense cooperation.
The Israel Relations Normalization Act supports and expands peace and normalization agreements between Israel and the UAE, Bahrain, Sudan, and Morocco.
$47.5 million for anti-tunneling technology.
$25 million to combat drone terrorism.
$4 million for U.S.-Israel healthcare cooperation.
$1 million for U.S.-Israel agriculture cooperation.
$6 million for U.S.-Israel energy cooperation.
$2 million for U.S.-Israel homeland security cooperation.
$2 million for U.S.-Israel international development cooperation.
$50 million for the Nita M. Lowey Middle East Partnership for Peace Act to foster economic cooperation and people-to-people peacebuilding programs between Israelis, Palestinians, and Americans.
$6 million for the Middle East Regional Cooperation program to facilitate research collaboration between Israel and other countries in the region.
$5 million for refugee resettlement in Israel.
The legislation also condemned the UN Commission of Inquiry against Israel and called on the administration to publicly denounce and work to reverse the anti-Israel bias at the UN Human Rights Council. It also condemned Iran's aggressive and destabilizing activities.
Also in 2022, the U.S. government signed a contract with Boeing to supply Israel with four KC-46A aerial refueling planes for $927 million of FMF. In 2020, eight of the planes were purchased. The new contract has an expected delivery date of 2025 or 2026.
In October 2023, Biden proposed an aid package of $14.3 billion for Israel as emergency assistance for the conduct of operations in the Gaza War:
$10.6 billion for assistance through the Defense Department, including air and missile defense support, industrial base investments, and replenishment of U.S. stocks being drawn down to support Israel.
$3.7 billion for the State Department to strengthen Israel's military and enhance U.S. Embassy security.
Examples of Major Arms Sales to Israel
| | | | |
| --- | --- | --- | --- |
| Amount/Description | Cong. Notice | Primary Contractor(s) | Estimated Cost |
| 75 F-35A Joint Strike Fighter (Lightning II) Aircraft | 2008 | Lockheed Martin | $15.2 billion |
| JP-8 aviation fuel, diesel fuel, and unleaded gasoline | 2013 | N/A | $2 billion |
| 600 AIM-9X-2 Sidewinder Block II Air- air missiles and associated equipment | 2014 | Raytheon | $544 million |
| 14,500 Joint Direct Attack Munitions (JDAM) and associated equipment | 2015 | Various | $1.879 billion |
| Equipment to support Excess Defense Articles sale of 8 SH-60F Sea Hawk Helicopters | 2016 | Science and Engineering Services and General Electric | $300 million |
| 13 76mm naval guns and technical support | 2017 | DRS North America | $440 million |
| 240 Namer armored personal carrier power packs and associated equipment | 2019 | MTU America | $238 million |
| KC-46A aerial refueling aircraft | 2020 | Boeing Corporation | $2.4 billion |
| JP-8 aviation fuel, diesel fuel, and unleaded gasoline | 2020 | N/A | $3 billion |
| 18 CH-53K Heavy Lift Helicopters (with support equipment) | 2021 | Lockheed Martin (parent company of Sikorsky) and General Electric Company | $3.4 billion |
Qualitative Military Edge
Up until 1968, the United States sought to balance any arms sales to Israel with similar transfers to Arab allies. That changed when Egyptian President Gamal Abdel Nasser continued to defy the West and then provoked the Six-Day War; the Russians refused to limit their shipments to the region; and third countries — France and West Germany — that the U.S. had relied upon to arm Israel stopped the flow of weapons. At that point, President Lyndon Johnson recognized the interest of the United States no longer lay in seeking to maintain a balance of power in the region but rather in seeking to ensure that Israel enjoyed qualitative military superiority. The sale of Israel Phantom jets, the first sophisticated offensive weapons the United States ever provided Israel, established the precedent for ensuring Israel's Qualitative Military Edge (QME) over its adversaries. 
Congress passed legislation requiring the administration to "carry out an empirical and qualitative assessment on an ongoing basis of the extent to which Israel possesses a qualitative military edge over military threats." The  Arms Export Control Act was also amended to require a determination for any export of a U.S. defense article to any country in the Middle East other than Israel that such a sale would not adversely affect Israel's QME.
Israel's QME has been maintained over the years by offering Israel first regional access to U.S. defense technology, providing Israel with a more advanced version of platforms sold to Arab states or the ability to customize the U.S. system, placing conditions on the usage and transfer of weapons sold to Arab states; and compensating Israel with additional military aid or a weapons package to offset the sale of arms to Arab states.
Total Aid
Altogether, since 1949, Israel has received more than $160 billion in assistance. This does not include the $10 billion in loan guarantees (spread over five years) approved in 1992 or the $9 billion in guarantees offered in 2003. It does include a variety of smaller assistance-related accounts, such as refugee resettlement ($1.7 billion overall since 1973), the American Schools and Hospitals Abroad Program (ASHA), which supports schools, libraries, and medical centers that demonstrate American ideas and practices ($178 million), and cooperative development programs (a total of $186 million since 1981). The total also includes almost $7.6 billion for joint military projects like the Arrow missile (for which Israel has received more than $3.5 billion since 1986), which are provided through the defense budget. 
As a "major non-NATO ally," Israel also receives assistance from the Excess Defense Articles (EDA) program, which allows the United States to reduce its inventory of outdated equipment by providing friendly countries with necessary supplies at either reduced rates or no charge. From 2010 to 2019, Israel received at least $385 million in EDA deliveries.
Under the terms of the Obama MOU, the amount of aid money that can be spent in Israel (Off-Shore Procurement - OSP) will be phased out. It is gradually reduced in the first five years and then more dramatically in the last five.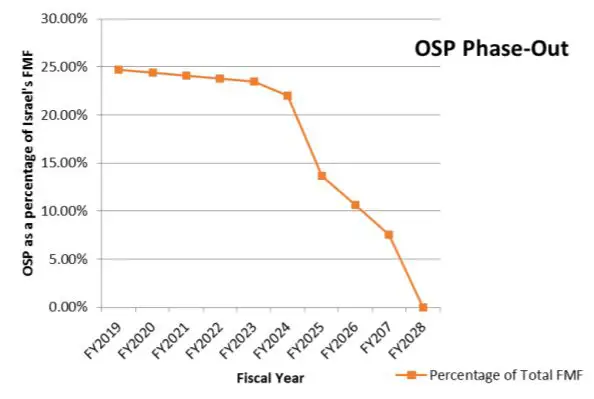 Though the totals are impressive, the value of assistance to Israel has been eroded by inflation. On the other side of the coin, Israel receives aid on more favorable terms than other nations.
---
Sources: Clyde R. Mark, "Israel: U.S. Foreign Assistance," Congressional Research Service, (July 12, 2004).
U.S. State Department.
USAID.
Congressional Budget Justification for FY06 Foreign Operations, (March 2005).
Jeremy M. Sharp, "U.S. Foreign Aid to Israel," (DC: Congressional Research Service, (December 22, 2016).
Jim Zanotti, "Israel: Background and U.S. Relations," Congressional Research Service, (February 28, 2014).
FACT SHEET: Memorandum of Understanding Reached with Israel, The White House, (September 14, 2016).
Herb Keinon, US increased military aid to Israel ahead of Trump visit, Jerusalem Post, (May 25, 2017).
"New defense budget bill foresees US-Israel counter-drone cooperation," Defense News, (August 13, 2018).
AIPAC.
"Amid Iran tensions, Israel said to ask US to speed up delivery of air refuelers," Times of Israel, (July 8, 2020).
"Israel to receive 990 million gallons of diesel from United States," Jerusalem Post, (July 8, 2020).
Jeremy Sharp, "U.S. Foreign Aid to Israel," Congressional Research Service, (November 16, 2020).
Judah Ari Gross, "Ministers approve NIS 9 billion purchase of aircraft, arms from US," Times of Israel, (February 8, 2021).
Jacqueline Alemany, "Power Up: Biden administration approves $735 million weapons sale to Israel, raising red flags for some House Democrats," Washington Post, (May 17, 2021).
Ron Kampeas, "House leader drops plan to ask for weapons transfer delay to Israel, promises greater oversight," JTA, (May 18, 2021).
Dan Arkin, "US State Department approves sale of CH-53K helicopters to Israeli Air Force," IsraelDefense, (August 1, 2021).
"US and Israel Ink Defense Agreements to Supply New Fleet of Helicopters, Refueling Aircraft," Algemeiner, (December 31, 2021).
Betsy Berns Korn, "Congress passes record $4.8 billion for Israel's security," email from AIPAC, (March 10, 2022).
Jeremy M. Sharp, "U.S. Foreign Aid to Israel," Congressional Research Service, (February 18, 2022).
Yaniv Kubovich, "U.S. to Provide Four Refueling Jets to Israel Air Force," Haaretz, (September 1, 2022).
Tami Luhby, "US aid to Israel and Ukraine: Here's what's in the $105 billion national security package Biden requested," CNN, (October 20, 2023).