Jonathan Pollard
(1954 - )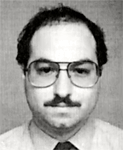 Jonathan Pollard is a former analyst at the Naval Intelligence Center for Counter Terrorism in Maryland who was convicted of spying for Israel. After serving 30 years of a life sentence, he was released from a U.S. prison in North Carolina on November 20, 2015, at the age of 61. On November 20, 2020, Pollard completed his parole. Pollard and his wife Esther moved to Israel on December 30, 2020.
Arrest & Reaction
The Trial
Legal Appeals
Release
Arrest & Reaction
In November 1985, the FBI arrested Pollard, a U.S. Navy intelligence analyst, on charges of selling classified material to Israel. Pollard pleaded guilty in 1987 to one count of providing defense information to a foreign government and was sentenced to life imprisonment on March 4, 1987. His wife, Anne, was sentenced to five years in jail for assisting her husband but was released in 1989 after serving three and a half years. She then emigrated to Israel.
Immediately upon Pollard's arrest, Israel apologized and explained that the operation was unauthorized. "It is Israel's policy to refrain from any intelligence activity related to the United States," an official government statement declared, "in view of the close and special relationship of friendship" between two countries. Prime Minister Shimon Peres stated: "Spying on the United States stands in total contradiction to our policy."1
The United States and Israel worked together to investigate the Pollard affair. The Israeli inquiry revealed that Pollard was not working for Israeli military intelligence or the Mossad. He was directed by a small, independent scientific intelligence unit. Pollard initiated the contact with the Israelis.
A subcommittee of the Knesset's Defense and Foreign Affairs Committee on Intelligence and Security Services concluded: "Beyond all doubt...the operational echelons (namely: the Scientific Liaison Unit headed by Rafael Eitan) decided to recruit and handle Pollard without any check or consultation with the political echelon or receiving its direct or indirect approval." The Knesset committee took the government to task for not properly supervising the scientific unit.
As promised to the U.S. government, the spy unit that directed Pollard was disbanded, his handlers punished, and the stolen documents returned.2 The last point was crucial to the U.S. Department of Justice's case against Pollard.
Pollard reportedly attended a summer camp in Israel when he was 16 and asked to become a spy. He later claimed to be a colonel in the IDF and said the Mossad "cultivated" him to be a spy. Neither assertion was true. He volunteered to help Israel in 1984 when he met an Israeli military officer in New York and was subsequently paid a total of $50,000 and given a diamond ring that he gave to the woman who became his first wife.2a
Pollard denied spying "against" the United States. He said he provided only information he believed was vital to Israeli security and was being withheld by the Pentagon. This included data on Soviet arms shipments to Syria, Iraqi and Syrian chemical weapons, the Pakistani atomic bomb project and Libyan air defense systems. He is also believed to have given Israel satellite photos of the PLO headquarters in Tunis, which Israel used to prepare airstrikes.3 Because the information he took is classified, we can't verify if this is true.
In 2006, Rafael Eitan said, "It is likely that we could have gotten the same information without him." He also said, however, that Pollard provided "information of such high quality and accuracy, so good and so important to the country's security" that "my desire, my appetite to get more and more material overcame me." He added that the information might have made a difference had Israel been involved in another war. Eitan also maintained that Pollard never exposed any American agents and that another spy, Aldrich Ames, tried to blame Pollard to divert suspicion from his activities.3a
The agent in charge of counterintelligence for the Naval Investigative Service who caught Pollard has said that he was involved in illegal activities to help countries besides Israel. Ron Olive wrote that Pollard confessed that before he spied for Israel, he passed classified information to South Africa, his civilian financial advisers and a member of the Australian Royal Navy. He also admitted passing documents to Pakistan "in the hopes it would take him on as a spy." Olive quotes Pollard during a debriefing after he pleaded guilty saying, "If I could see it, and touch it, you can assume I got it.... My only limitation was what I couldn't carry." Olive said Pollard stole 360 cubic feet of classified secrets and confessed to stealing classified information two to three times a day, three to four days a week.3b
The Trial
The United States Attorney arranged a plea-bargain with Pollard: he would plead guilty to the one count of passing classified information to an ally without intent to harm the United States. There would be no trial, and no risk of classified information being disclosed in court. In return, the government said it would not seek the maximum sentence. The trial judge warned Pollard, however, that he could still receive a life sentence.4 Pollard nevertheless pled guilty on June 4, 1986.
Before sentencing, and in violation of the plea agreement, Pollard and his wife Anne gave defiant media interviews in which they defended their spying, and attempted to rally American Jews to their cause. In a 60 Minutes interview, Anne said, "I feel my husband and I did what we were expected to do, and what our moral obligation was as Jews, what our moral obligation was as human beings, and I have no regrets about that."
Also prior to sentencing, Secretary of Defense Caspar Weinberger submitted a 46-page classified memorandum to the judge outlining the damage to U.S. national security done by Pollard. Contrary to some accounts, Wolf Blitzer reported that Pollard and his attorneys were permitted to read it and draft a response.5 Weinberger called for severe punishment and the memo is widely cited as a major reason that the judge ultimately sentenced Pollard to life in prison for espionage.
It has often been reported that Pollard's life sentence was the most severe prison term ever given for spying for an ally, but agent Olive says this is untrue and notes that "espionage statutes do not differentiate between adversaries and allies." He also makes the more questionable claim that "no one in the history of the United States who spied for an ally or adversary came close to causing the colossal damage Pollard did to our national security."5a Alan Dershowitz argued that Pollard's sentence was far greater than the average term imposed for spying for the Soviet Union and other enemies of the United States.6 Sill, many convicted spies have been given life sentences, including Aldrich Ames, Robert Hanssen and John Walker.
Though initially shunned by Israel, the government of Benjamin Netanyahu admitted that Pollard had worked for Israeli intelligence and granted him citizenship in 1995. Netanyahu requested clemency for Pollard during Middle East peace talks at the Wye Plantation in Maryland in 1998.
Pollard's supporters in the United States also routinely request that he be pardoned. President Clinton reportedly considered a pardon, but defense and intelligence agency officials have vigorously opposed the idea. At the end of Clinton's term, the issue was again raised and Sen. Richard Shelby (R-AL), chairman of the Senate's Select Committee on Intelligence, along with a majority of senators argued against a pardon. "Mr. Pollard is a convicted spy who put our national security at risk and endangered the lives of our intelligence officers," Shelby said. "There not terms strong enough to express my belief that Mr. Pollard should serve every minute of his sentence...."7
James Woolsey, former head of the CIA, has confirmed this was "a serious espionage case," but said it was not true that the information given to Pollard was leaked to other countries. He said the main issue was the U.S. fear that Israel's intelligence services might be penetrated by enemies who then could access the material Pollard passed on. Woolsey also contradicted claims that Pollard only passed information that was relevant to Israel's security. "As for the quality of the information, in my opinion, at the time [1993] the material was broad-ranging and included information that did not relate solely to Israel's immediate security needs. Part of it, if it had found its way into the hands of a hostile country, would have presented a danger to the U.S. ability to collect intelligence."8
Ram Ben Barak, former deputy director of the Mossad, said the cost of the Pollard affair outweighed the benefit of the information he provided. "Our entire relationship with the U.S. deteriorated because of this. People lost jobs over it," according to Barak. "It made for years and years of suspicion, with Americans suspecting he wasn't the only one, and feeling that they hadn't gotten the necessary explanations. They didn't believe it wasn't authorized. It caused huge, huge damage. They saw it as a betrayal of them."8a
Legal Appeals
In July 2005, a U.S. federal appeals court rejected Pollard's claim that he had inadequate counsel in his original trial and denied his request to downgrade his life sentence.
The three-judge panel at the U.S. Court of Appeals for the District of Columbia Circuit also denied Pollard's attorneys access to classified information they hoped would help in their attempt to win presidential clemency for their client. Pollard's attorneys want to see 40 pages of a declaration written in 1987 by the then-Secretary of State Casper Weinberger, which outlines his assessment of Pollard's damage to U.S. interests. That declaration is believed to be key to Pollard's long sentence, but the court ruled that federal courts lack jurisdiction to review claims for access to documents for clemency purposes.
The rulings, which affirm decisions by a U.S. District Court in 2003, leave Pollard with little recourse but the Supreme Court to change his fate.
Pollard, who is being held at Butner Prison in North Carolina, is eligible for parole, but his attorneys said he has not sought a parole hearing because it would be hard to argue for parole without the classified information.9
Pollard also petitioned the Israeli Supreme Court to be recognized as a Prisoner of Zion in the hope that such status would win support for him to improve his prison conditions and stimulate a campaign for his release. The Court rejected his petition on January 16, 2006, however, because a Prisoner of Zion is defined as someone who was imprisoned "because of his Zionist activity in a country where such activity was illegal." Supreme Court President Aharon Barak said typical Zionist activity would include teaching Hebrew and encouraging aliyah, but "it cannot be said that an act of espionage on behalf of Israel constitutes Zionist activity 'in a country where Zionist activity marris prohibited, 'he wrote. "The act of spying, including spying for Israel, is prohibited in the U.S. as it is in all countries."10
In February 2006, Pollard asked the U.S. Supreme Court to overturn a federal appeals court ruling that denied his attorneys access to classified information used in his trial. Pollard's attorneys insist the documents are needed to make Pollard's case for clemency. The U.S. Court of Appeals for the District of Columbia Circuit ruled last year that the federal courts lack jurisdiction to review claims for access to documents for clemency, which the court said is the "president's sole discretion."
On March 20, 2006, the U.S. Supreme Court rejected Pollard's appeal.
Pollard's lawyers, Eliot Lauer and Jacques Semmelman, penned a letter to President Barack Obama dated October 30, 2014, that was released to the public for the first time on February 24, 2015. Lauer and Semmelman argue in the letter that the review of Pollard's sentence during his parole hearing in January 2014, held no semblance to the principals of equality, justice, and fairness that were promised to Pollard by President Obama himself during an interview on Israeli television in March 2014. According to Pollard's lawyers, during the hearing the prosecution made false accusations that Pollard's crime was "the greatest compromise of US security to date," a claim based on fully discredited statements made over 20 years prior. The prosecution invoked "secret" evidence in the form of the Weinberger Declaration, a document that was 28 years old at the time of the hearing, and had been mostly discredited as unreliable as time passed. The document was made public in 2014 by the Interagency Security Classification Appeals Panel (ISCAP). The Weinberger Declaration turned out to be a document based on future hypothetical situations, and the declassification demonstrated that any harm caused by Pollard's activities was in the form of short-term disruptions in US foreign relations with Arab countries and did not in fact harm US national security in the long term. Pollard's lawyers point out that Caspar Weinberger, President Regan's Secretary of Defense and the man whom the Weinberger Declaration is named after, stated in a 2002 interview that the Pollard case was "a very minor matter, but made very important". A 1987 CIA document declassified in 2012 was also referenced in the letter, which stated that Pollard's disclosures to Israel were strictly about their neighboring countries and "excluded US military activities, plans, capabilities, or equipment." To read the full letter written by Pollard's lawyers to President Obama, click here.
On Wednesday November 19, 2014, a U.S. Justice Department Parole Board denied a request to have Pollard released. In response to this rejection, eight former US officials wrote a letter to President Barack Obama stating that the parole process for Pollard has been "deeply flawed." The letter also asserts that the idea that Pollard's espionage was "the greatest compromise of U.S. security to that date" is a false statement. The letter was signed by a "who's who" of former senior US officials including former Director of the CIA James Woolsey, former US National Security Advisor Robert MacFarlane, and Former Chairs of the Senate Intelligence Committee Dennis DeConcini and David Durenburger.11
Release
On November 20, 2015, after 30 years behind bars, Pollard was released from prison. Pollard's parole restrictions require him to remain in the United States for the next five years, the first three in the residential area of New York, wear a GPS-equipped ankle bracelet, limit his use of the Internet, and prohibit him from giving media interviews. He must also report to a probation officer for at least a year. The parole board has the discretion to lift these restrictions at any time.
Israeli Prime Minister Benjamin Netanyahu requested that Pollard be permitted to go to Israel to serve his five-year parole. Reports indicate that, for now, Pollard will have to stay in the United States where he obtained a job in the finance department of an investment firm. His wife, Esther, who he married 20 years earlier while he was in prison, left Israel to join him.12
Pollard lost a bid in August 2016 to overturn restrictive probation requirements placed on him following his release. Manhattan U.S. District Judge Katherine Forrest denied a request by Pollard and his lawyers to challenge a U.S. Parole commission ruling that Pollard always wear a GPS tracking device, and submit all his work to computer monitoring.
In May 2017, the U.S 2nd Court of Appeals upheld the decision requiring Pollard to wear the tracker even if it violated the Sabbath. After the verdict was delivered, the campaign for Pollard announced, "this officially accepted belligerence will not be camouflaged by photo-ops and heart-warming speeches. Unless and until Jonathan Pollard is allowed to come home to Israel, the U.S. intelligence establishment's war-in-the-shadows against Israel will continue unabated."13
While in the United States to speak at the 2018 AIPAC policy conference, Israeli Prime Minister Benjamin Netanyahu met with U.S. President Trump and requested he lift restrictions on Pollard and allow him to move to Israel.
On November 20, 2020, Pollard completed his parole. Pollard has said for many years he would move to Israel if given the opportunity. He did so, along with his wife Esther, on December 30, 2020. "After such long years of suffering, Esther and I want to focus only on the future and not on the wounds of the past," Pollard said later.
Esther, who fought a long battle with breast cancer, died of COVID-19 on January 31, 2022.
As a coda to the Pollard Affair, on his last day in office President Trump pardoned Aviem Sella, an IAF colonel who was indicted by a U.S. federal grand jury in March 1987 on three counts of espionage for recruiting Pollard.14
---
Sources:
1Wolf Blitzer, Territory of Lies, (NY: Harper & Row, 1989), p. 201.
2New York Times, (December 2 and 21, 1985).
2aCarol Morello and Ruth Eglash, "Spy for Israel Freed from U.S. prison after 30 years," Washington Post, (November 21, 2015).
3Blitzer, pp. 166-171; Carol Morello and Ruth Eglash, "Spy for Israel Freed from U.S. prison after 30 years," Washington Post, (November 21, 2015).
3aSteven Erlanger, "Israeli Found Spy's Data Irresistible," New York Times, (March 3, 2006); "Eitan to 'Post': Pollard was a mistake," Jerusalem Post, (September 15, 2006).
3bRon Olive, "I busted Pollard," Jerusalem Post, (November 20, 2006).
4Blitzer, pp. 219-220.
5Blitzer, pp. 224.
5aRon Olive, "I busted Pollard," Jerusalem Post, (November 20, 2006).
6Alan Dershowitz, Chutzpah (MA: Little Brown, & Co., 1991), pp. 289-312.
7Washington Post, (December 23, 2000).
8Caroline Glick, "Woolsey: 'Time to consider commutation for Pollard,'" Israelinsider.com, May 2, 2005).
8aNoga Tarnopolsky, "'The Dumbest Sort of Traitor': Israeli Spies Aren't Exactly Rejoicing at Jonathan Pollard's Release," Daily Beast, (November 22, 2020).
9Matthew E. Berger, "After court denies his appeal, Pollard left with few legal options," JTA, (July 24, 2005).
10Dan Izenberg, "HCJ rules Pollard not prisoner of Zion," Jerusalem Post, (January 16, 2006).
11Former senior U.S. officials slam 'unjust denial of parole' for Jonathan Pollard JNS, (November 20 2014).
12Judy Rudoren and Peter Baker, Jonathan Pollard Is Freed After 30 Years in Prison, but Not to Israel, New York Times, (November 20, 2015).
13Gil Hoffman, Jonathan Pollard loses bid to reduce U.S. parole conditions,Jerusalem Post, (May 23, 2017).
14Gil Hoffman, "Trump pardons Aviem Sella, Jonathan Pollard's handler," Jerusalem Post, (January 20, 2021).