Cyprus Virtual Jewish History Tour
Cyprus, the third largest Mediterranean island, is located south of Turkey and west of Syria and Lebanon. Jews first settled in Cyrpus possibly as early as the third century B.C.E. and they had close relationships with many of the other religious groups on the island and were seen favorably by the Romans. Today, the Jewish population of Cyprus is approximately 100 people, however the country has a growing bilateral relationship with the State of Israel.
Roman Rule to Ottoman Emprie
Modern Community
Relations with Israel
Roman Rule to Ottoman Empire
The Jewish community prospered under Roman rule in Cyprus and there existed at least three synagogues in Golgoi, Lapethos and Constantia-Salamine. During this period, first Paul and then Barnabus, a native of Cyprus, preached Christianity in Cyprus and attempted to the Jews. In 117 C.E., under the leadership of Artemion, the Cypriot Jews participated in the great uprising against the Romans, which was eventually suppressed. As punishment, the Romans forbade Jews from setting foot on the island, however they returned soon after and Jewish residents continued to live there.
After a few years of calm, the Jewish communities began to grow and thrive once again in Cyprus. In the seventh century, there was a large Jewish community in Famagusta and in the 12th century, Benjamin of Tudela found three Jewish sects on the island. Between the 12th and 15th centuries, more Jews lived on Cyprus than on any of the other Greek island, and though they suffered some discrimination, in the 14th century, King Peter I attracted Jewish traders from Egypt by promising them equal treatment.
In the 16th century, Cyprus became a part of the Ottoman Empire and the Jewish population dwindled.
Modern Community
Cyprus came under British administration in 1878 until it was granted independence in 1960.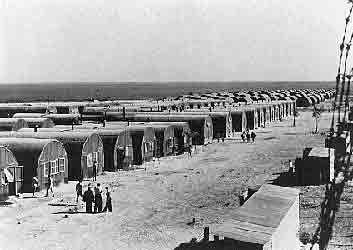 British Detention Camp in Cyprus
During the late 19th and 20th century, multiple attempts were made by European Jews to settle in Cyprus due to the problematic nature of settling in Eretz Yisrael at the time. The first attempt, in 1883, was a settlement of several hundred Russians established in Orides near Papho. In 1885, 27 Romanian families settled on the island as colonists, but were not successful in forming communities. Romanian Jews in 1891, again bought land in Cyprus, although they did not immigrate to the country.
In 1897, fifteen Russian families under the leadership of Walter Cohen founded a colony at Margo, with the help of the Ahavat Zion of London and the Jewish Colonial Association (JCA). In August 1899, Davis Trietsch, a delegate to the Third Zionist Congress at Basel, attempted to get an endorsement for Jewish colonization in Cyprus. Although his proposal was refused by the council, Trietsch persisted, convincing two dozen Romanian Jews to immigrate to the land. Beginning in 1900, under the sponsorship of the JCA, these settlers established farms at Margo, Kouklia and Cholmakchi. After World War I, Margo's second generation of Jews moved to Palestine and in 1928 the JCA closed down its operations in Cyprus.
Most Jewish communities during the early 1900s were located in Nicosia. In 1901 the Jewish population of the island was 63 males and 56 females. In 1902, Theodore Herzl introduced the idea of establishing Cyprus as the "Jewish Homeland." This idea was presented in a pamphlet to the Parliamentary committee on alien immigration in London, bearing the title "The Problem of Jewish Immigration to England and the United States Solved by Furthering the Jewish Colonization of Cyprus."

British Detention Camp in Cyprus
During World War II and the Holocaust, Cyprus played a major role for the Jewish communities of Europe. After the rise of Nazism in 1933, hundreds of Jews escaped to Cyprus. Following the liquidation of the concentration camps of Europe, the British set up a detention camp in Cyprus for Holocaust survivors illegally trying to enter Palestine. From 1946 until the establishment of the State of Israel in 1948, the British confined some 53,000 Holocaust survivors on the island. Once the State of Israel was created, most of the refugees made aliyah. In 1951, only 165 Jews remained on the island and in 1970, only 25 Jews were left.
Until 2005, there was no communal Jewish life except for occasional religious services and Israeli Independence Day celebrations held at the the Israeli Embassy in Nicosia. In 2005, Rabbi Arie Zeev Raskin arrived and established the Chabad House in Larnaca which holds daily minyans and Shabbat and holiday services and provides kosher meals, holds Torah and Judaism classes, runs a Sunday school and facilitates aid to Cypriots seeking medical treatment in Israel.
Approximately 350 Jewish families live in Cyprus today, many of whom arrived in recent years for professional reasons. Half of the Cypriot Jewish community is Israeli and the remainder are mostly British or Russian.
Relations with Israel
After the establishment of the State of Israel, the country opened a consulate in Nicosia and when Cyprus reached independence, in 1960, diplomatic relations were established on ambassadorial level. Since then, Cyrpus has enjoyed many ties of commerce and tourism with Israel.
Trade have been boosted in recent years after the discovery of vast hydrocarbon deposits in their respective Exclusive Economic Zones (EEZ) and security cooperation has likewise developed significantly in the aftermath of the souring of relations with Turkey. Prime Minister Netanyahu and President Peres have each been to Cyprus twice, and Tel Aviv has hosted former Cypriot President Demetris Christofias as well as current President Nicos Anastasiades, when he was still leader of the opposition. The energy ministers from both countries have also engaged in several exchanges.
In 2012, Cyprus and Israel signed two defense agreements to set the basis for continued relations between the countries in the areas of homeland security and counter-terrorism. The two pacts dealt with exchange of classified information as well as defense cooperation and protection, a major need of Cyprus as it has no national navy or air force to act as a deterrent to countries such as Turkey. Signing the two agreements sets the basis for the further development of relations in the area of defence cooperation, Cyprus' Defence Minister Demetris Eliades said.
In September 2013, Knesset Speaker Yuli Edelstein and his Cypriot counterpart signed a protocol for cooperation and Edelstein expressed his hope for "further economic cooperation and greater trade and investment in Cyprus."
Israel and Cyprus are also engaging in public diplomacy. In October 2013, Cypriot foreign minister Ioannis Kasoulides presided over the signing of an agreement between the University of Cyprus and the Israeli Embassy in Nicosia for the creation of a Jewish studies program at a local university.
During meetings with Israeli President Reuven Rivlin and Knesset Speaker Yuli Edelstein, Cypriot ruling party leader Averof Neophytou stated that the people of Cyprus identify with Israel and no longer see it as an agressive country imposing it's will on the Palestinians by force. Speaking to the Jerusalem Post, Neophytou boasted he and the Cypriot people have a "clearer picture" of Israel than they used to. Neophytou blamed the wrongful perception of Israel in Cyprus on Cypriot membership to the Non-Aligned Movement prior to joining the EU in 2004. The Cypriot leader stated that, "For decades Israel was blamed for creating the instability in the region, but can anyone credibly blame Israel for the instability in Syria, the threat of Islamic State, the Arab Spring that turned into an Arab winter, or the chaos in Libya and Iraq?" Israeli Prime Minister Netanyahu met with Cypriot President Nicos Anastasiades three times in the last half of 2015.
In a first-of-it's-kind tripartite summit, Israeli Prime Minister Benjamin Netanyahu, Cypriot President Nicos Anastasiades, and Greek Prime Minister Alexis Tsipras held meetings together in the Cypriot capital on January 28, 2015. Leaders from the three countries pledged to work together to encourage stability and cooperation in the region, and signed water-sharing agreements. Israeli PM Netanyahu announced plans to form a trilateral committee including representatives from Greece and Cyprus, to explore the prospect of building a pipeline between the three countries to export oil and gas to Europe. In the wake of these meetings, a cooperative agreement was signed between Cypriot, Greek, and Israeli representatives on March 3, 2016. This agreement expressed the desire for trilateral cooperation between the three countries, and set the stage for regular, annual meetings of the group. According to officials, in these future meetings the group will discuss, "inter alia, parliamentary cooperation; sharing views on regional issues and matters related to energy; on research and development and technology; cyber security; counter-terrorism; joint emergency response to natural disasters; exchange of information in emergency situations; agriculture; tourism; culture; education and migration."
Israeli firefighting aircraft flew to Cyprus in mid-June 2016 to assist in quenching a wild blaze on the island's coastline. After local firefighters were unable to contain the fire, the Israelis arrived at the request of the government of Nicosia, the island's largest city.
Cypriot President Nicos Anastasiades met with Israeli Prime Minister Benjamin Netanyahu in Jerusalem on July 24, 2016. The pair remarked on their strong working relationship following discussions pertaining to terrorism and energy cooperation.
Greek, Cypriot, and Israeli leaders met in Jerusalem on December 8, 2016, to discuss the construction and promotion of an oil pipeline from Israel to Greece, and then on to Italy and Bulgaria. The price of the pipeline is estimated to total $6.7 billion, and construction aims to be completed by 2025.  In June 2017, leaders from Greece, Cyprus, and Israel met again to discuss the pipeline, this time in Thessaloniki, Greece.  Speaking after the meeting, Greek Prime Minister Alexis Tsipras stated that the group agreed to expedite our joint actions concerning our agreement on the contruction of the pipeline.  
In June 2018, Cypriot and Israeli officials signed an agreement to house an Israeli-managed seaport for Gaza on Cyprus. Israeli oversight will prevent Hamas from using the port to smuggle weapons.  The same year Cyprus, Greece and Italy, with the backing of the EU, reached an agreement to construct the world's longest underwater pipeline (more than 1,300 miles) for the export of gas from Israel to Cyprus and from there to Greece, Crete and Italy. The United States, which originately supported the East Med pipeline project withdrew its endorsement in 2022 due to concerns about its economic feasibility, its environmental impact, and its opposition from Turkey.
In May 2019, the air forces of both countries conducted a joint exercise in the area of Nicosia.
Also, in May, in response to a request from Israel, two fire-fighting aircraft and a four-member team of ground-support firefighters arrived in Israel to assist in putting out fires started by Palestinian incendiary devices. In July 2021, Israel returned the favor by sending two firefighting planes and flame retardant material to assist Cyprus in extinguishing wildfires.
At the end of September 2021, Israel accused Iran of planning to kill an Israeli businessman in Cyprus. The plot was thwarted.
Following the demise of the East Med project, the European Union earmarked $736 million in January 2022 for the construction of the EuroAsia Interconnector, a 2,000-megawatt undersea electricity cable that will link the power grids of Israel, Cyprus, and Greece.
---
Sources: Original article by Ariel Scheib.
Allison Good, "Israel looks to Eurasia to achieve top energy and national security goals," The Daily Beast, (October 11, 2013).
"Israel, Greece, Cyprus agree on European gas pipeline," Globes, (December 8, 2016).
"Israel, Cyprus to boost regional cooperation," Algemeiner, (July 25, 2016).
Tamar Pileggi, "Israel sends firefighting planes to help battle Cyprus blaze," Haaretz, (June 18, 2016).
"Israel-Greece-Cyprus hold trilateral parliamentary meeting," Israel Ministry of Foreign Affairs, (March 3, 2016).
"In unprecedented meet, Netanyahu, Greek and Cypriot leaders push gas pipeline as peace catalyst," Times of Israel, (January 28, 2016).
Herb Keinon, "Once staunch critic, Cyprus now sees Israel as fighting for its survival," Jerusalem Post, (January 12, 2016).
Herb Keinon, Netanyahu Focuses on Energy in Greek-Cypriot Meeting, Jerusalem Post, (June 16, 2017).
Cyprus inks deal with Israel to house Gaza seaport, JNS, (June 26, 2018).
World Jewish Congress.
Jewish Encyclopedia.
Hadassah Magazine.
Cyrpus Mail.
Wikipedia.
Ami Rojkes Dombe, "Israel, Cyprus Hold Joint Air Force Exercise," IsraelDefense, (May 22, 2019).
"Cyprus to send two fire-fighting planes to Israel," CyprusMail, (May 23, 2019).
"Israel to assist Cyprus in extinguishing wildfires," Israel Ministry of Foreign Affairs, (July 3, 2021).
"Failed Cyprus assassination seen as Iranian revenge plot — TV," Times of Israel, October 4, 2021).
Menelaos Hadjicostis, "Israel, Cyprus, Greece power cable link secures EU funding," ABC News, (January 27, 2022).
Nektaria Stamouli, "EastMed: A pipeline project that ran afoul of geopolitics and green policies," Politico, (January 18, 2022).
"Ursula von der Leyen: EuroAsia Interconnector, Cyprus, Greece and Israel will help free EU from energy dependence," EuroAsia Interconnector, (June 14, 2022).
"Commission participates in launch of EuroAsia Electricity Interconnector," European Commission, (October 14, 2022).
"EuroAsia Interconnector ready for construction, 'historic day', president says," CyprusMail, (October 14, 2022).
Photos courtesy of USHMM Photo Archives.