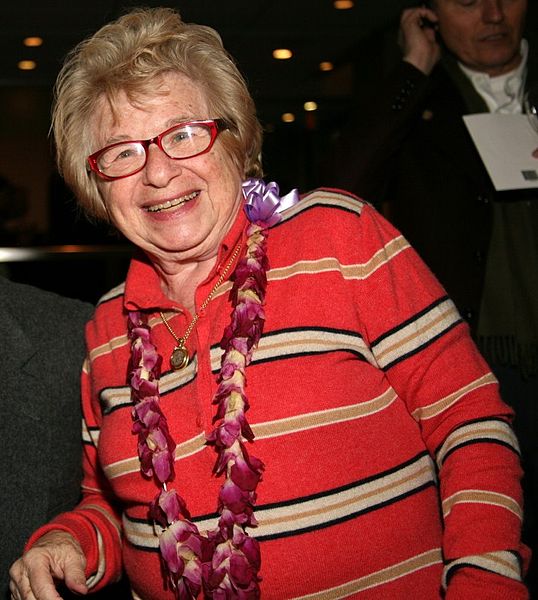 Ruth Westheimer, better known as Dr. Ruth, is an American sex therapist, media personality, and author. The New York Times described her as a "Sorbonne-trained psychologist who became a kind of cultural icon in the 1980s... She ushered in the new age of freer, franker talk about sex on radio and television - and was endlessly parodied for her limitless enthusiasm and for having an accent only a psychologist could have."

Westheimer was born Karola Ruth Siegel in Wiesenfeld (near Karlstadt am Main), Germany, the only child of Orthodox Jews Irma (née Hanauer) and Julius Siegel. In January 1939, she was sent to Switzerland by her mother and grandmother as part of the Kindertransport after her father had been taken by the Nazis. Her safe haven, along with that of some 100 other German-Jewish children, was made possible by Swiss activist Franzisca Goldschmidt. In Switzerland, young Karola came of age in an orphanage, and stopped receiving her parents' letters in September 1941. In 1945, Westheimer learned that her parents had been killed in the Holocaust, possibly at the Auschwitz concentration camp.

Following World War II Westheimer emigrated to British-controlled Mandatory Palestine. Westheimer joined the Haganah in Jerusalem. Because of her diminutive height of 4 ft 7 in (1.40 m), she was trained as a scout and sniper. Westheimer was seriously wounded in action by an exploding shell during the Israeli War of Independence in 1948, and it was several months before she was able to walk again.

In 1950, Westheimer moved to France, where she studied and then taught psychology at the University of Paris. In 1956, she immigrated to the United States, settling in Washington Heights, Manhattan. She still lives in the "cluttered three-bedroom apartment in Washington Heights where she raised her two children and became famous, in that order." She speaks English, German, French, and Hebrew.

Westheimer earned an M.A. degree in sociology from The New School in 1959 and an Ed.D. degree from Teachers College, Columbia University in 1970. She completed post-doctoral work in human sexuality at New York-Presbyterian Hospital, training with pioneer sex therapist Helen Singer Kaplan. She has written several books on human sexuality, including Dr. Ruth's Encyclopedia of Sex and Sex for Dummies. The full version of Dr. Ruth's Encyclopedia of Sex is currently available online.

Westheimer has given commencement speeches at the Hebrew Union College seminary, Lehman College of the City University of New York, and, in 2004, at Trinity College. She also taught courses and seminars at Princeton and Yale, and was the guest speaker at the Bronx High School of Science in New York in commemoration of Yom HaShoah 2008. Westheimer spoke about her life story and the audience of 500 sang "Happy Birthday" in honor of her 80th birthday. At the ceremony she received an honorary Bronx High School of Science diploma. In 2008, she was awarded an Honorary Doctorate by Westfield State College. In 2002, she received the Leo Baeck Medal for her humanitarian work promoting tolerance and social justice.

Westheimer has been married three times. Her third marriage, to Manfred Westheimer, lasted until his death in 1997. She has two children, Miriam and Joel, and several grandchildren.
Media Career
In 1980, WYNY-FM was NBC Radio's New York City owned-and-operated station. The struggling Adult Contemporary station had recently gone through a makeover in an attempt to build an audience. Part of this rebuild was adding specialized talk shows to the evening and weekend hours. Maurice Tunick was recruited from New York's leading talk station, WOR, where he was talk show producer. As WYNY's Program Coordinator he was responsible for developing new talk shows.

Betty Elam was WYNY's Community Affairs Manager. Her job was to work closely with community groups and the station's public affairs programming. After attending a New York Market Radio (NYMRAD) convention at which Westheimer was a speaker, she was taken with Westheimer's passion, information, sense of humor, and personality and suggested that WYNY do something with her. She made two appearances as a guest on a taped Sunday morning public affairs program. WYNY's General Manager, Dan Griffin, then suggested that Tunick find a way to develop a public affairs show for her.

The show, Sexually Speaking, using the name "Dr. Ruth", was taped in an NBC Radio studio at 30 Rockefeller Center, NBC's radio and TV headquarters, on Thursday mornings at 11:00 a.m. for airing on Sunday nights at midnight. As "Dr. Ruth", Westheimer became nationally known after several appearances on Late Night with David Letterman in the early 1980s. In less than two years, Dr. Ruth became a household name and was being heard on radio stations across the country. Her pioneering TV show, also called Sexually Speaking, first aired in 1982 as a 15-minute taped show on Lifetime Cable. It has since increased in popularity and has been nationally syndicated, as has her radio show. During this era, she also made frequent appearances on the syndicated revival of Hollywood Squares that ran from 1986 to 1989.

In 1993, Westheimer (alongside the Israeli TV host Arad Nir) hosted a talk show in Hebrew, titled Min Tochnit, on the newly opened Israeli Channel 2. The show was similar to her US Sexually Speaking show. The name of the show, Min Tochnit, is a play of words: literally "Kind of a program", but "Min" (מין) in Hebrew also means "sex" and "gender".

In the January 2009 55th anniversary issue of Playboy, Westheimer appears as #13 in the list of the 55 most important people in sex from the past 55 years. In October 2013, the play "Becoming Dr. Ruth" opened off Broadway. Actress Debra Jo Rupp played the role of Dr. Ruth. The play showcased the sex therapist's life from fleeing the Nazis in the Kindertransport and joining the Haganah in Jerusalem as a scout and sniper, to her struggles to succeed as a single mother coming to America. In September and October, 2014, Eileen DeSandre played Dr. Ruth in the Virginia Repertory Theatre production of the play.

In December 2014, Westheimer was a guest at an Orthodox Jewish wedding in the Bronx, NY. The groom, Rabbi Benjamin Goldschmidt, is the great-grandson of the woman who had helped rescue Westheimer from Nazi Germany.
---
Sources: Wikipedia

Wikimedia, By Carl_Clifford_and_Ruth_Westheimer.jpg: Cliff from Arlington, Virginia, USA derivative work: GrapedApe (Carl_Clifford_and_Ruth_Westheimer.jpg) [CC BY 2.0 (http://creativecommons.org/licenses/by/2.0)], via Wikimedia Commons