Hamas: Background & Overview
Hamas is the Arabic acronym for "The Islamic Resistance Movement" (Harakat al-Muqawamah al-Islamiyya). Since 2007, Hamas has controlled the Gaza Strip.
Wings of Hamas
Operation Cast Lead
Operation Protective Edge
Hamas Prepares for the Next Round
Heavy Tunneling Resumes
Days of Rage/The Stabbing Intifada
Sinwar Shifts Military Strategy
Hamas and Iran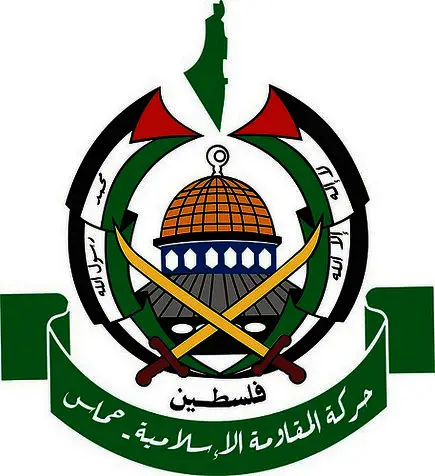 Hamas Emblem
Hamas grew out of the ideology and practice of the Islamic fundamentalist Muslim Brotherhood movement that arose in Egypt in the 1920s and it was legally registered in Israel in 1978 by Sheikh Ahmed Yassin, the movement's spiritual leader, as an Islamic Association by the name Al-Mujamma Al Islami. Initially, the organization followed the Muslim Brotherhood's model of acting primarily as a social welfare agency that catered especially to the Palestinian refugees in the Gaza Strip and, over time, developed a good reputation for improving the lives of Palestinians. Hamas also exerted its influence through the mosques. Today, Hamas is intimitately tied to the Islamic regimes in Syria and Iran.
In August 1988, Hamas published the Islamic Covenant, which makes clear the organization is opposed to Israel's existence in any form. It states that "there is no solution for the Palestinian question except through jihad (holy war)." The group warns that any Muslim who leaves "the circle of struggle with Zionism" is guilty of "high treason." Hamas' platform calls for the creation of an Islamic republic in Palestine that would replace Israel. Muslims should "raise the banner of Allah over every inch of Palestine," it says.
Hamas stresses jihad as the sole and immediate means to solve the problem of Palestine. Hamas aims to create an Islamic state in all of Palestine. The immediate means to achieve this goal is the escalation of the armed struggle, and ultimately jihad, with the participation not only of Palestinian Muslims but of the entire Islamic world.
Hamas' violent activities are run by two central departments, which were established before the intifada. One is Hamas' military arm, created in 1982 in Gaza by Sheikh Ahmed Yassin. In the early 1980's, the group began amassing arms for use against Israel. After it was uncovered in 1984, Yassin was imprisoned. He was freed as part of a 1985 prisoner exchange between Israel and PFLP-GC leader Ahmed Jibril.
A second Hamas arm called the Majd was created by Yassin in 1986 to monitor Arabs deemed to be "collaborating" with Israel or failing to follow Islamic doctrine. In 1988, a similar Hamas operation began in the West Bank.
The military apparatus of Hamas underwent several changes in the course of the intifada, as a result of preventive measures and exposure by the Israeli forces following major terrorist attacks carried out by Hamas operatives. The last form which this apparatus has taken is the Izz al-Din al-Qassam Squads, which is responsible for most of the serious attacks carried out by Hamas since January 1, 1992.
Hamas perpetrates terrorist attacks in a variety of forms: firing rockets toward Israeli communities, infiltrations into Israeli communities to murder Israeli civilians, explosive charges against IDF tanks and vehicles, shooting toward civilian vehicles in the Gaza Strip, ambushes of IDF soldiers, dispatching booby-trapped boats towards Israeli ships, kidapping and attempted kidnappings of IDF soldiers and of course suicide bombings. In addition, Hamas operatives smuggle weapons and terrorists from Egypt into Gaza using underground tunnels. Amazingly, some of this activity is directed by Hamas prisoners in Israeli prisons, though most of it is done by the Hamas headquarters in the Gaza Strip.
The "Wings" of Hamas
Hamas tries to present a separation between the political leadership and the military wing, as if the military activity serves no political aim. In practice, the formal "military leadership" of the Hamas is subordinate to what is known as the "political leadership." However, it is this "political echelon" of the terrorist organizations, which directs, instructs and determines policy, including terrorist activity. Interrogation of Hamas operatives point to Rantissi as directing Hamas terrorist policy. His public statements serve as instructions for terrorists to carry out attacks.
With the start of the Palestinian uprising known as the Second Intifada in 2000, Hamas used its power in Gaza to repeatedly fire rockets at both Israeli settlements within the Strip as well as Israeli cities outside of it. Hamas also stepped up its suicide bombings inside Israel. The IDF answered by leading a missions of targeted assassinations against the Hamas leadership in an attempt to destroy the organizaton by cutting off its head. On March 22, 2004, Hamas founder Sheikh Ahmed Yassin was assassinated, and the subsequently named successor, Abdul Aziz al-Rantisi, was killed for the IDF on April 17, 2004.
In 2005, after much debate, the government of Prime Minister Ariel Sharon decided to unilaterally withdraw all Israeli presence from Gaza in an overt attempt to appease Hamas and get it to stop firing rockets and terrorizing Israel. Today, it is obvious that Sharon's plan failed miserably. Hamas rockets continue to rain down on Israel and the Israeli Defense Forces has been forced to invade the area twice in attempts to destroy Hamas's fighting capability.
The IDF first reentered Gaza in June 2006 after Hamas operatives infiltrated Israel, attacked an army post and kidnapped soldier Gilad Shalit. Then-Prime Minister Ehud Olmert ordered the army to invade, rescue Shalit and destory Hamas's weapons stores. Known in Israel as Operation Summer Rains and Operation Autumn Clouds, the missions failed to achieve any of the major goals set forth by Olmert. Though Hamas was weakened by the IDF, it was not destroyed and Shalit was not rescued.
In 2007, following Hamas' victory in the 2006 Palestinian legislative elections, Hamas violently siezed control on the Gaza Strip and forced out all remnants of Palestinian President Mahmoud Abbas's Fatah party.
Operation Cast Lead
When Hamas rocket fire against Israel escalated to a point that the government could no longer sit idly by, Prime Minister Olmert ordered a second invasion of Gaza in December 2008, code-named Operation Cast Lead. With much of the same stated goals as the previous operations, the IDF was tasked with destroying Hamas's rocket infrastructure and, if possible, rescuing still captive soldier Gilad Shalit. Operation Cast Lead lasted into late January 2009 before a cease-fire was implemented by Israel. Hamas claimed yet another victory in this round of fighting, but statistics showed that the IDF has managed to kill nearly 1,000 Hamas operaties during the few weeks of battle.
In October 2011, after more than five years holding Shalit in captivity, Hamas negotiated with Israel (though Egyptian and German intermediaries) for his release in exchange for the release of more than 1,000 Palestinian prisoners in Israeli jails. Israel agreed to the prisoner swap, and on October 18, 2011, Shalit was returned to Israel.
In December 2011, Hamas celebrated in 24th anniversary with huge celebrations across the Gaza Strip. In a press release sent out by the organization through its Twitter account, Hamas claims to have fired more than 11,000 rockets at Israel between 2000 and 2011, to have killed more than 1,360 Israeli's and to have injured more than 6,400 others.
In 2012 Hamas fired 1,697 rockets at Israel.
On April 24, 2014, the two main Palestinian political factions - Hamas and Fatah - signed a reconciliation agreement to unite their disparate parts of the Palestinian Authority. The two rivals split seven years ago following Hamas' violent coup that wrested control of the Gaza Strip from Fatah and the PA. To read the full article on the Fatah-Hamas reconcilliation, click here.
Operation Protective Edge
As a response to the kidnapping of three Israeli teens as well as dramatically increasing fire coming from Hamas in the Gaza Strip, Israel launched Operation Protective Edge on July 8, 2014. Over the following 50 days Israel fought to destroy the terror capabilities of Hamas by carrying out air strikes against Hamas leaders, locating and destroying attack tunnels dug by Hamas to infiltrate Israel, and using the Iron Dome to defend it's citizens. Over 2,000 Palestinians died as Hamas used their standard tactics of firing from densely populated urban areas and provoking Israeli responses that decimated the Gaza Strip. Throughout the conflict Egypt acted as a mediator in desperate attempts to end the violence, which resulted in multiple cease-fires being agreed to. Hamas violated these cease-fires by firing rockets and mortars into Israeli territory on eleven occasions. During Operation Protective Edge the international community chastised Israel and saw them as being unfair to Hamas, laying out strikes against the organization in Gaza that international actors deemed to be a gross and unnecessary display of force. By violating the agreed-to ceasefires, Hamas showed that they have no regard for the Palestinian citizens, and showed that their vision is clouded by pure hatred for the Israeli "occupying force". They deliberately put their citizens in danger in order to gain international sympathy for the Palestinian people when Israel is forced to retaliate.
Israel's stated goal at the begining of the conflict was to destroy the attack tunnels dug by Hamas into Israel, stop the endless rocket fire coming from the Gaza Strip, and bring to justice the individuals responsible for the abduction and murder of three Israeli teens. When the abduction first occured on June 12, 2014 Hamas officials denied involvement, but then three months later accepted responsibility and announced that the abduction and murder of Eyal, Gilad, and Naftali was of their orchestration. Over the course of Operation Protective Edge 3,356 rockets were fired at Israel by Hamas, and the Iron Dome intercepted 578 of them. The Israeli forces destroyed 32 terror tunnels dug by Hamas, and carried out air strikes which resulted in the deaths of multiple Hamas leaders and their family members.
On Tuesday August 26 the Palestinian terror organizations and Israel came to an agreement for an extended ceasefire to take effect immediately. Hamas members declared a glorious victory, and citizens celebrated by firing guns into the air, injuring and killing multiple people. The plan that Hamas accepted was almost identical to the first one that Egypt had proposed two months prior, and Hamas was forced to abandon their demands of a sea port, an air port, and an end to the Israeli blockade in order to reach an agreement. Although over 2,000 Palestinians died and it is estimated that reconstruction will cost $7.8 billion, Hamas sees the outcome of Operation Protective Edge as beneficial for them because they stood their ground in the face of Israel and were successful in garnering international sympathy for the plight of the Palestinian people.
On September 25, 2014, Hamas spokesperson Mahmoud Al-Zahar stated that "we don't want to establish an Islamic emirate in Gaza; we want an Islamic state in all Palestine". The ultimate goal of Hamas is to destroy the Jewish people and the Jewish homeland, and in this quote Al-Zahar makes it clear that Hamas is in no way interested in peace, and is only interested in the destruction and suffering of the people of Israel.
Following Operation Protective Edge, Hamas returned immediately to weapons production and propaganda. Although the organization is hurting for funds, they have managed to begin to revive their weapons industry, carrying out multiple rocket tests in the Mediterannean and begining the reconstruction of terror tunnels into Israel. The Izz al-Din al-Qassam brigades, Hamas's military wing, staged a military parade through the streets of Gaza on Thursday October 9, the same day that the newly formed Palestinian Unity government met for the first time in Gaza. This parade was part of a recruitment drive by Hamas, in an attempt to drum up more support for the military units.
Hamas carried out multiple rocket tests on October 23, firing rockets toward the Mediterranean Sea. This was the sixth incident of Hamas carrying out rocket firing tests since the end of Operation Protective Edge.
Hamas Prepares for the Next Round
For the first time in months, on October 1, 2014, many employees of the former Hamas government in the Gaza Strip recieved their salaries of $1,200 each. In total 24,000 public workers who had not been paid since October 2013 were paid out in this way. The money for the salaries was donated by Qatar, who gave the unity government $30 million to pay the workers.
The European Union removed Hamas from a designated terror organization blacklist on December 17, 2014. The ruling, handed down by General Court of the European Union, stated that Hamas's designation as a terrorist organization by the EU in 2001 was " not [based] on acts examined and confirmed in decisions of competent authorities," but instead based on "factual imputations derived from the press and the internet." This ruling wss brought about after Hamas officials contested their designation on the list of terrorist organizations. Despite this ruling removing the designation the court ruled that the effects of this designation would stay in place for at least 3 months, including the freezing of funds.
On January 19, 2015, the European Union announced that it would appeal this ruling by the European Union court, in a move that was welcomed by Israeli officials. The European Union must provide evidence that Hamas remains a terrorist group and cannot use third party sources from the internet to do so, according to court documents.
On December 24, 2014, it was reported by local news agencies that Hamas had begun building new fighting positions and fortifying their bases of operations. Residents of the Gaza Strip reported seeing dirt mounts, ramps, and other fortifications being built and moved by members dressed in Hamas military garb. Hamas members then raised flags over their new positions.
Although groups like Hamas and Fatah have continued to deny it, the Islamic State has begun to take a foothold in the Palestinian territories. Israeli security sources claim that in late 2014 and early 2015 hundreds of Hamas and Fatah supporters have defected to the Islamic State. Following the attack on the satirical French news magazine Charlie Hebdo in January 2015, thousands of supporters of the Islamic State crowded the streets of Gaza in protest of the publishing of images of Mohammed by the magazine, and in support of the violent attack that left twelve people dead. Similar demonstrations took place in Ramallah and Hebron. These protestors attempted to storm the the office of the French Cultural Center in Gaza, and burned French flags while chanting calls for the slaughter of French nationals. Palestinian security forces were dispatched to the protest area, where they arrested seven Islamic State supporters. It was revealed on January 18, 2015, that a number of would-be jihadists "training" to join the Islamic State had been arrested in November and December in Galilee, Northern Israel. The seven Arab Israeli citizens were apprehended by Israeli security forces after apparently participating in "training" sessions during which they slaughtered sheep, practiced riding horses, learned how to properly make and hurl a molotov cocktail, and participated in target shooting activities. The individuals arrested included Adnan Ala al-Din, a 40 year old prominent lawyer from Nazareth, and brothers who had had issues with Israeli security forces in the past. Ala al-Din presented himself to the security forces as the Senior Commander of the Islamic State in Palestine at the time of his arrest.
After carrying out multiple attacks inside of Egypt in late 2014 and early 2015, an Egyptian court designated Hamas' military wing, Izz al-Din al-Qassam brigades as a terrorist organization in February 2015. The group was accused of the financing, planning, and execution of terrorist attacks that have killed hundreds of Egyptian citizens, including security personnel. Hamas spokesman Sami Abu Zuhri issued a public statement in which he rejected the ruling passed down by the Cairo Court of Urgent Matters, calling the designation "dangerous." The following month an Egyptian court ruled that the Hamas organization as a whole is a "terrorist movement," not just their military factions. Hamas took to twitter to issue an immediate response, posting that designating Hamas as a terrorist organization was a "great shame disgracing the reputation of Egypt." Five days later however, Hamas Chief Ismail Haniyeh wrote an email in which he stated that the Hamas organization wished to air out their grievances and establish further ties with Egypt. Haniyeh wrote that the Hamas organization was "ready for any proposals that would remove obstacles between the Palestinian and the Egyptian brothers."
Government files leaked in February 2015 showed that the CIA had tried to make contact with and gain access to Hamas through back channels, despite an official ban on contact with the terrorist organization. The leaked documents disclosed how in 2012 a CIA agent contacted a South African intelligence agent about the possibility of gaining access to Hamas, in order to recruit an informant. Also included in the reports are call transcripts from a call between President Obama and Palestinian Authority President Mahmoud Abbas, in which Obama threatens Abbas in no uncertain terms if he were to go forward with the Palestinians 2012 statehood bid.
Three Israeli citizens were arrested on March 2, 2015, charged with suspicion of supplying raw materials to Hamas militants during Operation Protective Edge. The suspected smuggling ring also included multiple Palestinian businessmen and a Palestinian merchant named Osama Zuaroub. Zuaroub was the Israeli's main contact point on the other side. The accused apparently stored the materials in a warehouse in Mivtachim and used the Kerem border crossing to tramsfer truckfulls of materials to Hamas militants. The charges detailed that the payment for the materials, storage in the warehouse, and transfer to Hamas, amounted to about $375,000 per month. Hamas allegedly purchased more than $30 million worth of goods from the three Isrealis through Zuaroub. Files charged against the Israeli individuals include contact with a foreign agent, providing aid to the enemy in it's war against Israel, and fraud.
Hamas representatives rejected a peace agreement presented by the UN Special Coordinator for Middle East Peace, Robert Serry, on March 12, 2015. The proposal was drafted by Palestinian, Israeli, US, and international representatives, and would have seen an end to Israel's blockade of Gaza as well as the allowable construction of an airport and seaport. The peace agreement was for a proposed five year cease-fire. Hamas spokesperson Mousa Abu Marzouk explained their rejection the next day on social media, claiming that "Israel made the proposal with the aim of separating the enclave from the West Bank so it can swallow it with the settlements. We are paying a steep price for our stance by the continued blockade and economic pressure over the Strip, but we reject any idea that would lead to the separation of the Gaza Strip and the West Bank." This trip was Serry's last to the Gaza Strip.
For the first time since Hamas took over Gaza eight years prior, in March 2015 a large shipment of vegetables was exported to the Israeli territory. Prior to Hamas taking control of the area, Palestinian merchants used to export hundreds of tons of produce to Israel daily. Since the takeover however it has been too risky for Israel to leave the border crossings open regularly, and the blockade on Gaza has been enforced. This shipment in March 2015 included 27 tons of tomatoes and five tons of eggplants, to be sold in Israel for about $770 per ton. In the months following the end of Operation Protective Edge, Israel officials increased the amount of border permits for Gaza merchants to sell their products in Israel. The Israeli military agency that oversees Gaza civilian affairs, COGAT, said that shipments totaling 1,500 tons are expected monthly in the future. This produce will be shipped in a box stamped with the name of the farmer, and a sticker that reads "product of Gaza."
New video surfaced on March 12, 2015, showing Hamas militants digging tunnels and setting up training facilities near the Israel border. The video was shot by civilian residents near the border, who said that the men bore arms and wore masks while they worked.
The Hamas organization put extra effort into revamping their naval commando units following Operation Protective Edge during Summer 2014, according to the Egyptian newspaper Al-Akhbar. Since Operation Pillar of Defense, Hamas has been working to set up a large, professional underwater force, capable of launching stealth attacks against Israeli power plants, coal terminals, gas rigs, etc.
Dirar Abu Sisi, Hamas engineer and tactician, was convicted in March 2015 of opening and operating a "war college" where Hamas commanders trained, multiple counts of attempted murder, belonging to a terrorist organization, conspiracy to commit a crime, and unauthorized manufacture of arms. Abu Sisi plead guilty to all charges levyed against him. He was directly involved in the development of missiles and rockets used by Hamas, including developing ways to make them shoot farther. Because he plead guilty in court, the prosecution agreed to drop some of the many attempted murder charges.
A report published by the Wall Street Journal on April 21, 2015, detailed that Iran had been funneling millions of dollars to the Hamas military wing the Al-Qassam Brigades, to help them rebuild their network of terror tunnels that were destroyed during Operation Protective Edge. These funds were transfered under direct orders of Qasem Soleimani, the commander of the IRGC Quds force. In addition to rebuilding their network of tunnels, Hamas members used the funds to replenish their rocket supplies.
Foreign Policy magazine reported in April 2015 that Hamas and other Palestinian militant groups were hard at work training for the next armed conflict with Israel. Women were being used more frequently by the groups according to the report: one female Hamas member was quoted saying "We fit the training around our domestic chores. We also watch the roads, protecting the men as they move." Since the end of Operation Protective Edge, more and more women in Gaza have been training to fight hand-to-hand, use firearms, disarm opponents, drive vehicles through battle-zones, and kidnap Israeli soldiers. Abu Mujahid, a Nasser Salahuddin Brigade commander, said that "the war could start any minute. All the fighting groups evacuated the bases, we've postponed training sessions, and many of the men have moved underground... There are people right now under your feet."
Israeli officials believe that Hamas has rebuilt its arsenal to the same level as before the 2014 war. The group has also added new capabilities, including a a navo commando unit and aerial drones.
Heavy Tunneling Resumes
Hamas militants began using heavy machinery and engineering tools to build their underground attack tunnels into Israel in the begining of 2015. Witnesses from the Israeli side of the border said that they could clearly see large tractors digging and moving dirt, while underground the Hamas members used small bulldozers to maneuver in the tunnel's tight spaces. While Hamas funnels millions of dollars meant for humanitarian aid into terrorist projects, the situation of the civilians living in the Palestinian territory worsens by the day.
Khalil al-Haya, a senior Hamas official, encouraged Hamas members to engage in the abduction of Israeli soldiers in April 2015, stating "we tell the Zionist enemy: you are all a target for us and the resistance, we will fight you until we finally get rid of you and take as many captives as possible to free our heroes. Our men, our women, our children all envision kidnapping your soldiers and settlers, wherever they are. And it is our right because we have no other way to free our heroes, and it is the Zionist enemy responsible for this state of affairs". He said firmly that captive Palestinian prisoners should rest assured that they will be released, and encouraged members of Palestinian resistance forces to abduct Israelis so they may be used in prisoner exchanges.
Palestinian Authority ministers and officials visiting the Gaza Strip were detained in their hotel by Hamas during the second week of April 2015. The group of 10 ministers and 30 government officials were sent to the Gaza Strip in order to solve the issue of Palestinian Authority employees not having been paid for months, but they were barred from leaving their hotel by Hamas militants. The Palestinian Authority members were not able to attend their important meetings scheduled during that week, and were also not able to speak to any Palestinian civilians.
During the weekend of April 18, senior Hamas members passed the National Solidarity Tax law on "non-basic" goods being imported into the Gaza Strip. This tax will be levied on goods such as meats, fruits, electronics, and clothing, while "necessary" goods like flour and medicine are to be exempt from the tax. Senior Hamas officials revealed that most of the revenue from this new tax would go towards paying the salaries of the over 40,000 Hamas employees who had not been paid in over a year. This tax angered Gaza merchants, who were worried that they would not be able to sell as many products if the taxes increase. The increased import tax also meant that some merchants will not be able to afford their wholesale products anymore, forcing them out of business. According to Hamas Parliament member Abu Halbiya, the tax could pile on an extra 10% in certain cases.
Hamas commander Mohammed Deif, a long-time target of the IDF for his key role in planning terrorist attacks, who had been wounded in a prior assassination attempt, was thought killed during Operation Protective Edge. He resurfaced, however, months later in April 2015, reportedly overseeing a crew of approximately 1,000 workers constructing new attack tunnels with materials provided to Palestinian people for reconstruction, but sold on the black market to Hamas. Deif is also believed to be heavily involved in plans to advance Hamas's rocket capabilities.
The military wing of Hamas, the Izz ad-Din al-Qassam Brigades, released a video in August 2015 showing off their new tunnels which they had rebuilt following the destruction of Operation Protective Edge. Hamas managed to rebuild many of the terror tunnels that were destroyed by Israeli troops during the last conflict.
Eight Hamas militants were killed on January 27, 2016, after heavy rains collapsed the terror tunnel that they were constructing. The militants were killed during the tunnel collapse and were buried in the rubble. Two more Hamas operatives were killed and eight others reported missing on February 3 in another tunnel collapse.
The United States announced an investment of $120 million in Israel anti-tunneling technology on February 3, 2016. Later that week IDF Chief of Staff Gadi Eisenkot spoke at a press conference, where he confirmed that nearly 100 engineering vehicles were currently working at the border to identify and destroy Hamas tunnels. "We are doing a lot, but many of [the things we do] are hidden from the public. We have dozens, if not a hundred, engineering vehicles on the Gaza border," Eisenkot said.
Three Palestinians were killed when their tunnel collapsed while digging into Israel on April 10, 2016. During the first four months of 2016 at least 16 Palestinians were killed in tunnel collapses.
The Israeli military discovered and destroyed a tunnel going from Gaza into Israeli territory in mid-April 2016. This was the first completed tunnel found following Operation Protective Edge. The tunnel was built approximately 110-130 feet underground, and was equipped with electricity, running water, and communication lines. The IDF discovered another cross-border tunnel from Southern Gaza into Israeli territory on May 3, 2016, and planned to "investigate it and then destroy it." IDF officials said that they could not tell if the whole tunnel had been dug before or after Operation Protective Edge, but stated that they believed certain portions had been added more recently.
The Israeli government announced in June 2016 that construction would soon begin on a deep underground metal wall surrounding Gaza, to prevent further tunneling. Most of the new wall will be underground, and the barrier will add to the existing border fence according to Israeli security officials. The underground barrier will stretch the entire 40-mile border between Israel and the Gaza Strip and be equipped with sensors produced by the Israeli defense manufacturer Elbit Systems using technologies that monitor and predict seismic changes. A six to eight meter wire fence armed with sensors and cameras will be built above ground. Observation, control and command centers will be built along its length and the entire barrier, above and below ground, will be linked online to a command center located in a nearby military base. The project is expected to cost $570 million.
The IDF discovered an attack tunnel from Gaza into Israel in late October 2017, and detonated explosives in the tunnel in order to collapse it on October 30. Seven Hamas militants were killed, including a senior field commander, when the tunnel collapsed. Eleven additional Hamas militants were wounded.
The Israeli military announced that they had destroyed two Hamas terror tunnels on March 19, 2018.
Days of Rage/Stabbing Intifada
Palestinian leaders stoked the flames of violence during September and October 2015, spreading false information about Israel's actions surrounding the Temple Mount. Mahmoud Abbas stated that Israelis were "desecrating" Muslim holy sites the al-Aqsa Mosque and Church of the Holy Sepulchre with their "filthy feet," and encouraged Palestinians to carry out acts of violence against Jewish Israelis. The wave of violence experienced during late 2015 was due mostly to a Palestinian perception that the Israelis were going to somehow change the rules of who could access the Temple Mount, undermining Muslim supremacy at the holy site. The Israeli government issued official statements clarifying that there was no intention of changing the status-quo at the Temple Mount, but Palestinian leaders continued to incite violence against Israeli Jews through speeches and posts on social media. Hamas leader Ismail Haniyeh declared Friday, October 9, to be a "day of rage... a day that will represent that start of a new Intifada in all the land of Palestine." U.N. Secretary General Ban Ki-Moon travelled to Israel and met with various leaders in attempts to quell the violence on October 20. One hundred and eight stabbings, thirty-seven shootings, and twenty-two car-ramming attacks were carried out by Palestinians against Israelis between September 13 and January 19, 2015. To read a summary of these attacks, please click here.
In response to these attacks Israeli officials ramped up security around the country, especially in Jerusalem and Hebron and at the Temple Mount. Israeli security forces also cracked down on Hamas leaders, detaining Hamas co-founder Hassan Yousef. Yousef was accused by Israel of encouraging, inciting, and praising the attacks that rocked the country during the previous month. Hamas leaders, including Yousef, called for a new uprising against Israel and encouraged attacks on Israelis via social media and news outlets.
The United States slashed aid to the Palestinian Authority by $80 million for the fiscal year ending September 30, 2016, due to the Palestinian leaders continued incitement of violence against Israelis. This represents a 22% cut from the State Department's initial budget request earlier in the year. Florida Republican Ileana Ros-Lehtinen authored a Foreign Affairs Committee Resolution which was unanimously approved on October 22, 2015, calling for Abbas and other Palestinian leaders to be held accountable for the new wave of violence. Ros-Lehtinen issued a statement calling upon Abbas to "[stop] inciting violence and promoting hatred, [and] to call for calm and work with the Israelis to restore the peace." To read the Foreign Affairs Committee Resolution, please click here.
Facebook shut down groups and pages associated with Hamas and similar organizations in late October 2015, in an effort to calm incitement being propagated through social media platforms. Hamas leaders issued a statement on October 21, confirming that, "Facebook has closed, over the past two days, a large number of pages run by and close to the Hamas movement's media in the occupied West Bank. Today and yesterday, [Hamas] pages [based] in Ramallah, Galilee, Nablus, Bethlehem, Qalqilya, Salfit, Tubas and Jenin were closed, as well as the page of Muslim Youth League in the West Bank. At the same time as the closure of these pages, Facebook has closed and frozen the accounts of dozens of publishers and administrators who run [them]."
The IDF and the Shin Bet exposed a terror network of 24 militants operating in the Palestinian city of Qalqilya, West Bank, on November 9, 2015. The 24 individuals arrested represented some of the main terrorist leadership in that district, who regularly received instructions and support from Qatar and Gaza.
Hamas transferred thousands upon thousands of dollars to the Islamic State affiliate in Sinai, Egypt during 2015. According to Israeli security officials, Hamas's military wing, the al-Qassam Brigades, paid the ISIS affiliate in Sinai to secure weapons shipments, which were then smuggled in tunnels between Egypt and Gaza. Egyptian security officials blame Hamas for changing the Islamic State in Sinai from a rag-tag group of rebels, into well-armed and well-funded fighting group. This revelation is an interesting paradox, considering that the main financial sponsor of Hamas, Iran, is fighting the Islamic State in Syria and Iraq.
A report was leaked in early January 2016 that exposed an Iranian attempt to ally themselves with Hamas in their dispute with Saudi Arabia. Iran offered Hamas financial support in return, but the offer was rejected by Hamas official Khaled Meshaal. Meshaal claimed that it would be "unwise" to intervene in the dispute between Iran and Saudi Arabia. A taped phone conversation released on February 1, 2016, captured Hamas leader Mousa Abu Marzouk berating Iran, claiming that the Iranian government has not provided Hamas aid since 2009. Marzouk said, "They are incredibly manipulative people. We've received nothing from them since 2009. Everything they're saying is a lie." In response to these accusations, Iranian Foreign Ministry spokesman Hussein Ansari clarified that Iran was indeed still providing support in many ways to various Palestinian "resistance" groups, including Hamas.
Hamas leader Ismail Haniyeh revealed on January 29, 2016, that the group was developing their military capabilities once more, in preparation for a protracted conflict with Israel. "There are those who think that the calm is a time of rest," Haniyeh said, during his weekly sermon following Friday prayers, "But this is a continuation of the struggle. Al-Aqsa Martyrs Brigades are working and preparing for Palestine."
Members of the Izaddin al-Kassam brigades, the military wing of Hamas, expressed outrage in mid-February 2015 at the execution of a top brigade commander, Mohamed Eshtaiwi. Hamas executed Eshtaiwi, a senior commander of the Izaddin al-Kassam brigades, for treason and alleged "moral and behavioral tresspasses," after he contacted leaders of Hamas cells abroad. Members of the Al-Kassam brigades who split off and began referring to themselves as the Free al-Kassam brigades, issued statements strongly condemning Eshtaiwi's execution at the hands of Hamas.
Reuters Bureau Chief in Israel Luke Baker was briefly detained and questioned by Hamas members while taking pictures of a new road being built in Gaza on February 25, 2016. Baker was stopped by a man in a suit as he was doing his work and was instructed to go with the man. The pair entered a building where Baker was introduced to a man who identified himself as a leader of Hamas security forces, who proceeded to questioned Baker while the two sat in a courtyard and shared drinks. The journalist was allowed to leave after a short time, and stated that he did not feel scared and was not accused of anything.
Members of the Hamas militant group crossed the border to Egypt and began fighting along side the Islamic State in Sinai during late 2015 and early 2016, according to Egyptian officials. The Hamas members arrived in small groups, via the last secretive tunnels connecting Gaza to the Sinai.
Israeli officials stated in March 2016 that they believed Hamas had replenished their rocket supply following Operation Protective Edge.
On April 18, 2016, a bomb placed on a public bus in Jerusalem exploded, injuring 21 Israelis. This was the first attack on an Israeli bus since the establishment of the Security Fence.
Hamas carried out short-range missile tests on June 10, 2016, in an effort to improve range and accuracy of it's projectiles. Approximately 30 rockets were fired by the group, none of which were aimed at Israeli territory.
Israeli authorities arrested Mohammad El Halabi on June 15, 2016, on charges of funneling approximately $43 million in aid to the military branches of Hamas since 2010. El Halabi was the Palestinian manager of the Gaza branch of the large Christian charity organization World Vision, and had allegedly been working for Hamas since 2004. El Halabi was given a mission by Hamas to infiltrate the World Vision organization, and gain an influential position. In the 6 years that El Halabi worked for World Vision, he managed to transfer approximately 60% of the organization's budget to Hamas. In response to these revelations, both the Australian and German governments immediately suspended all funding of World Vision's projects in the Palestinian territories.
Waheed Borsh, an 38-year old engineer who had worked for the UN Development Programme (UNDP) since 2003, was arrested on July 16, 2016, and charged in August with providing aid to the Hamas islamist terror movement. The suspect confessed to diverting 300 tons of rubble and cement from a UNDP program to a Hamas naval project, and encouraging UNDP inspectors to focus rebuilding efforts following Protective Edge on areas where Hamas officials lived. During April and May 2015, Borsh helped build a naval commando port for Hamas. The UNDP issued a statement claiming that they were "greatly concerned" about the situation, and would conduct a "thorough internal review of the processes and circumstances surrounding the allegation."
The U.S State Department designated senior Hamas official Fathi Ahmad Mohammad Hammad as a Specially Designated Global Terrorist (SDGT) under Executive Order (E.O.) 13224, in September 2016. Hammad engaged in terrorist activity on behalf of the Hamas organization, and was in charge of security within Gaza while serving as Hamas's Interior Minister.
Sinwar Shifts Military Strategy
Yahya Sinwar, a General from the Qassam Brigades, was elected the new Prime Minister of Hamas in Gaza on February 13, 2017. Sinwar was elected to replace Ismail Haniyeh, who had served as Hamas Prime Minister since the group's takeover of the Gaza Strip in 2007. In 2011 Sinwar was released from Israeli prison after serving 22 years, as part of the Gilad Shalit prisoner exchange deal. Haniyeh was not out of the public eye for long; during the first week of May 2017 it was announced that he was chosen to succeed Khaled Mashaal as the political bureau chief of Hamas.
Hamas military leader Mazen Fuqaha was assassinated in his car on March 24, 2017, and the Palestinian Authority quickly blamed Israel. Israeli officials did not comment on his death, and only stated that he had been involved in planning attacks against Israel. Fuqaha was close friends with the newly elected Prime Minister of Hamas Yahya Sinwar, and the two had previously shared a cell in an Israeli prison for one year.
For the first time since the release of their Founding Charter, Hamas published a new policy document in May 2017. The publication of the document, which slightly tones down the incendiary rhetoric and language used in their 1988 Charter, was widely viewed as a PR move in an effort to soften the image of the terrorist organization. The new document males no mention of the Muslim Brotherhood organization, in contrast to the group's charter. Most importantly, it states for the first time the organization's willingness to accept an interim Palestinian state featuring pre-1967 borders. Despite this, the new policy paper makes no mention of Hamas's intention to recognize the legitimacy of the state of Israel. A spokesman for Israeli Prime Minister Netanyahu said that Hamas is trying to fool the world, but it will not succeed. To read this document, please click here. An annotated version can be found here.
Hamas officials permitted demonstrations in Gaza featuring thousands of supporters of their rival Mohammed Dahlan in July 2017, a sign that the two sides were beginning to reconcile their differences following June 2017 negotiations between Dahlan and Yahya Sinwar in Egypt. Supporters of Dahlan were permitted to open an office in Gaza in June 2017, preparing for his possible return to the Strip for the first time since 2011.
Though predictions of another war have repeatedly appeared in the media, the last three years have seen the longest period of quiet in the south of Israel since 1968. Despite appearances, however, the head of the Shin Bet said in March 2017 that Hamas and jihadist groups are trying to launch terror attacks every day.
Judges at the European Court of Justice (ECJ), the EU's highest court, overturned a 2014 ruling by a lower court that stopped asset freezes and travel bans on Hamas officials. The ECJ Judges ruled that Hamas should be once again listed as a terrorist organization and placed on the EU terror blacklist.
The U.S. State Department announced the designation of Hamas political leader Ismail Haniyeh as a Specially Designated Global Terrorist under Executive Order (E.O.) 13224 in January 2018.
Due to Israel's construction of a barrier to prevent tunneling across the border, Sinwar has also decided to focus more on constructing bunkers and tunnels for defensive purposes. The tunnels are expected to continue to be used as command centers, armories, and smuggling routes.
Despite its ban on the Muslim Brotherhood, Egypt has reconciled with Hamas and the group is reportedly opening an office in Cairo to coordinate more closely with the Egyptian government.
Alarmed by the growing ties between Israel and the Arab world, Hamas issued a statement on March 7, 2018, condemning normalization of relations with Israel, endorsing the BDS movement and warning it would not forgive anyone who normalizes relations with the enemy.
The Great March of Return was originally planned to be a six-week non-violent protest campaign by Palestinians at the Gaza border fence with Israel, with the end goal of expressing their desire to return to the lands that their ancestors had lost or been driven from. In the weeks leading up to the planned beginning of the protest, word of the march reached Hamas, Palestinian Islamic Jihad, and the Popular Front for the Liberation of Palestine. These Palestinian terror organizations endorsed the Great March of Return, and sought to co-opt the protests to serve their own means. To read more about the Great March of Return, please click here.
Hamas and Iran
It was reported in late September 2017 that Hamas Prime Minister Yahya Sinwar slashed the budget for the organization's military wing by three quarters. The budget for the Izz al-Din al-Qassam brigades was $200 million in 2014, and was reduced to $50 million in the 2017 budget. Meanwhile, Iran has resumed funding Hamas. After freezing financial support to punish Hamas for not supporting the Assad regime in the Syrian civil war, Iran is reportedly providing $60-70 million to the group, making it, according to Sinwar, "the largest backer financially and militarily" of the organization's military wing.
In May 2018, Sinwar said Hamas has improved its military capability with the help of Iran and described relations with the Iran's Islamic Revolutionary Guard Corps and the commander of its elite Quds force, Qasem Soleimani, as "strong and warm." He added that Iran has provided Hamas's Izz Al-Din Al-Qassam Brigades and other Gaza factions "a lot of money, equipment, and expertise." He further stated that his organization had "excellent" relations with Hezbollah and that there is coordination on an "almost daily" basis between the two organizations.
---
Sources: IDF;
PASSIA;
Kul al-Arab, (January 9, 1998);
ICT;
ADL;
Wikipedia;
Al-Qassam Information Office;
IDF Spokesman, (December 15, 2011);
"Hamas seeks to establish Islamic state on all Palestinian lands: Official," Xinhua (September 30, 2014);
General Court of the European Union;
Adrian Croft, "EU to appeal ruling that Hamas should be off terror list," Reuters (January 18 2015);
Mayaan Lubell, "Thousands of Palestinians protest Charlie Hebdo Mohammad cartoon," Reuters (January 24, 2015);
"Egyptian court declares Hamas' Al-Qassam Brigades a 'terrorist group'," Ahram (February 3, 2015);
Seamus Milne/Ewen McAskill, "CIA attempted to contact Hamas despite official US ban, spy cables reveal," The Gaurdian (February 23, 2015);
IANS, "Top Hamas leader says ready to resolve disputes with Egypt," Yahoo News (March 5, 2015);
Isabel Kershner, "3 Israelis charged with smuggling materials to Hamas," New York Times (March 3, 2015);
Faras Akram, "Qatar offers cash to pay some staff in Gaza Strip," New York Times (October 29, 2014);
Jack Moore, "Hamas rejects five-year Israel truce deal to end Gaza blockade," Newsweek (March 11, 2015);
Faras Akram, "Gaza exports first produce to Israel since Hamas takeover," Salon Magazine (March 12, 2015);
Elior Levy, "Gaza sources: Hamas test-fired rocket out to sea," Ynet News (October 24, 2014);
Matan Tzuri, "Video: Hamas digging, building outposts not far from border fence," Ynet News (March 12, 2015);
Alex Fishman, "Hamas' revamped naval commandos could pose a problem for Israel," Ynet News (March 15, 2015);
Con Coughlin, "Iran is intensifying efforts to support Hamas in Gaza," The Telegraph (April 4, 2015);
Bell Trew, "Gaza is a tomb," Foreign Policy (April 13, 2015);
Avi Issacharoff, "Hamas accelerates it's tunnel building, using heavy machinery," Times of Israel (April 15, 2015);
Elhannan Miller, "New Hamas import tax leaves Gaza merchants fuming," Times of Israel (April 21, 2015);
"Hamas official calls to abduct Israeli, swap for Palestinians," Al-Arabiya (April 17, 2015);
Khaled Abu Toameh, "PA ministers leave Gaza after Hamas placed them on house arrest," Jerusalem Post (April 20, 2015);
Con Coughlin, "Iran rekindles relations with Hamas," Wall Street Journal(April 21, 2015);
Roi Kais, "New Hamas video boasts of reconstructed tunnels," YNet News (August 28, 2015);
Ben Lynfield, "Gaza shootings: Hamas pledge new intifada as 'day of rage' sees Israeli soldiers kill six Palestinian protesters," Independent (October 9, 2015);
Rory Jones. "Israel Detains Senior Hamas Official Accused of Inciting Violence," Wall Street Journal (October 21, 2015);
"Facebook moves against Hamas in West Bank," Now News (October 22, 2015);
Alex Fishman, "Hamas is funding Islamic State in Sinai," YNet News (December 15, 2015);
"Hamas Settles its Position on Iran," Medialine (January 19, 2016);
Jack Khoury, "Haniyeh: Hamas Rebuilding Tunnels, Preparing for Conflict With Israel," Haaretz (January 29, 2016);
Elior Levy, "Senior Hamas official slams Iran," YNet News (February 1, 2016);
Judah Ari Gross, "Army chief hints at hidden efforts to counter Gazan tunnels," Times of Israel (February 9, 2016);
Khaled Abu Toameh, "Hamas delegation in Iran to mark 1979 Islamic Revolution," The Jerusalem Post (February 11, 2016);
Khaled Abu Toameh, "Emerging split within Hamas' military wing following member's execution," Jerusalem Post (February 11, 2016);
" Reuters reporter taken into custody by Hamas officials in Gaza," Jerusalem Post, (February 15, 2016);
Avi Isacharoff, "Hamas has replenished its rocket arsenals, Israeli officials say," Haaretz (March 4, 2016);
Judah Ari Gross, "Hamas test-fires dozens of short-range rockets in Gaza," Times of Israel (June 10, 2016);
Isabel Kershner/Diaa Hadid, "Israel Charges Aid Group's Gaza Branch Manager With Funneling Funds to Hamas," The New York Times (August 4, 2016);
"Israel arrests UN Gaza employee 'for aiding Hamas'" France24, (August 9, 2016);
"State Department Terrorist Designation of Senior Hamas Official - Fathi Hammad," U.S. State Department, (September 16, 2016);
Peter Beaumont, Election of new Hamas Gaza Strip leader increases fears of confrontation. The Gaurdian (February 13, 2017);
Majd Waheidi, Killing of a Hamas Leader Could Signal a New Conflict With Israel, New York Times, (March 29, 2017);
New Hamas policy document 'aims to soften image' BBC News, (May 2, 2017);
Avi Isacharoff, New leader, same old Hamas, with Gazans now firmly in control, Times of Israel, (May 8, 2017);
Jonathan Lis, "Hamas is Plotting Attacks on Israel Every Day, Shin Bet Chief Warns," Haaretz, (March 20, 2017);
Yossi Melman, "How Will Hamas React To Israel's Major Gaza Border Project?" Jerusalem Post, (June 23, 2017);
Power-Sharing Deal Between Former Foes Taking Shape in Gaza, New York Times, (July 20, 2017);
Top EU court keeps Hamas on EU terror list, refers case back, DailyMail, (July 26, 2017);
Anna Aronheim, Hamas's new leader radically shifts military strategy, Jerusalem Post, (September 28, 2017);
Elior Levy, Yoav Zitun, Matan Tzuri. Hamas commander among 7 terrorists killed in IDF tunnel blast, YNet News, (October 31, 2017);
Jeff Seldin, US Designates Hamas Political Leader as 'Global Terrorist', VOA News, (January 31, 2018);
"Normalization of relations with Zionist regime 'unforgivable sin': Hamas," Islamic Republic News Agency, (March 7, 2018):
"Hamas Leader In Gaza Yahya Sinwar: We Are Coordinating With Hizbullah, Iran On An Almost Daily Basis," MEMRI, May 22, 2018).