2016 U.S. Presidential Campaign: Hillary Clinton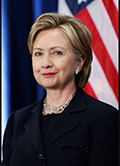 Hillary Clinton was born in Chicago, Illinois on October 26, 1947, and was active in politics from an early age. After hearing a speech delivered by the legendary orator and civil rights activist Martin Luther King Jr in 1968, she solidified her political identity as a Democrat. Hillary Clinton attended Wellsley College and then Yale Law School, where she fell in love with future U.S. President Bill Clinton. Hillary and Bill were married in 1975, and welcomed their first daughter, Chelsea, in 1980. Hillary took an active role in her husband's 1992 Presdential campaign, and took her duties as First Lady very seriously. In 1997 she assisted in creating the Children's Health Insurance Program, and the Adoption and Safe Families act. Following her husband's second term in the White House, Hillary made the decision to run for the U.S. Senate seat from New York, which was currently held by outgoing Democrat Daniel Patrick Moynihan. Hillary won the election by a 12 point margin against Republican Rick Lazio, and became the first wife of a President to seek and win national office as well as the first woman Senator ever elected from New York. Clinton was re-elected to the Senate in 2006 and made a run for the presidency in 2008. After emerging early as a front-runner, she was beat out for the party nomination by Barack Obama, who went on to win the presidency. President Obama appointed her to be his Secretary of State, and she served from 2009-2013.
Clinton announced that she was running for President in the 2016 elections on April 12, 2015, via an email from her campaign chair-person. If successful, Clinton would be the first female elected to the presidency.
Hillary Clinton called for increasing U.S. involvement in the fight against the Islamic State in November 2015, suggesting that the U.S. send special operations forces to assist Syrian rebels and Kurdish militias, expand air strikes, and implement a no-fly-zone with coalition forces over Syria. Clinton referred to her plan as an "intensification and acceleration" of President Obama's strategy, criticizing him for acting too slowly in arming moderate rebels. Speaking to the Council on Foreign Relations in New York, Clinton stated "it is time to begin a new phase and intensify and broaden our efforts to smash the would-be caliphate and deny ISIS control of territory in Iraq and Syria."
After running into the organization's founder on an airplane, Clinton sent a letter of support to the United Hatzalah of Israel in December 2015. United Hatzalah is a free, volunteer-based EMS and medical transport service in Israel. Over 2,500 volunteer EMT's, paramedics, and doctors work with United Hatzalah of Israel country-wide. In the letter expressing support and admiration for their work, Clinton wrote, "thank you for the information you shared about United Hatzalah, and please know how grateful I am for your leadership of such an important organization. The work you do providing rapid emergency medical response throughout Israel - and an increasing number of countries throughout the world - is saving lives and making a remarkable impact. I look forward to learning more about your innovative model, and am sending you and your colleagues my best wishes for continued success with your lifesaving work."
Hillary and her Democratic opponent Bernie Sanders were locked in a dead heat at 50% each following the Iowa caucus on February 1, 2016. Clinton spoke as 95% of the precincts reported and did not explicitly state that she had won, but implied that she was confident her team would come out on top as the final votes continued to come in. The Iowa Democratic party asserted that the race was too close to call.
In the New Hampshire primary on February 9, 2016, Hillary suffered a devastating, yet expected, defeat. Coming into the primary polls showed her losing by a wide margin to Bernie Sanders, and when ballots were cast those polls turned out to be accurate. Sanders won 60% of the vote and carried every demographic group, while Clinton only received 38.3%. On "Super Tuesday" Hillary won the Democratic primaries in Alabama, Arkansas, Georgia, Massachusetts, Tennessee, Texas, and Vermont. Hillary won primaries in Florida, Illinois, Missouri, North Carolina, and Ohio on March 15, 2016. In the Arizona primary on March 22, 2016, Hillary easily defeated opponent Bernie Sanders. Hillary won the New York primary in April 2016, leveraging her experience as the state's Representative as a counterweight to Bernie Sanders's hometown appeal. Hillary defeated Sanders in four out of five states on April 26, losing the only open primary of the day, Rhode Island.
Trying to downplay Sanders ties to Israel, the Clinton campaign stated following Sanders New Hampshire victory, "Bernie is a secular Jew, and I don't think his religion influenced his stance on Israel." Paul Hodes, a Clinton campaign spokesman, compared this to Hillary's "unshakeable bond with Israel."
A poll of Israelis conducted in February 2016 that included 499 Jews and 102 Arabs, concluded that Israelis strongly favor Hillary Clinton in the 2016 election. The poll found that 38% of Israelis support Clinton for President, while 23% support Donald Trump, and 7% support Bernie Sanders.
In a letter sent to the Israel Action Network on May 8, 2016, Hillary Clinton clarified her stance on the BDS movement, offering her opinion that "we need to make countering BDS a priority." Clinton continued, committing to "fight back against further attempts to isolate and delegitimize Israel."
The candidates choices for the Democratic Party Platform Drafting Committee were announced on May 23, 2016, and Clinton chose six out of fifteen. Her choices included Wendy Sherman, a supporter of Israel and one of the lead negotiators of the nuclear deal with Iran, and Neera Tanden, head of the Center for American Progress.
Clinton's private emails while she was Secretary of State came under scrutiny in the lead up to the 2016 election, with speculation that she had divulged classified information through non-secure email servers. These emails contained revelations including that Hillary leaned significantly more to the left than her public persona let on, especially when dealing with Israel. Emails from September 2009 show that Clinton had been advised by her husband's former Security Advisor, Sandy Berger, on how to make Israeli Prime Minister Netanyahu uneasy in order to pressure him into restarting negotiations with the Palestinians. "Going forward, if Bibi continues to be the obstacle, you will need to find the ground from which you can make his politics uneasy," Berger wrote, while also cautioning Clinton to "be mindful of Abu Mazen's (Mahmoud Abbas's) politics." In a seperate email, Berger noted that "Assuming Bibi will accept no formulation that includes 67 borders... Bibi is the obstacle to progress and backtracking on his part on an issue that previous Israeli governments have accepted." To read both of these emails, please click here, and here.
Hillary accepted the Democratic nomination for President of the United States at the Democratic National Convention in Philadelphia, Pennsylvania on July 28, 2016, with a grand total of 2,807 electoral votes.
A Gallup poll of Jewish voters done between July 1 and August 28, 2016, showed significantly more support for Hillary Clinton than Donald Trump. Clinton held a commanding lead, with the support of 52% of those surveyed compared to Trump's 23%.
In a come-from behind upset that nobody (even the candidate himself) expected, on November 8, 2016, the citizens of the United States of America placed their votes and elected Donald Trump their 45th President. Trump won the Presidency with 290 electoral votes to Clinton's 228, although she won the popular vote by more than 600,000. Clinton's loss was widely blamed by the media on the FBI's investigation into her alleged careless use of a private email server, although no criminal charges were recommended against her by their chief prosecutors.
---
U.S. - Israel Relationship
"I have a long history and personal commitment to Israel's security and its future that I have been outspoken about, stalwart and strong in every way. I am a friend. And I wouldn't be much of a friend if I did not share my opinions, which I have done, and believe me it has been reciprocated. But I think any disputes or disagreements should be handled in respectfully, and preferably, in a private way so we don't give any aid and comfort to Israel's adversaries or drive any wedges between us."
(Jewish Insider, April 11, 2016)
"I have worked hard in all my public positions to further the relationship and do all I could to enhance Israeli security. We need to take the relationship to the next level."
(New York Jewish Week, April 11, 2016)
"As we gather here, three evolving threats - Iran's continued aggression, a rising tide of extremism across a wide arc of instability, and the growing effort to de-legitimize Israel on the world stage - are converging to make the U.S.-Israel alliance more indispensable than ever. The United States and Israel must be closer than ever, stronger than ever and more determined than ever to prevail against our common adversaries and to advance our shared values... Our work together to develop the Iron Dome saved many Israeli lives when Hamas rockets began to fly. I saw its effectiveness firsthand in 2012 when I worked with Prime Minister Netanyahu to negotiate a cease fire in Gaza. And if I'm fortunate enough to be elected president, the United States will reaffirm we have a strong and enduring national interest in Israel's security... That's why I believe we must take our alliance to the next level. I hope a new 10-year defense memorandum of understanding is concluded as soon as possible to meet Israel's security needs far into the future."
(AIPAC, March 21, 2016)
"I gave a speech in Des Moines to the Jewish Federation a few days ago outlining, again, my absolute rock solid commitment to Israel's security. It's more essential than ever. What's going on in that region means that the United States and Israel have to have even closer ties."
(Fundraiser, White Plains, January 28, 2016)
"The alliance between the United States and Israel is more important than ever in this time of terrorism and turmoil. That has to be understood to be in our national interest - to have an Israel that remains a bastion of stability and a core ally in a region in chaos. An Israel strong enough to deter its enemies and strong enough to take steps in pursuit of peace."
(Q&A at the Jewish Federation in Des Moines, Iowa, January 25, 2016)
"Israel needs a strong America by its side, and America needs a strong and secure Israel by our side.  It's in our national interest to have an Israel that remains a bastion of stability and a core ally in a region in chaos, and an Israel strong enough to deter its enemies and strong enough to take steps in the pursuit of peace... More broadly, the United States and Israel need to work together to address three converging trends: the rise of ISIS and the struggle against radical jihadism, Iran's increasingly aggressive regional ambitions, and the growing effort around the world to isolate and delegitimize Israel."
(Jewish Journal, January 6, 2016)
"Let's expand high-level U.S.-Israel strategic consultations. Bring our best minds together for deeper discussions about enforcing the nuclear deal, countering Iran's regional ambitions, and developing new defense technologies for the future. If Israel and the United States stand shoulder-to-shoulder and present a united front to the region and the world, I am confident we can meet the threats and challenges we face today. I was born just a few months before the State of Israel and my generation came of age admiring the talent and tenacity of the Israeli people."
(Brookings Institution Keynote Address, December 6, 2015)
"And as we work out a broader regional approach, we should of course be closely consulting with Israel, our strongest ally in the Middle East. Israel increasingly shares with our Arab partners and has the opportunity to do more in intelligence and in joint efforts as well."
(Jewish Insider, November 19, 2015)
"Ever since President Truman waited only 11 minutes to recognize the new nation of Israel in 1948, Americans have believed that Israel is more than a country — it's a dream nurtured for generations and made real by men and women who refused to bow to the toughest odds."
"While no solution can be imposed from outside, I believe the United States has a responsibility to help bring Israelis and Palestinians to the table and to encourage the difficult but necessary decisions that will lead to peace. As president I will never stop working to advance the goal of two states for two peoples living in peace, security and dignity. For me, fighting for Israel isn't just about policy — it's a personal commitment to the friendship between our peoples and our vision for peace and security."
(Forward Magazine, November 4, 2015)
"For years we have told you, our Israeli friends, that America has Israel's back. And this month, we proved it again. When Israel responded to a rain of rockets, when sirens sounded and schools emptied and air raid shelters filled, America's next move was never in question. President Obama and I stood before the international community and supported Israel's right to defend itself from a threat no country would tolerate. The Iron Dome system - invented by Israel, underwritten by America - knocked rockets out of the sky like never before."
"... I left the East Asia Summit in Cambodia to fly to Tel Aviv, to drive to Jerusalem, to meet with the Prime Minister and members of the inner cabinet, to go the next day to Ramallah, then back to the Prime Minister's office, and then to Cairo, and we were able to play a role in enabling the ceasefire to occur. That fragile ceasefire is holding. The skies above Israel are clear. And we are beginning to see the efforts to rebuild and resume daily life. But the world knows - and always will know - that whenever Israel is threatened, the United States will be there."
"When it comes to a region full of uncertainty, upheaval, revolution, this much is constant and clear: America and Israel are in it together. This is a friendship that comes naturally to us. What threatens Israel threatens America, and what strengthens Israel strengthens us. Our two governments maintain not just the formal U.S.-Israel Strategic Dialogue, but a daily dialogue, sometimes an hourly dialogue, at every level."
(Saban Forum Opening Gala, 2012)
"Israel is an important ally and strategic partner of the United States. Our nations are united by shared values, a commitment to democracy, and a belief in the dignity of men and women. We are also united by a common strategic interest in fighting back against the forces of terrorism and nihilism.
Israel and the United States have worked together for years on national security objectives, including developing innovative defense technologies. Today, as the United States deals with issues of homeland security, we are also learning from Israel's experience in preventing attacks and preparing emergency responses.
I believe the relationship between our countries should be that between allies, based on mutual respect, appreciating our shared values and a shared commitment to national security policies that reduce the danger of terrorist attacks on free and democratic nations anywhere in the world.
Recognizing the very real challenges we face, I believe we must think rationally and strategically - and jointly - about how our values and our beliefs can be translated into effective action.
It is not enough for us to say the right things; we've got to be smart and tough enough to do the right things that will protect American and Israeli interests now and forever. It is with these principles in mind that my Administration would work to sustain, nourish, and enhance the vital partnership between America and Israel."
(The Jerusalem Post, May 24, 2007)
"We believe that Israelis have the right to live in their country without the constant threat of terrorism, war and rocket fire...The unbreakable bond between Israel and the United States are based on shared interests and rooted in strength...Israel is a beacon of democracy in a tyrannical neighborhood, and the threats it faces from Hezbollah and Iran are threats not just to Israel but to the entire Middle East, the United States and the rest of the world. "
(Address to the American Israel Public Affairs Committee's Northeast region, February 1, 2007)
"The security and freedom of Israel must be decisive and remain at the core of any American approach to the Middle East. This has been a hallmark of American foreign policy for more than 50 years and we must not - dare not - waver from this commitment."
(Princeton University, January 2006)
"And Israel is not only our ally; it is a beacon of what democracy can and should mean… If the people of the Middle East are not sure what democracy means, let them look to Israel."
(Chanukkah dinner speech, Yeshiva University, December 2005)
"The top priority of any government is to ensure the safety and security of its citizens, and that is why I have been a strong supporter of Israel's right to build a security barrier to keep terrorists out. I have taken the International Court of Justice to task for questioning Israel's right to build the fence."
(Israel and Jordan Trip Report from her web site, November 13, 2005)
"Israel is a beacon of what democracy can and should mean."
(AIPAC conference, May 2005)
Iran
"There's no doubt that we have other problems with Iran. But personally, I'd rather deal with the other problems having put that lid on their nuclear program than still to be facing that. And Donald never tells you what he would do. Would he have started a war? Would he have bombed Iran? If he's going to criticize a deal that has been very successful in giving us access to Iranian facilities that we never had before, then he should tell us what his alternative would be. But it's like his plan to defeat ISIS. He says it's a secret plan, but the only secret is that he has no plan."
(First Presidential Debate, September 26, 2016)
"When I became secretary of state, Iran was weeks away from having enough nuclear material to form a bomb. They had mastered the nuclear fuel cycle under the Bush administration. They had built covert facilities. They had stocked them with centrifuges that were whirling away. And we had sanctioned them. I voted for every sanction against Iran when I was in the Senate, but it wasn't enough. So I spent a year-and-a-half putting together a coalition that included Russia and China to impose the toughest sanctions on Iran. And we did drive them to the negotiating table. And my successor, John Kerry, and President Obama got a deal that put a lid on Iran's nuclear program without firing a single shot. That's diplomacy. That's coalition-building. That's working with other nations."
(First Presidential Debate, September 26, 2016)
"I'm proud that we put a lid on Iran's nuclear program without firing a single shot — now we have to enforce it, and keep supporting Israel's security."
(Nomination Acceptance Speech, July 28, 2016)
"Today Iran's enriched uranium is all but gone, thousands of centrifuges have stopped spinning, Iran's potential breakout time has increased and new verification measures are in place to help us deter and detect any cheating. I really believe the United States, Israel and the world are safer as a result. But still, as I laid out at a speech at the Brookings Institution last year, it's not good enough to trust and verify. Our approach must be distrust and verify. This deal must come with vigorous enforcement, strong monitoring, clear consequences for any violations and a broader strategy to confront Iran's aggression across the region. "
(AIPAC, March 21, 2016)
"We set conditions on Iran. We worked hard to get them established, and to be enforced, and then we talked."
(Democratic Presidential Debate, February 4, 2016)
"I'm very pleased we got that nuclear agreement. It puts a lid on the nuclear weapons program. We have to enforce it, there have to be consequences attached to it. But that is not our only problem with Iran. We have to figure out how to deal with Iran as the principal state sponsor of terrorism in the world. They are destabilizing governments in the region. They continue to support Hezbollah and Hamas in Lebanon against Israel... If we were to normalize relations right now, we would remove one of the biggest pieces of leverage we have to try to influence and change Iranian behavior. The president doesn't think we should. I certainly don't think we should."
(Democratic Presidential Debate, February 4, 2016)
"I know there's a lot of questions, and I understand that, but I want you to know from me, I do believe we have a lid on their nuclear weapons program. That does not mean we don't have a lot of problems with Iran."
(Fundraiser, White Plains, January 28, 2016)
"I voted for every sanction we could imagine against Iran. Not just oil and gas, but pistachios. Everything. We went after them."
(Q&A at the Jewish Federation in Des Moines, Iowa, January 25, 2016)
"I'm very proud of the Iran nuclear agreement. I was very pleased to be part of what the president put into action when he took office. I was responsible for getting those sanctions imposed, which put the pressure on Iran, that brought them to the negotiating table, which resulted in this agreement. And so they have been, so far, following their requirements under the agreement. But I think we still have to carefully watch them. We've had one good day over 36 years, and I think we need more good days before we move more rapidly toward any kind of normalization. And we have to be sure that they are truly going to implement the agreement and then, we have to go after them on a lot of their other bad behavior in the region, which is causing enormous problems in Syria, Yemen, Iraq and elsewhere."
(Democratic Presidential Debate, January 18, 2016)
"We all agree that Iran can never be allowed to obtain a nuclear weapon. Now, as you know, I support the nuclear agreement negotiated by the world's great powers.  Is it perfect? No, no agreement like that ever is. But I believe that if it is aggressively implemented and enforced, this deal will help us prevent a nuclear-armed Iran... Our message to Iran must be unequivocal. There will be consequences for even small violations and we are ready to snap back sanctions into place. Our approach must be distrust and verify... And we will make sure the Iranians and the world understand that the United States will act decisively if necessary, including taking military action."
(Brookings Institution Keynote Address, December 6, 2015)
"I support this agreement because I believe it is the most effective path of all the alternatives available to the U.S. and our partners to prevent Iran from acquiring a nuclear weapon"
(Business Insider, July 14, 2015)
"He's [Iranian President Mahmoud Ahmadinejad] not someone who would have the opportunity to meet with me in the White House,"
(The Jerusalem Post, April 17, 2008)
"An attack on Israel would trigger massive retaliation from the United States," said New York Senator Hillary Clinton, who proposed that the US create a security umbrella for Israel and other allies in the region to protect them from a nuclear Iran. "So would an attack on those countries that are willing to go under the security umbrella and forswear their own nuclear ambitions," she added. The New York senator pointed to Saudi Arabia and the UAE as states that had concerns about Iran's nuclear ambitions. "We've got to deter other countries from feeling they have to acquire nuclear weapons," she said.
(The Jerusalem Post, April 17, 2008)
"I am not in favor of this rush for war, but I'm also not in favor of doing nothing."
(The Washington Post, October 31, 2007)
"I would engage in negotiations with Iran, with no conditions, because we don't really understand how Iran works. We think we do, from the outside, but I think that is misleading."
(The Jerusalem Post, October 14, 2007)
"As the outrageous, hateful comments of Iran's President demonstrate, Iran is a threat not just to Israel, but to the entire Middle East and beyond, including the United States. It is a threat because of its nuclear ambitions, and also because it uses its influence and its revenues to support terrorist elements that are destabilizing the entire Middle East. As I have said before, Iran must not be allowed to obtain nuclear weapons."
(The Jerusalem Post, June 21, 2007)
"Iran poses a threat to our allies and our interests in the region and beyond, including the United States. The Iranian president has held a conference denying the Holocaust and has issued a series of bellicose statements calling for Israel to be wiped off the map. His statements are even more disturbing and urgent when viewed in the context of the regime's quest to acquire nuclear weapons."
(The Jerusalem Post, June 7, 2007)
"I have said publicly no option should be off the table, but I would certainly take nuclear weapons off the table."
(Bloomberg Television, April 2006)
Hamas and the Situation in Gaza
"Administrations - both Democrat and Republican - have all adopted the same position that settlement expansion is not helpful. In the context of the continuing American interest in helping to bring the parties together to try to achieve a two-state solution to the conflict, I am in line with prior Republicans and Democrats."
(Jewish Insider, April 11, 2016)
"Even when Arafat was still alive, he was an advocate of a two-state solution. And I was the last person to hold meetings between Prime Minister Netanyahu and President Abbas... But there is no successor right now and the continuing struggle between the Palestinian leadership and Hamas is the defining relationship in determining what will happen to the Palestinians going forward. Despite all of the problems, the Abbas administration has never stopped cooperation with Israel on security, even when there had been outbursts of terrorism; even when Hamas has tried to provoke such a breach. So, I think we have to take this day by day. I don't think we should be trying to move something forward that the consequence of which we cannot determine."
(Q&A at the Jewish Federation in Des Moines, Iowa, January 25, 2016)
"I think Hamas intended to provoke Israel because that's why they started the rocket fire. Hamas puts its missiles, its rockets in civilian areas; part of it is because Gaza is pretty small and it's densely populated.  Israel, I know, has sent warnings and tried to get people to move, but in any kind of conflict there are going to be civilian casualties, and we need to try to get to a cease-fire as soon as possible."
(Fusion TV, July 29, 2014)
"Just yesterday, as you know, the United Nations General Assembly voted to grant the Palestinian Authority non-member observer state status, a step that will not bring us any closer to peace."
"The Palestinians could have had a state as old as I am if they had made the right decision in 1947. They could have had a state if they had worked with my husband and then-Prime Minister Barak at Camp David. They could have had a state if they'd worked with Prime Minister Olmert and Foreign Minister Livni."
(Saban Forum Opening Gala, 2012)
The Hamas takeover of Gaza is deeply disturbing, increasing the danger to Israeli citizens already under attack from rockets fired indiscriminately from the Gaza territory. In the last few weeks, these rockets have killed three people and wounded many more.
The United States must continue to support our ally, Israel, as it defends itself against these attacks and insist that Hamas cannot be recognized until it renounces terrorism and recognizes Israel's right to exist.
Israel and the international community are committed to supporting the new government of Palestinian Authority (PA) President Mahmoud Abbas, strengthening the PA and its ability to meet its responsibilities, in direct contrast to Hamas.
There are not many good options at this difficult time, but the security of Israel and of the Middle East is best served by helping to create a Palestinian Authority that can provide tangible benefits and a better life for its people, in contrast to the violence and isolation offered by Hamas."
(The Jerusalem Post, July 5, 2007)
Hamas and Hezbollah must give up terrorism and accept Israel as a reality. Both groups have to return three captured Israeli soldiers without condition."
(Address to the American Israel Public Affairs Committee's Northeast region, February 1, 2007)
Israeli-Palestinian Conflict
"When your soldiers are under attack, you have to respond. Hamas provokes Israel. They often pretend to have people in civilian garb acting as though they are civilians who are Hamas fighters. It's a very different undertaking for Israel to target those who are targeting them."
(Haaretz, April 10, 2016)
"Just a few weeks ago, a young American veteran and West Point graduate named Taylor Force was murdered by a Palestinian terrorist near the Jaffa Port. These attacks must end immediately. And Palestinian leaders need to stop inciting violence, stop celebrating terrorists as martyrs and stop paying rewards to their families... Israelis deserve a secure homeland for the Jewish people. Palestinians ought to be able to govern themselves in their own state, in peace and dignity. Only a negotiated two-state agreement can provide those outcomes. If we look at the broader regional context, converging interests between Israel and key Arab states could make it possible to promote progress on the Israeli-Palestinian issue."
(AIPAC, March 21, 2016)
"This violence must not be allowed to continue. It needs to stop immediately, and Israelis and Palestinians must move back toward the path of peaceful reconciliation."
(Forward Magazine, November 4, 2015)
"I am alarmed by the recent wave of attacks against Israelis, including more than a dozen separate attacks since last Saturday. My thoughts and prayers are with the victims and their families. Men and women living in Jerusalem, Tel Aviv, and elsewhere cannot carry groceries or travel to prayer without looking over their shoulder. It is wrong, and it must stop. There's no place for violence - only dialogue can produce a lasting peace.
(Jewish Insider, October 12, 2015)
"I think Israelis have good grounds to be suspicious. And I would never be one who tries to rewrite or dismiss history. The Palestinians could have had a state as old as I am if they had made the right decision in 1947. They could have had a state if they had worked with my husband and then-Prime Minister Barak at Camp David. They could have had a state if they'd worked with Prime Minister Olmert and Foreign Minister Livni."
"There is more that the Israelis need to do to really demonstrate that they do understand the pain of an oppressed people in their minds, and they want to figure out, within the bounds of security and a Jewish democratic state, what can be accomplished."
(Saban Forum Opening Gala, 2012)
"They are committed and they have begun to grapple with the hard but necessary questions. I am convinced that this is the time and these are the leaders to achieve the result we all seek."
(Associated Press, September 2010)
"It was a mistake for the Bush administration to take a hands-off approach to the Arab-Israeli conflict. Israel is more vulnerable today than it was eight years ago," said Clinton, who further criticized President Bush's push for elections in the West Bank and Gaza back in 2006, as well as the inclusion of Hamas in those elections. She added that the administration got back on track with the process begun late last year at Annapolis, Maryland, although she is concerned that the weakened political positions of both Palestinian Authority President Mahmoud Abbas and Israeli Prime Minister Ehud Olmert may complicate the efforts.
(JTA, March 27, 2008)
Syria
"I do still support a no-fly zone because I think we need to put in safe havens for those poor Syrians who are fleeing both Assad and ISIS and so they can have some place to be safe."
(Democratic Debate, April 14, 2016)
"We have to support and maintain the ceasefire in Syria. And we should also work with our coalition partners and opposition forces on the ground to create safe areas where Syrians can remain in the country rather than fleeing toward Europe."
(Stanford University, March 23, 2016)
"I think it would be a grave mistake to ask for any more Iranian troops inside Syria. That is like asking the arsonist to come and pour more gas on the fire. The Iranians getting more of a presence in Syria, linking with Hezbollah, their proxy in Lebanon, would threaten Israel and would make it more difficult for us to move on a path to have a transition that at some point would deal with Assad's future.."
(Third Democratic Debate)
"I personally would be advocating now for a no-fly zone and humanitarian corridors to try to stop the carnage on the ground and from the air, to try to provide some way to take stock of what's happening, to try to stem the flow of refugees."
(MSNBC, October 1, 2015)
ISIS
"I have put forth a plan to defeat ISIS. It does involve going after them online. I think we need to do much more with our tech companies to prevent ISIS and their operatives from being able to use the Internet to radicalize, even direct people in our country and Europe and elsewhere. But we also have to intensify our air strikes against ISIS and eventually support our Arab and Kurdish partners to be able to actually take out ISIS in Raqqa, end their claim of being a Caliphate. We're making progress. Our military is assisting in Iraq. And we're hoping that within the year we'll be able to push ISIS out of Iraq and then, you know, really squeeze them in Syria."
(First Presidential Debate, September 26, 2016)
"We cannot contain ISIS -- we must defeat ISIS...We should intensify the coalition air campaign against its fighters, leaders, and infrastructure; step up support for local Arab and Kurdish forces on the ground and coalition efforts to protect civilians; and pursue a diplomatic strategy aimed at achieving political resolutions to Syria's civil war and Iraq's sectarian divide."
(Stanford University, March 23, 2016)
"We will not send American combat troops to either Syria or Iraq...But we do have Special Forces, we do have trainers, we do have the military personnel who are helping with the airstrikes that the United States is leading so that we can try to take out ISIS infrastructure."
(Presidential Debate, February 4, 2016)
---
Key Staff & Advisors
Amanda Renteria: Political director
Huma Abedin: Vice chair
Jake Sullivan: Senior Policy Adviser
Jennifer Palmieri: Communications Director
Jim Margolis: Media Advisor
Joel Benenson: Chief Strategist and Pollster
John Podesta: Campaign Chairman
LaDavia Drane: African American outreach director
Marlon Marshall: Director of State Campaigns and Political Engagement
Maya Harris: Senior policy advisor
Robby Mook: Campaign manager