Some Jews who managed to escape from ghettos and camps formed their own fighting units. These fighters, or partisans, were concentrated in densely wooded areas. A large group of partisans in occupied Soviet territory hid in a forest near the Lithuanian capital of Vilna. They were able to derail hundreds of trains and kill over 3,000 German soldiers.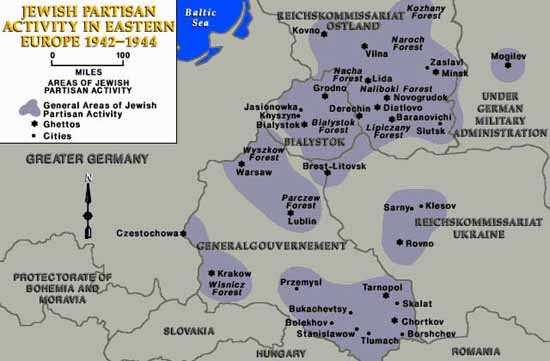 Life as a partisan in the forest was difficult. People had to move from place to place to avoid discovery, raid farmers' food supplies to eat, and try to survive the winter in flimsy shelters built from logs and branches. In some places, partisans received assistance from local villagers, but more often they could not count on help, partly because of widespread anti-Semitism, partly because of people's fears of being severely punished for helping. The partisans lived in constant danger of local informers revealing their whereabouts to the Germans.
Many Jews participated in the partisan units formed in France and Italy to help regular Allied forces defeat German forces. They forged documents and identity cards, printed anti-Nazi leaflets, and assassinated collaborators.
Source: U.S. Holocaust Memorial Museum