Ewald-Heinrich von Kleist-Schmenzin
(1922-2013)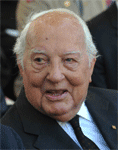 Ewald-Heinrich von Kleist-Schmenzin was a German army officer who had been part of two assassination attempts on Adolf Hitler.

Kleist-Schmenzin (born July 10, 1922; died March 8, 2013) was born on his family's estate in Pomerania, an area of northeastern Germany that is now Poland. The von Kleist family was a long line of Prussian landowners, who had served Germany for centuries in high-ranking military and administrative positions.

Von Kleist's father, Ewald von Kleist Schmenzin, was an early opponent of Hitler and was arrested many times after the Nazi dictator took control in 1933. The elder von Kleist actually traveled to England in 1938 - a year before World War II broke out - to try and arouse Western support for a coup attempt against Hitler, but failed to get the British government to change its policy of appeasement.

The younger von Kleist was similarly loathe of the Nazi regime but still joined the Wehrmacht as an infantry officer at age 18 in 1940. In 1943, von Kleist was injured while fighting on the Eastern Front and during his recovery he was approached by Colonel Claus von Stauffenberg and presented with a plot to assassinate Hitler. The plot would see von Kleist don a suicide vest underneath his shirt while he modeled a new uniform for Hitler. The plan, however, never materialized as the Fuehrer kept putting off the uniform demonstration.

Months later, von Stauffenberg again approached von Kleist to take part in another assassination attempt. What would later be called the July 20 plot, after the day of the assassination attempt, and brought to big screen in the movie "Valkyrie," von Kleist was recruited as the person who was to carry a briefcase packed with explosives to a meeting with Hitler.

Von Stauffenberg later decided to plant the bomb himself and von Kleist remained in Berlin, charged with overseeing the arrest of officers and officials loyal to Hitler in the city. After the plot's failure, von Kleist managed to cover up his resistance activities and proceedings against him were dismissed in December 1944 for lack of evidence. Ninety of his fellow plotters, including his own father, were later executed for the attempted assassination and coup. Von Kleist was imprisoned in Ravensbrück concentration camp and afterwards was posted to the front for the rest of the war.

After the war, eastern Pomerania was given to Poland and all Germans expelled, leaving von Kleist homeless. He would later go into the publishing business, founding his own publishing house. In 1952, he founded the independent defense affairs association known as the Society for Military Studies, and the European Military Studies magazine in 1954. In 1962, von Kleist founded the Wehrkundetagung, later called the Munich Conference on Security Policy, which he moderated until 1998. For his efforts leading the Munich Security Conference, von Kleist was awarded the U.S. Department of Defense's Medal for Distinguished Public Service in 1991, its highest award for a civilian. His other decorations include Germany's Federal Order of Merit and France's Officier de la Legion d'Honneur.

On March 8, 2013, von Kleist died at his home in Munich at the age of 90. He was the last survivng member of the July 20 plot. von Kleist is survived by his wife Gundula.
---
Sources: Haaretz (March 13, 2013); New York Times (March 12, 2013); Wikipedia