Ewald von Kleist-Schmenzin
(1890 - 1945)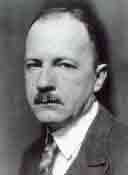 Attorney and estate owner Ewald von Kleist-Schmenzin supported the German National People's Party and advocated a monarchistic and Christian ideal of conservatism. In the final phase of the Weimar Republic, he resolutely opposed National Socialism and refused to fly the swastika flag over his castle. He was arrested in May and June of 1933 and released a short time later.

Ewald von Kleist-Schmenzin traveled to London in the summer of 1938 as a secret emissary of Ludwig Beck and Admiral Canaris to inform the British government of the existence of a German opposition to Hitler. Through his contacts to Winston Churchill and Robert Vansittart, he tried to shift Great Britain away from its policy of appeasement. Only the British government's credible determination to back Czechoslovakia with military force, Kleist-Schmenzin insisted, would provide the German anti-war faction the support it needed among the generals to move against Hitler. Winston Churchill is receptive and agreed to write a strongly-worded letter to Hitler. The letter reached its destination but had no effect, as Churchill was not yet prime minister.

Kleist-Schmenzin met Carl Goerdeler in 1942 and 1943 and agreed to support new attempts at a coup d'etat. Later, he joined the inner circle of the conspiracy and backs Colonel von Stauffenberg's plan to assassinate Hitler. He also encouraged his son Lt. Ewald Heinrich von Kleist to volunteer for a suicide assassination attempt organized by Stauffenberg and set for January 1944. Circumstances beyond their control caused the attempt to be canceled.

Kleist-Schmenzin is appointed by Stauffenberg to be the political representative in the Stettin military district for the coup, but he was arrested on July 21, 1944, after the coup failed. He was sentenced to death by the People's Court on February 23, 1944, and hanged April 9, 1945, in Plotzensee prison.

The criminal investigation involving his son, Ewald-Heinrich, who on July 20, 1944, was present in the Bendler Block with the conspirators as aide-de-camp under orders from Fritz-Dietlof Graf von der Schulenburg, was dropped on December 12, 1944. He was subsequently transferred to the front and survived the war.
---