Ulrich von Hassell
(1881 - 1944)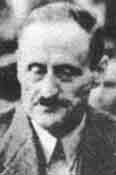 Ulrich von Hassell was born in Anklam, Germany, on November 12, 1881. After studying law he entered the Foreign Office in 1908. He married to the daughter of Alfred von Tirpitz and later served as Counsul-General in Barcelona (1921-26), Ambassador in Copenhagen (1926-30), and Ambassador in Belgrade (1930-32).

In 1932, Hassell was appointed Ambassador to Rome. Initially a supporter of Adolf Hitler, Hassell became increasingly critical of his aggressive foreign policies and, in 1938, was sacked by Joachim von Ribbentrop.

Hassell became an active opponent of the Nazi government and joined forces with Ludwig Beck and Carl Goerdeler.

During the Second World War he tried to recruit leading generals such as Franz Halder, Friedrich Fromm and Erwin Rommel to the idea of a negotiated peace with the Allies. Later he tried to persuade them to carry out a military coup.

In April 1942, he was warned by Ernst Weiszacker, State Secretary in the Foreign Ministry, that he was under investigation by the Gestapo. However, he ignored this warning and continued to conspire against Adolf Hitler.

Hassell was arrested by the police following the July Plot. He was convicted of high treason and executed on September 8, 1944. After the war, his diaries were found buried in the garden and published as The Other Germany: Diaries 1938-1944 (1947).
---
Sources: Spartacus Educational