Hans Dohnanyi
(1902 - 1945)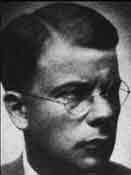 Hans Dohnanyi, the son of an Hungarian pianist, was born in Vienna, on January 1, 1902. After training as a lawyer he began work at the Reich Ministry of Justice in 1929.
Dohnanyi was appointed as a judge of the Supreme Court and during the Second World War was employed as a special leader on the staff of the High Command of the Armed Forces under Major-General Hans Oster.
Appalled by the persecution of the Jews in Germany and the occupied territories he began sending details to his brother-in-law, Dietrich Bonhoffer. He also used his position as project chief at Abwehr to help some Jews escape before being sent to concentration camps.
Dohnanyi was arrested by the Gestapo on April 5, 1943. Released for lack of evidence, he was re-arrested shortly before the July Plot. Sent to Sachsenhausen Concentration Camp, Dohnanyi was murdered on April 8, 1945.
---
Source: Spartacus Educational.