Eugen Gerstenmaier
(1906 - 1986)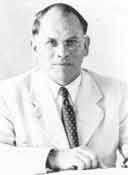 Eugen Gerstenmaier received a Ph.D. in Philosophy and Religion in 1936. He made contact with the Ecumenical Council in Geneva and helped organize spiritual care for prisoners of war and slave laborers and later entered the church's foreign relations office where he cultivated relations between the German Evangelical Church and the foreign churches.

In 1942, he was introduced into the Kreisau Circle by friends and co-conspirators Hans Bernd von Haeften and Adam von Trott. He also shared the conservative political views of Peter Yorck and moved in with Yorck after his house was destroyed in bombing raid.

Gerstenmaier supported Stauffenberg, used his position to help plan the uprising against Hitler, and stayed in close touch with Goerdeler. On July 20, 1944: he rushed to the Bendlerstrasse (carrying Bible and pistol) to help launch the coup. Like Gisevius, Gerstenmaier begged Stauffenberg and the other conspirators to be ruthless and shoot rather than arrest anyone who offered resistance. Gerstenmaier was arrested that same evening in the Bendlerstrasse along with Yorck and the others.

Gerstenmaier was tortured by the Gestapo with the use of a stick containing nails but didn't give away any names. On January 11, 1945, after skillfully defending himself in front of the People's Court and Nazi judge Roland Freisler, Gerstenmaier escaped the noose with a seven-year hard-labor sentence.

He was liberated in April 1945 by U.S. forced and served util 1949 as Director of Relief Work of German Evangelical Churches. He also founded Relief Work of 20 July to help widows and children of conspirators executed by Hitler.

In 1949 Gerstenmaier was elected as Christian Democrat Deputy to post-war Germany's first Bundestag. Her retired from politics in 1969 and died in 1986 after a prolonged, painfull illness.
---
Sources: Joric Center